Don't get me wrong… I love holiday goodies as much as the next girl (if not more), but there's something about the new year that makes my body crave a reset. It's a perfect time to make conscious resolutions, but having a few go-to healthy recipes in my back pocket always brings me closer to my goals. Finding a balance between indulgent and wholesome choices is definitely possible, and these healthy dinner recipes for two will lead you there.
The holiday season is without a doubt my favorite time of the year–friends and families gather to celebrate and the kitchen is never short on sweets. There's nothing like enjoying your morning coffee with a slice of chocolate chip pumpkin bread on the side. I'll be the first to admit that I'm usually thinking more about Christmas cookies, holiday cocktails, and carb-loaded breakfasts than nutrient-rich foods as the weather gets colder, but by the time the stockings are put away and we've rung in the new year, I can tell my body needs a break.
In addition to being one of my resolutions this year, cooking more meals at home and adding more vegetables to my diet is always on my radar along with lighter, simpler meals that I don't walk away from feeling saturated. And while leftovers are never a bad thing, these recipes are tailor-made for two (though there's room to grow if the whole family wants in). Scroll through these conscious creations to find your remedy to combat holiday fatigue.
Featured image by Hannah Haston Photography
15 of Our Favorite Healthy Dinner Recipes for Two:
BLT Salad with 8-Minute Eggs and Avocado
Why We Love It: A salad with toasty bread, eggs, avocado, and bacon… what's not to love? This easy weeknight dinner comes together in less than 30 minutes and brings a healthy combo of protein, fats, and greens to the table—all while being as comforting as a traditional BLT sandwich. It's a great way to incorporate vegetables into your dinner and use up that stale bread that's been sitting on your counter or the almost-too-old lettuce that's been glaring at you from the fridge. I'm all about it.
Hero Ingredient: The 8-minute egg is the unsung hero of this BLT (BLET?) salad. It's right on the line between medium-boiled and hard-boiled so that the yolk is set but doesn't make your teeth stick together. It's delicious and filling and picks up the flavors of the salad. That's all.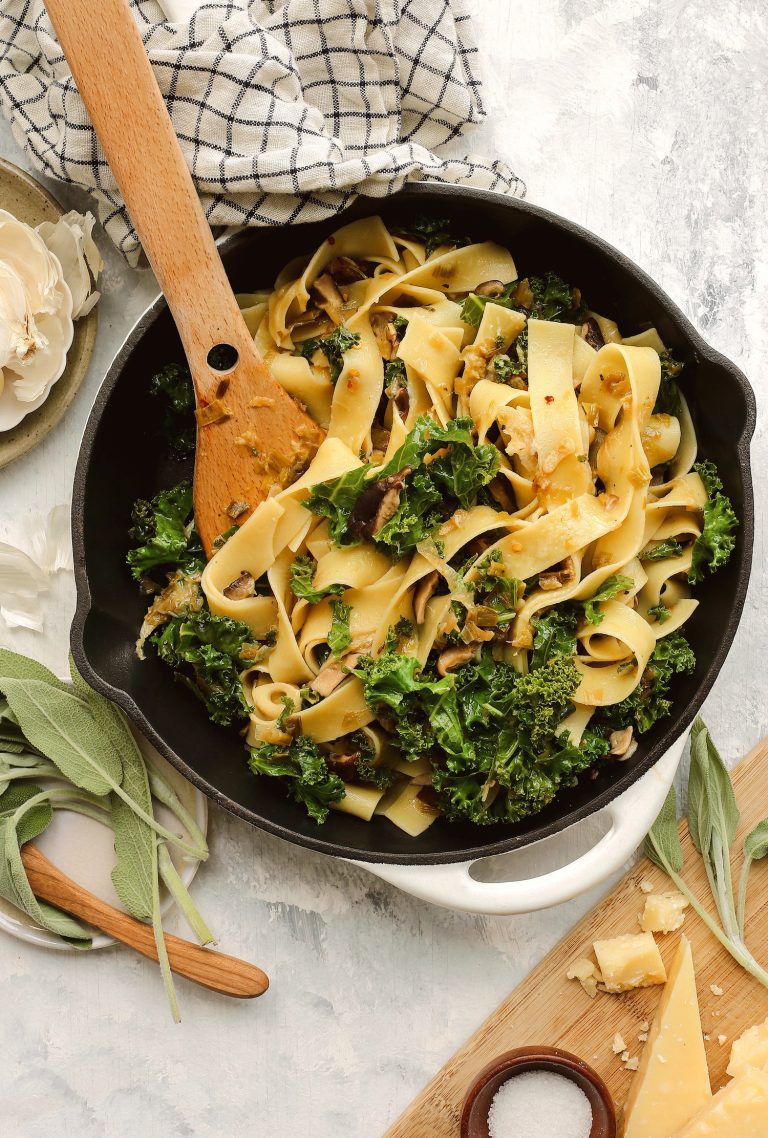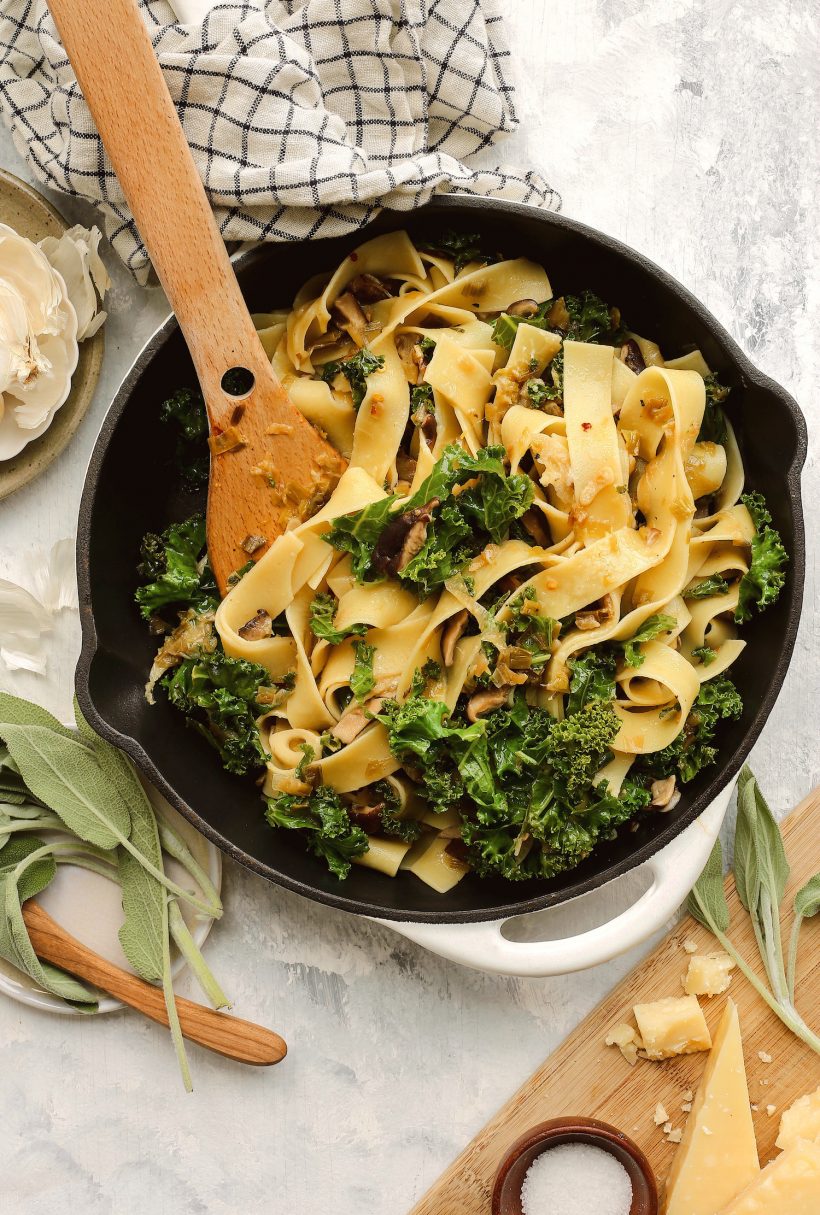 Pappardelle With Shiitakes, Kale, & Jammy Leeks
Why We Love It: If you're a mushroom lover like me, this pasta is definitely for you. Not only is it elevated by earthy shiitakes, but the slightly sweet, buttery leeks that cling to the pappardelle give this dish an abundance of flavor without making it too heavy. A hearty dose of kale also brightens up the dish and gives it a refreshing texture. A dash of grated parm and a squeeze of fresh lemon juice finish this pasta to create the perfect bite.
Hero Ingredient: The jammy leeks really send this dish over the edge. By slicing them thinly and cooking them low and slow on the stove, they meld together to create a "jammy" consistency that sticks right to the pasta. Coupled with the mushrooms, these leeks make for a very flavorful pasta dish.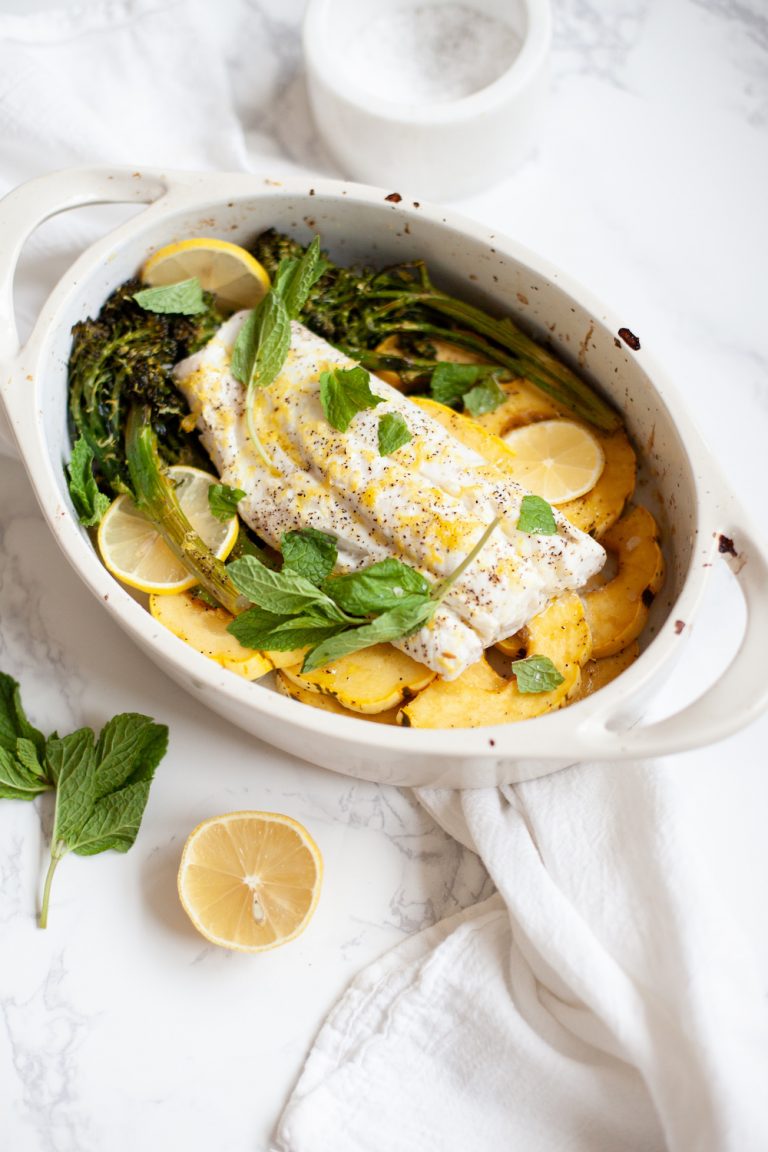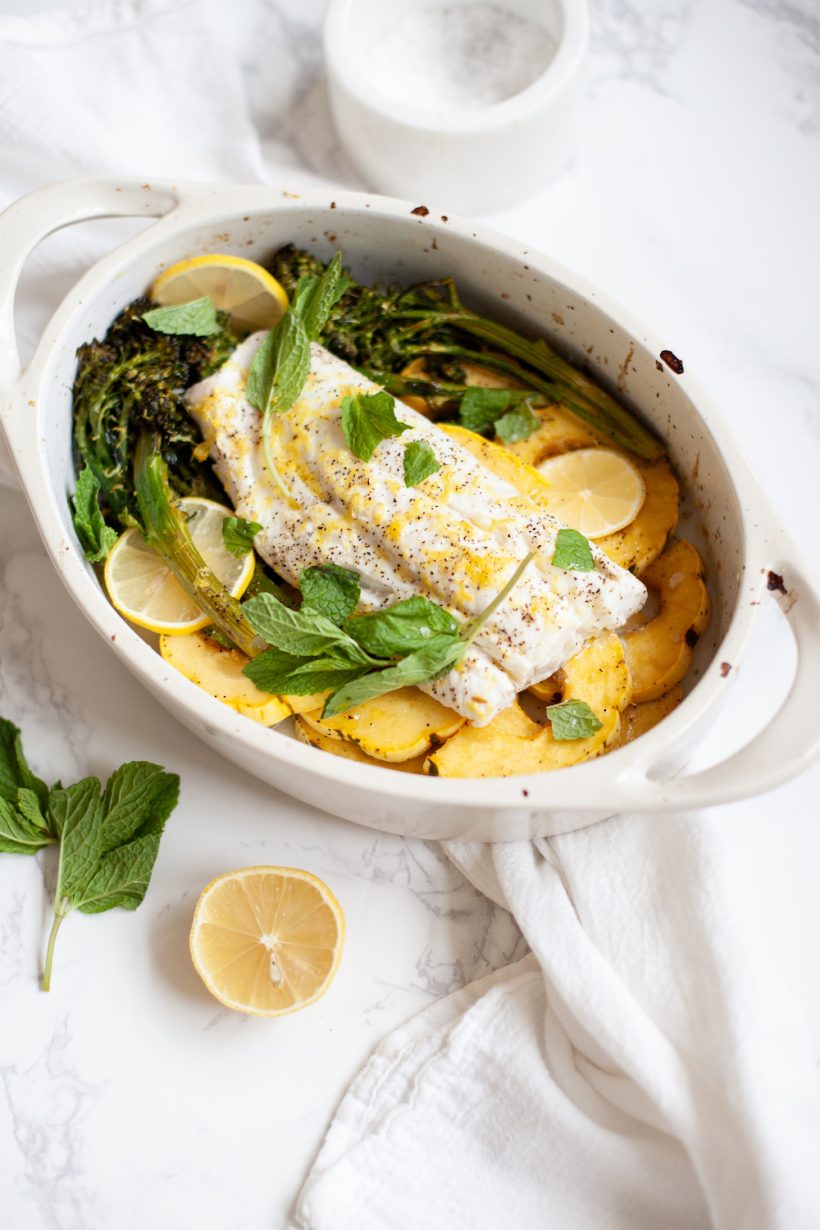 Slow Roasted Cod With Broccolini, Winter Squash, and Mint
Why We Love It: With an elegant feel and easy preparation, this recipe is the definition of working smarter, not harder. Delicate, flakey cod comes together over seasonal broccolini and winter squash to make for a healthy and filling dish. Lemon, garlic, and mint pack a flavorful punch to take this recipe from fish-and-vegetables to a restaurant-quality dinner. Top it off with a few mint leaves and a drizzle of olive oil for a light yet satisfying meal.
Hero Ingredient: Broccolini and winter squash take center stage here as seasonal vegetable stars. The lemony, garlicky flavor of these roasted veggies makes them the perfect sidekick for the fish they accompany.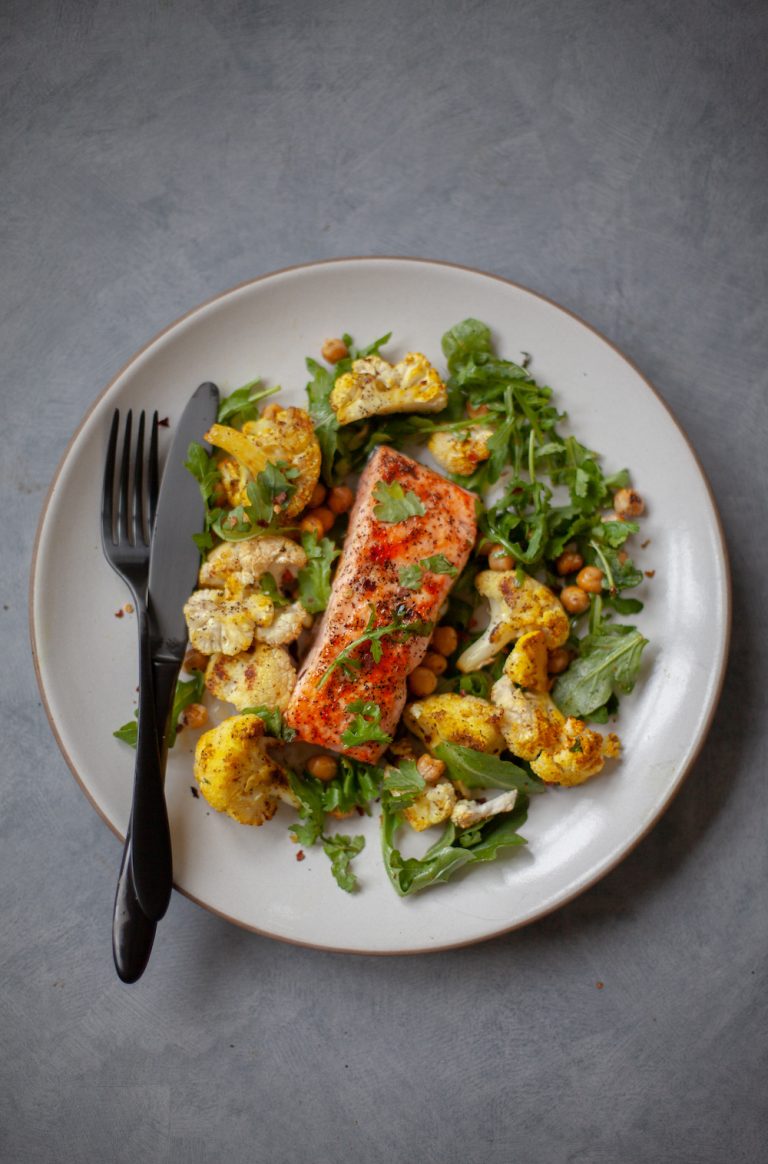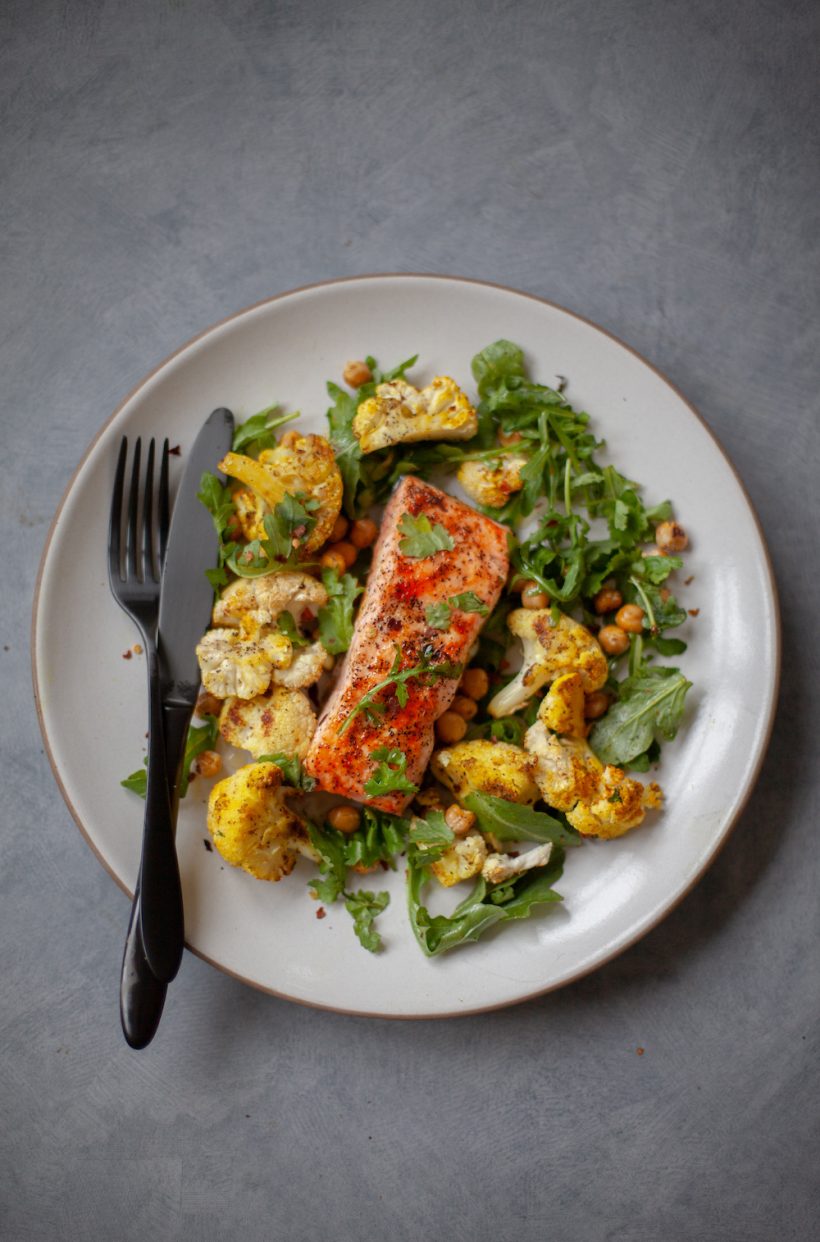 5-Minute Salmon With Curried Cauliflower & Greens
Why We Love It: Melt-in-your-mouth salmon in five minutes. Do we really need to say more? The crispy, caramelized tops of these salmon fillets are brushed with honey and sriracha to create an indulgent main element to a healthy dinner. Roasted cauliflower, crispy chickpeas, and peppery arugula line the sides of the fish to make a meal full of healthy fat, protein, greens, and fiber. What more could we really ask of a dinner.
Hero Ingredient: Honey-sriracha salmon, hands down. Not only is it a great source of protein and healthy fat, but it also tastes amazing.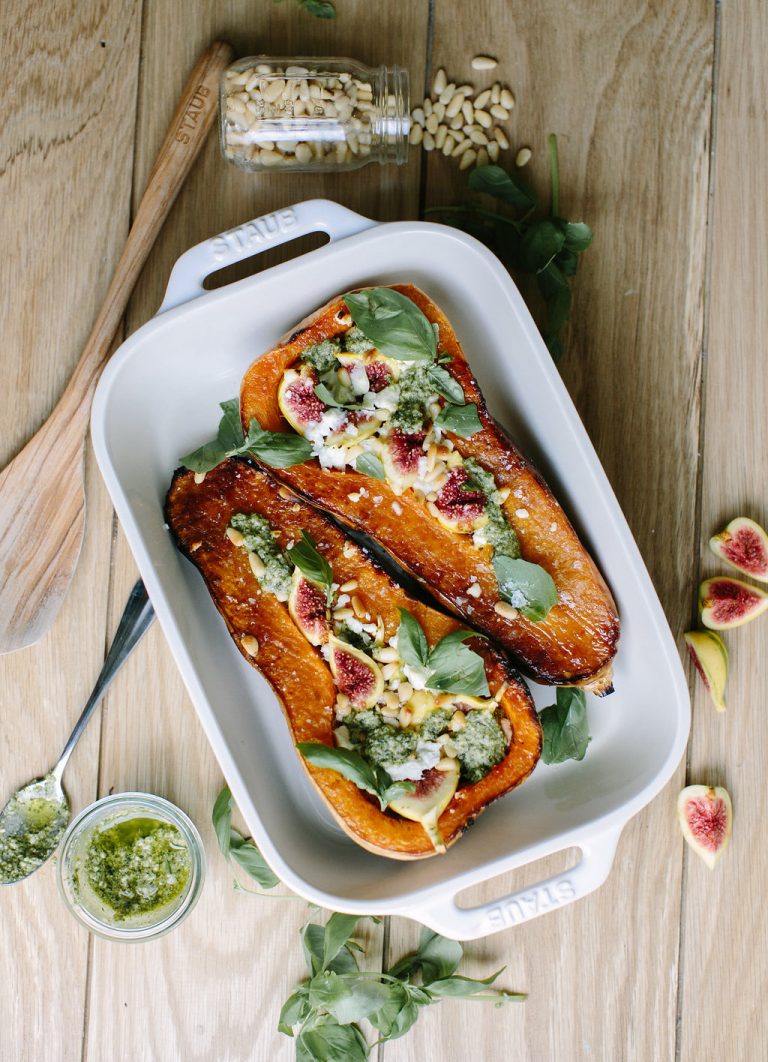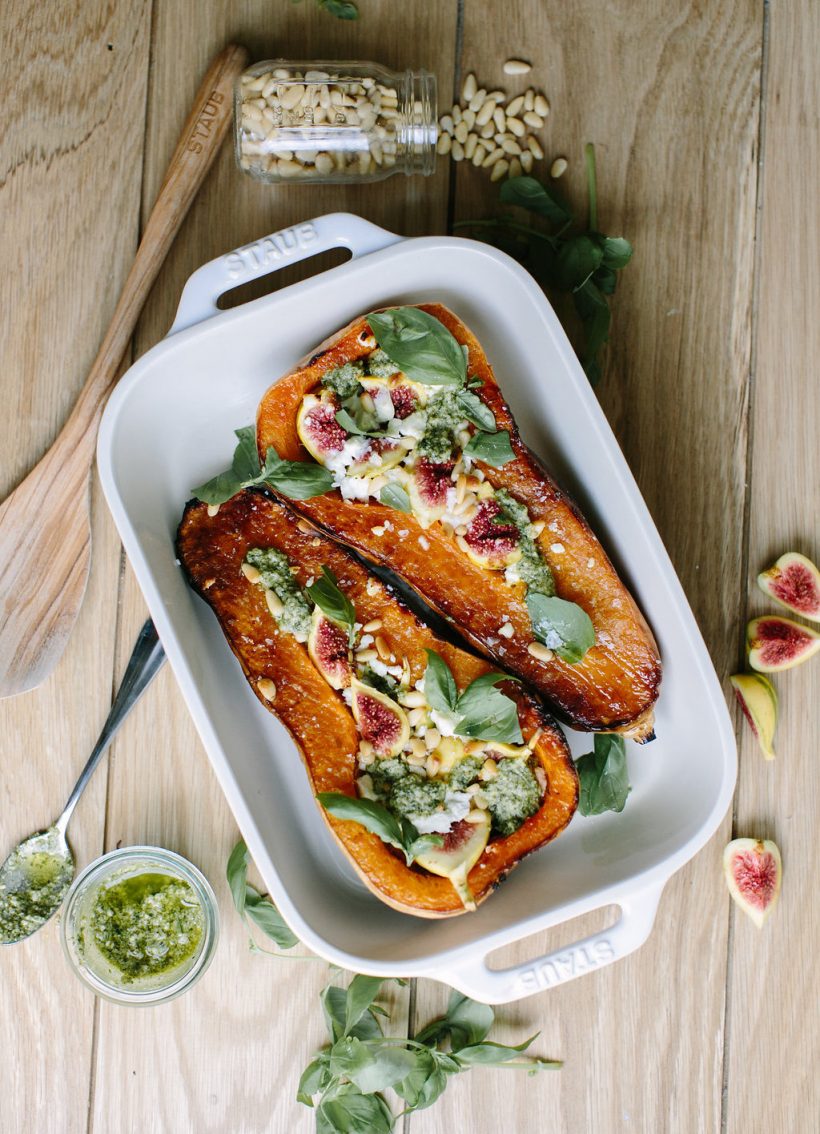 Roasted Butternut Squash Stuffed With Goat Cheese, Figs, and Pesto
Why We Love It: First of all, butternut squash never gets old—especially not in the winter. And secondly, this recipe calls for roasting the squash with the skin on (yay!). Easy, flavorful, and filling, this vegetarian dish is both comforting and healthy. Goat cheese and pesto bring the tang while tender figs lend an unexpected sweetness that really ties the flavors together. Beautiful enough for a dinner party but easy enough for dinner for two, this recipe is a real winner.
Hero Ingredient: Are figs ever a bad idea? Sweet, texture-y, and slightly berry-flavored, the fruit takes this squash to the next level by incorporating a delicious dose of sweetness that I'm prepared to welcome with open arms.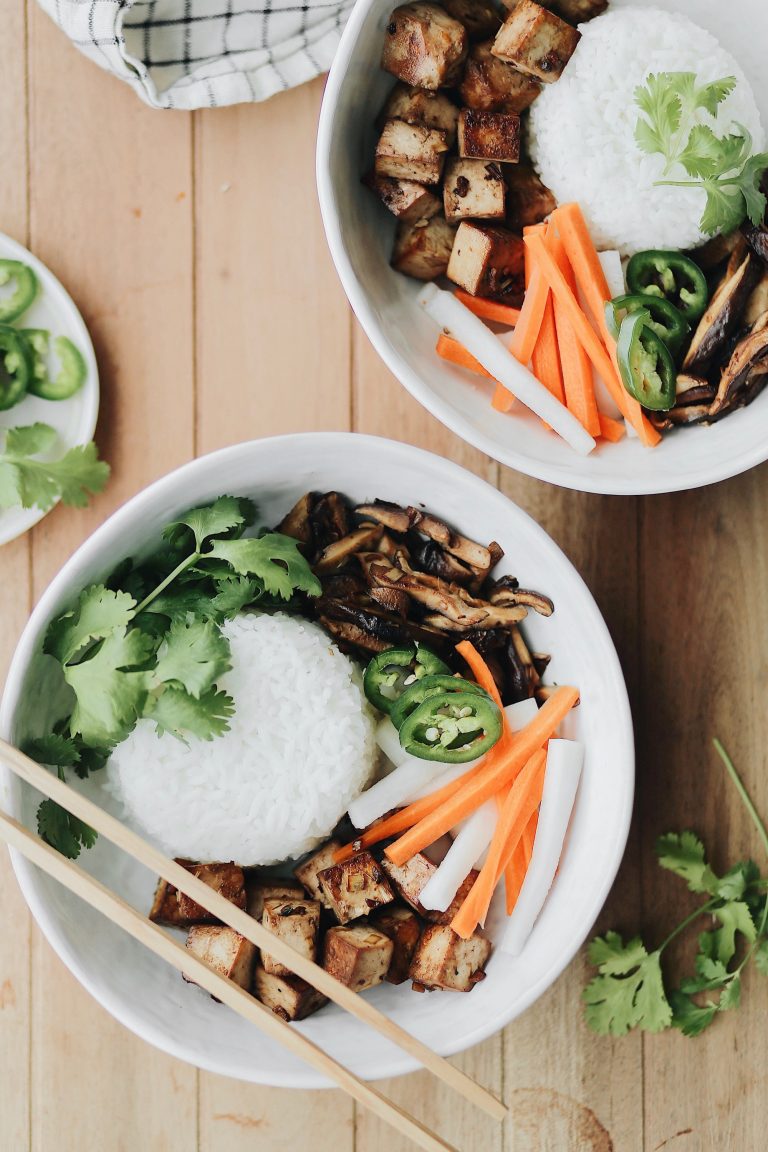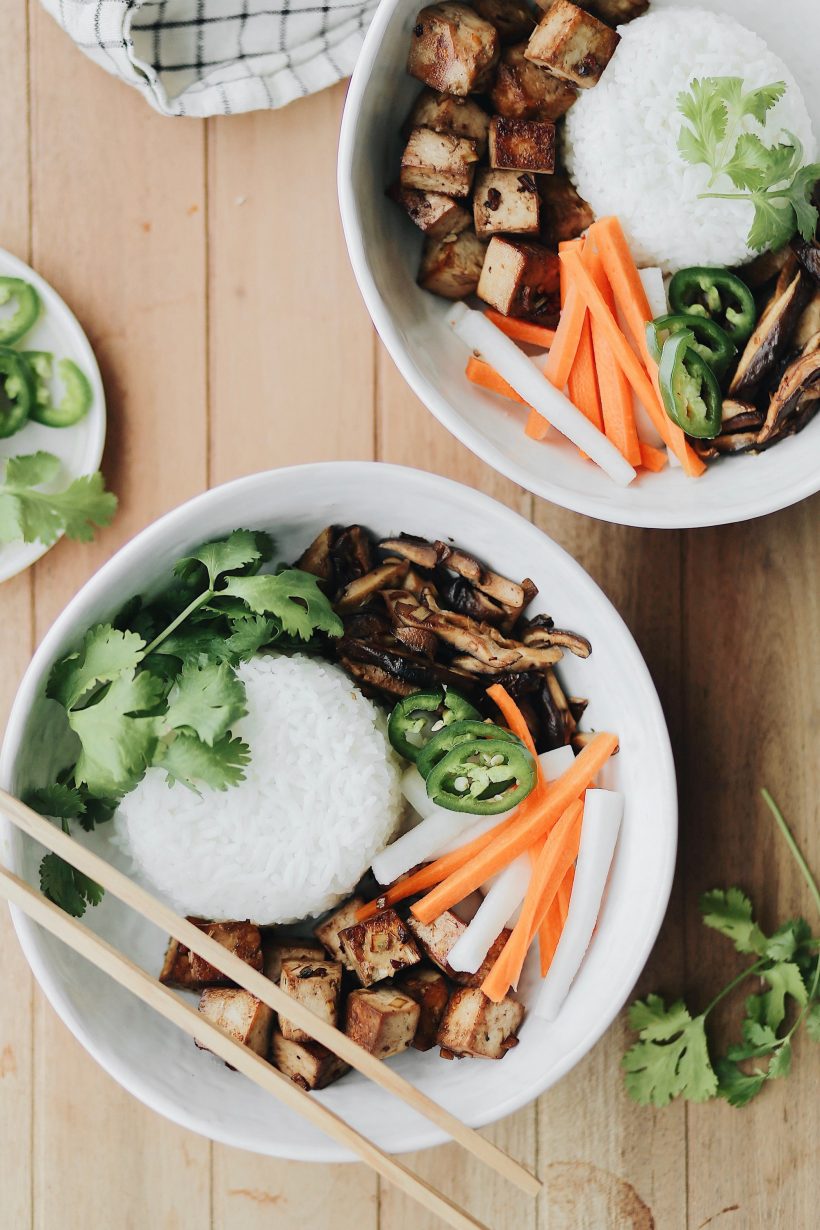 Banh Mí Bowl
Why We Love It: Don't write this one off if you're a tofu hater. Yes, I'll admit that tofu can be lifeless. It's sometimes bland, oftentimes boring, and can be weirdly spongy. But when you sauté it in lemongrass and soy sauce, the golden-brown protein really transforms and delivers lots of flavor and texture. That paired with shiitake mushrooms, pickled vegetables, and rice (or greens) makes for a simple, light dinner that will definitely satisfy your Banh Mí craving.
Hero Ingredient: Quick-pickled veggies bring a tangy bite and crisp texture to this bowl to contrast its yummy umami-ness. You can use whatever veggies you prefer, just be sure to make extras to snack on while you piece this bowl together.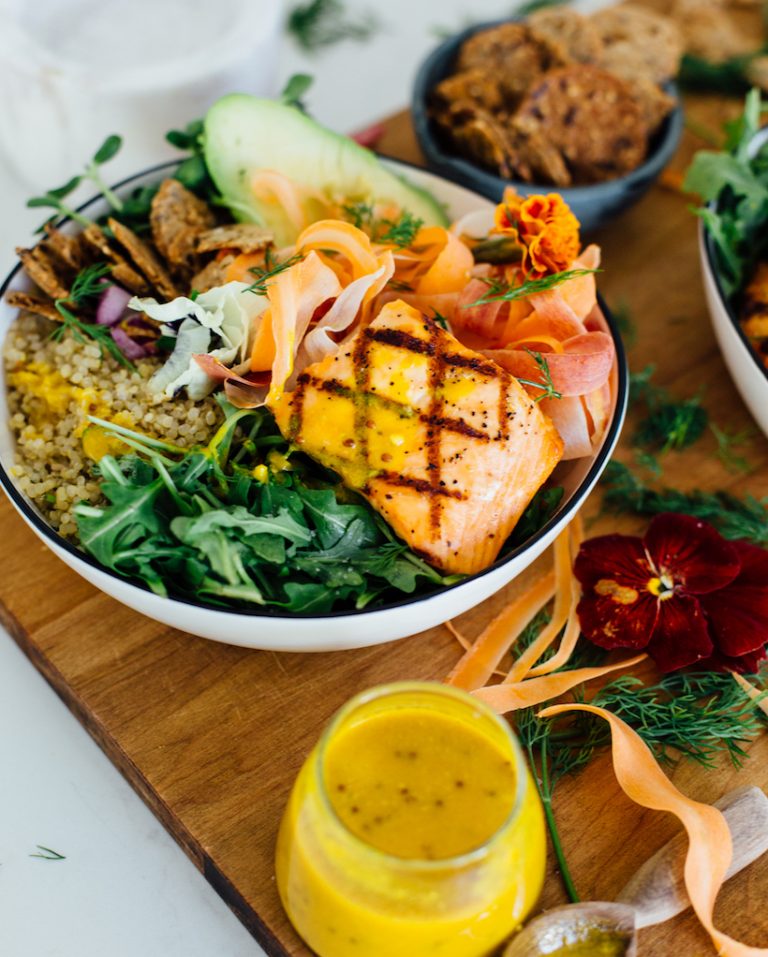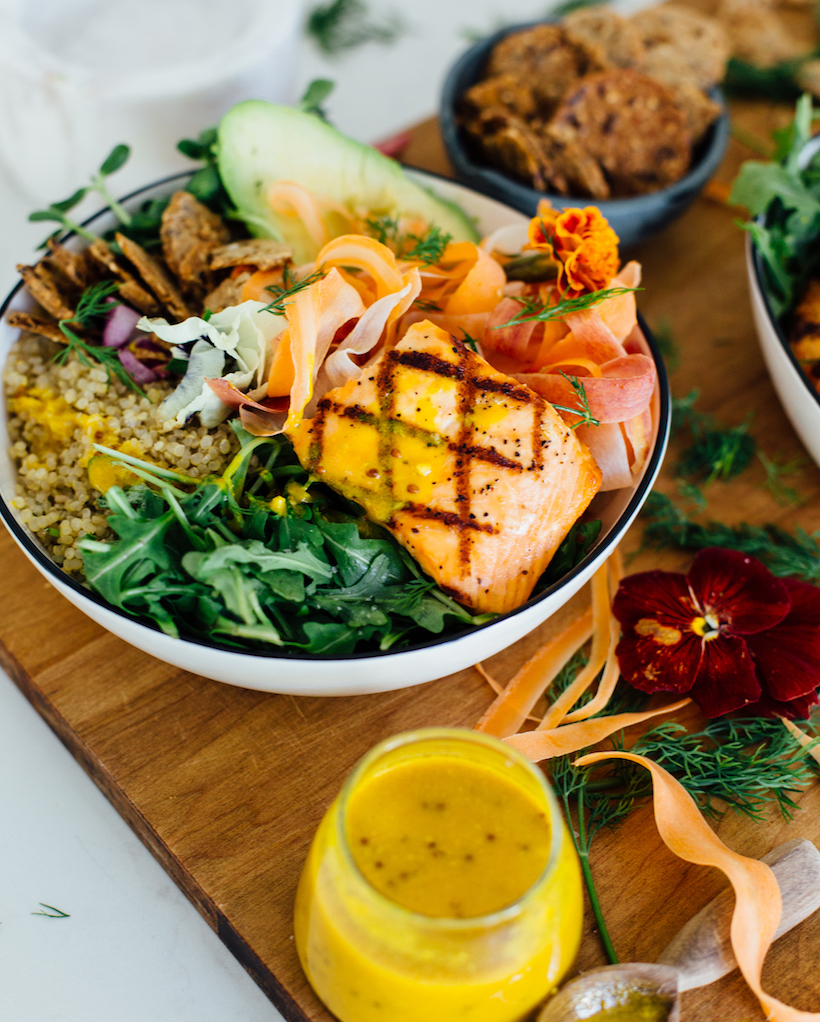 Spring Salmon & Veggie Grain Bowl
Why We Love It: The combination of healthy fats and grains in this bowl makes for a hearty meal that's filling without being too heavy. Salmon, avocado, and quinoa mixed with bright vegetables strike an impressive balance between hearty and healthy that will keep you full without feeling saturated. Plus, the dressing is filled with anti-inflammatory ingredients like ginger, turmeric, and honey to keep your body happy.
Hero Ingredient: Don't skimp on the turmeric-citrus vinaigrette… the gingery dressing takes this bowl to another level and can be used as a dip for raw veggies or on other salads. Yum.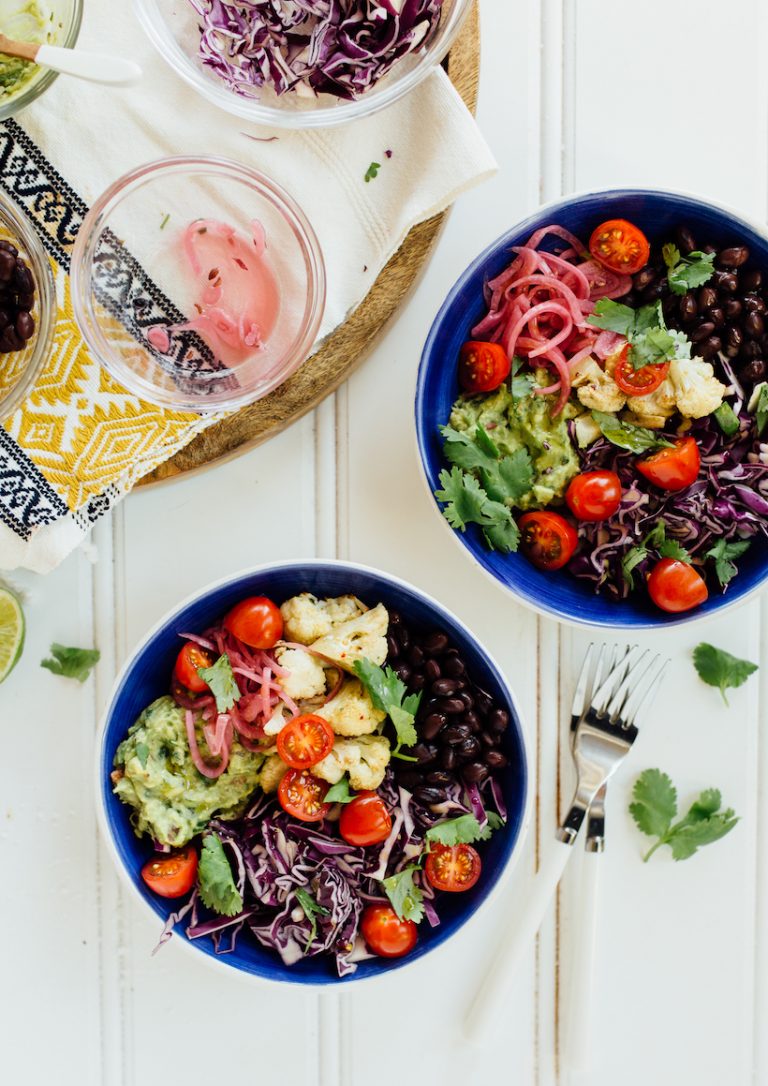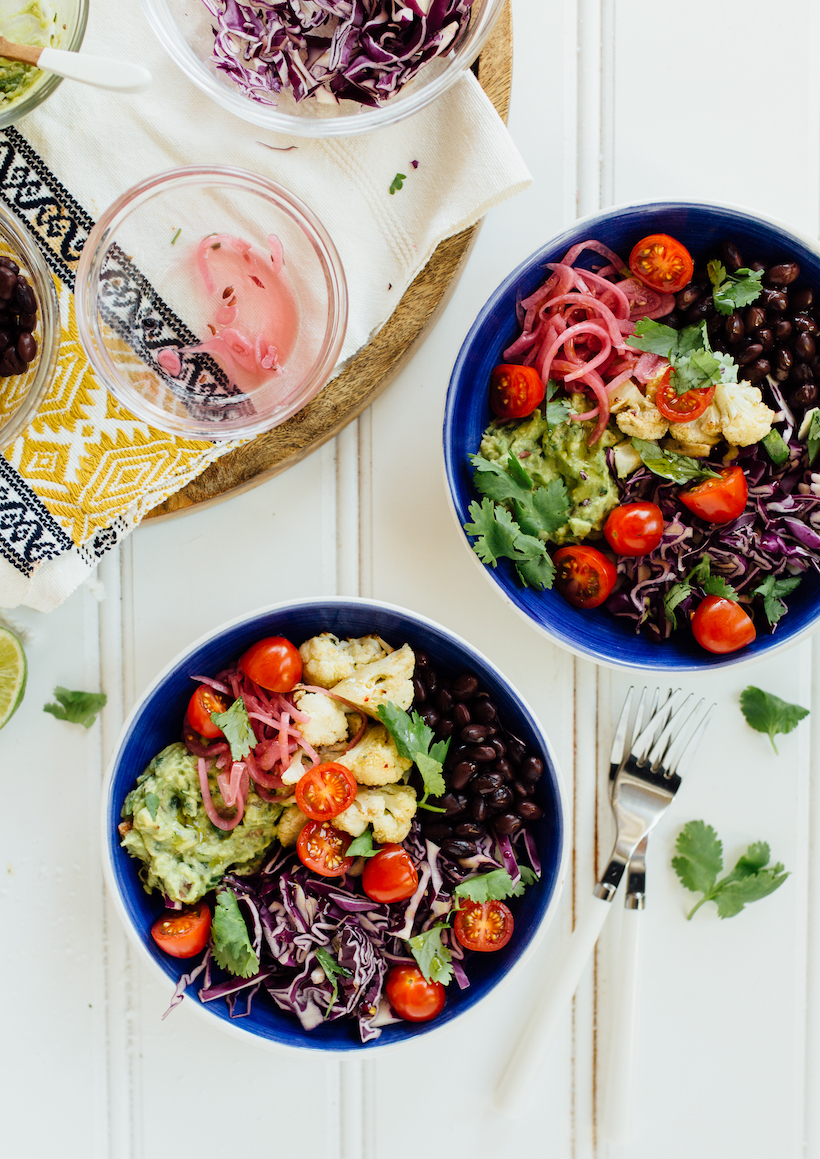 Healthy Mexican Bowl
Why We Love It: Although we love melty cheese, flour tortillas, and oversized margaritas, this Mexican bowl is lighter and healthier than what you'll find at your neighborhood Tex Mex restaurant. With cabbage, cauliflower, and black beans, polishing off this bowl won't leave you feeling heavy. Vegetable-forward, fresh, and healthy, this recipe is grounds for a fiesta.
Hero Ingredient: Limey dressing with agave tops off this bowl and adds zingy flavor to the vegetables. Don't skimp on this yummy sauce or the pickled onions.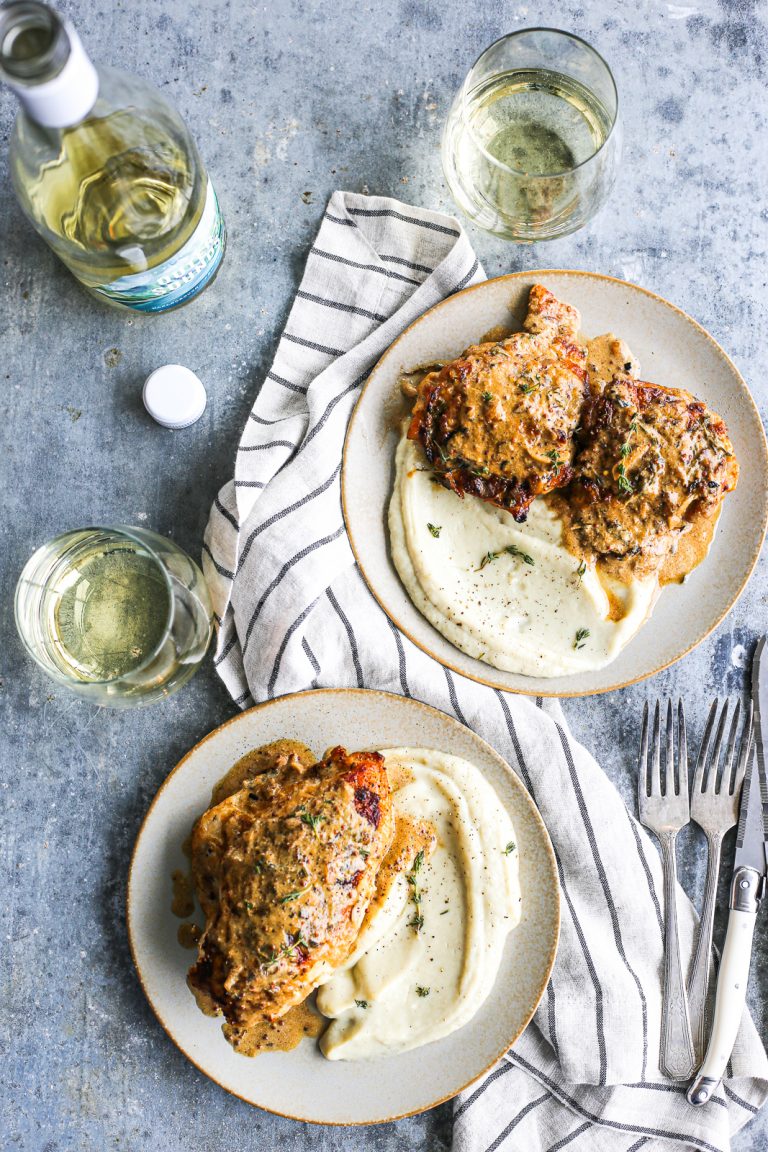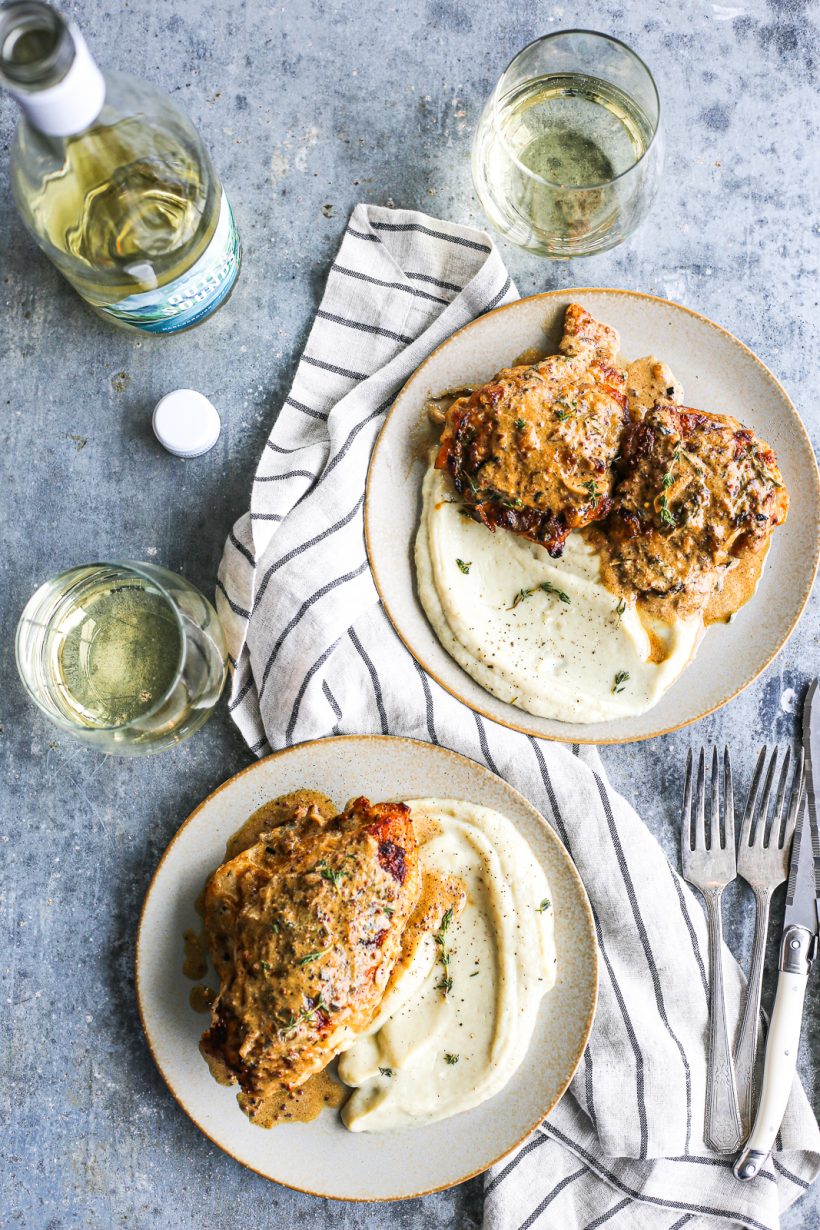 French Chicken With Creamy Mustard-White Wine Sauce from The Defined Dish
Why We Love It: Transporting you right to the French countryside, this comforting roasted chicken is the perfect dish to share when you crave an upscale home-cooked meal. Satisfying and healthy, the chicken is complemented by a creamy cauliflower puree and to-die-for dijon and white wine sauce. The puree is just as creamy as mashed potatoes (and better for you, of course) and the sauce seriously deserves a medal—or at least a little praise from whoever you eat it with.
Hero Ingredient: Creamy mustard-white wine sauce is the shining star of this meal. Garlic, shallots, dijon, and white wine = no shame in eating it straight out of the pan.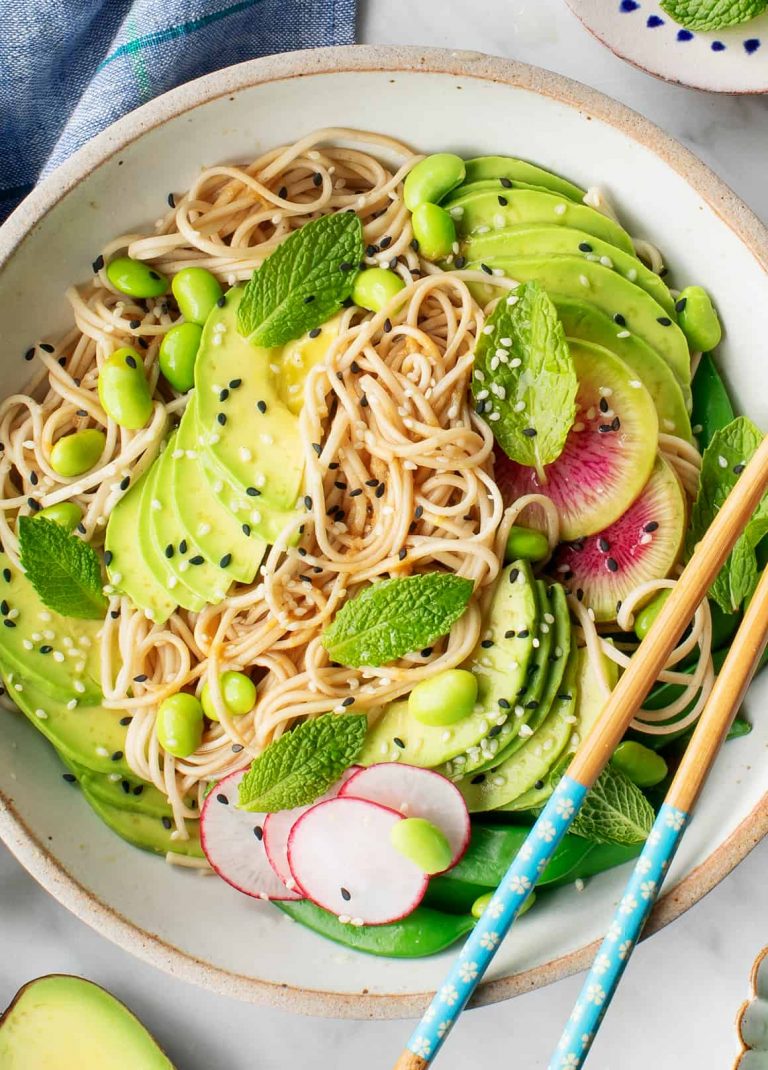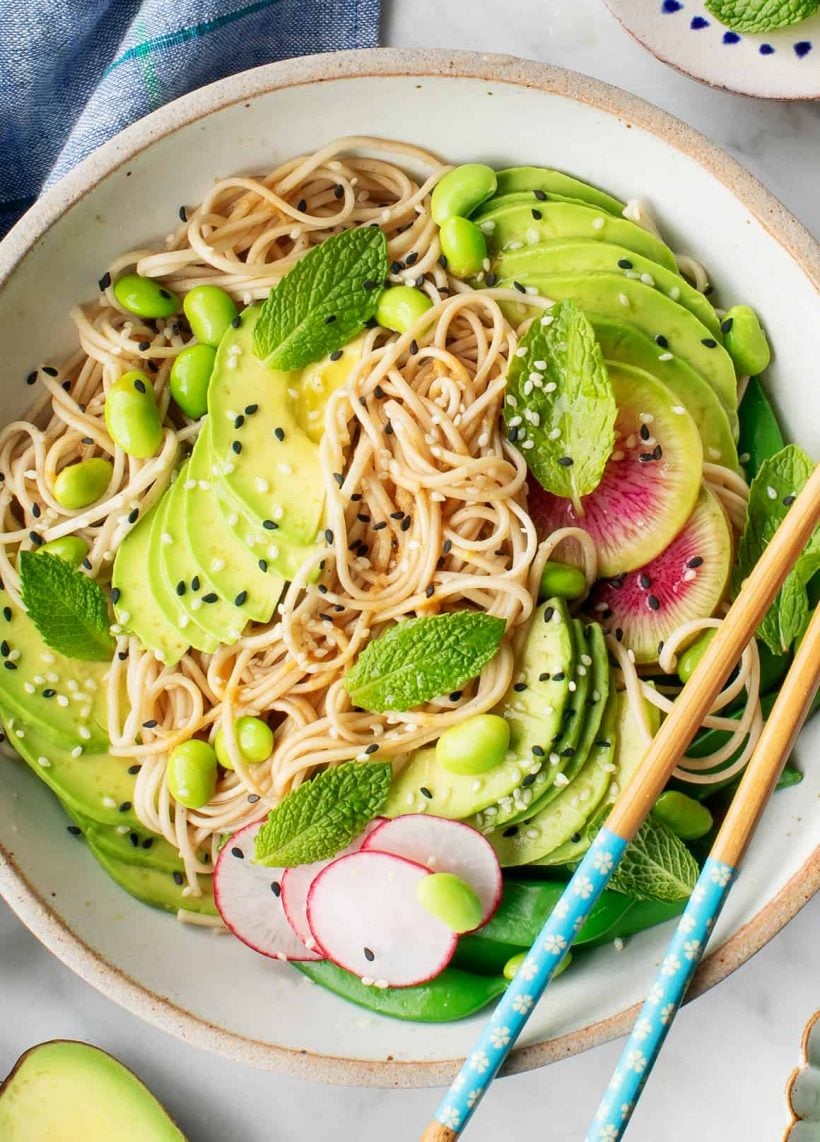 Sesame Soba Noodles from Love & Lemons
Why We Love It: Fresh, flavorful soba noodles are easy to make and eat when they're coated in a light sesame-ginger dressing and surrounded by a mix of veggies and avocado. This balanced dish delivers a combination of noodle-y indulgence and vegetable-forward freshness that's perfect for resetting your body from the holidays.
Hero Ingredient: Soba noodles bring a delicious buckwheat flavor to the table that you don't find in other Japanese noodles. Contrary to its name, buckwheat flour doesn't contain any wheat and is actually gluten-free (bonus!). So don't hold back on these nutty noodles and be sure to enjoy!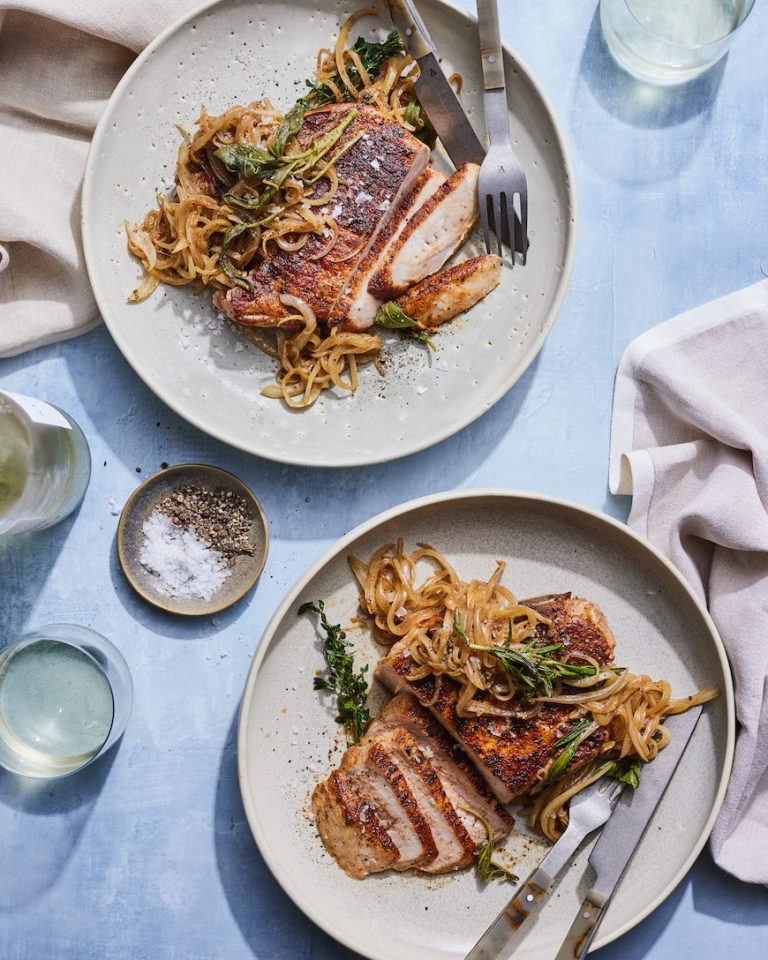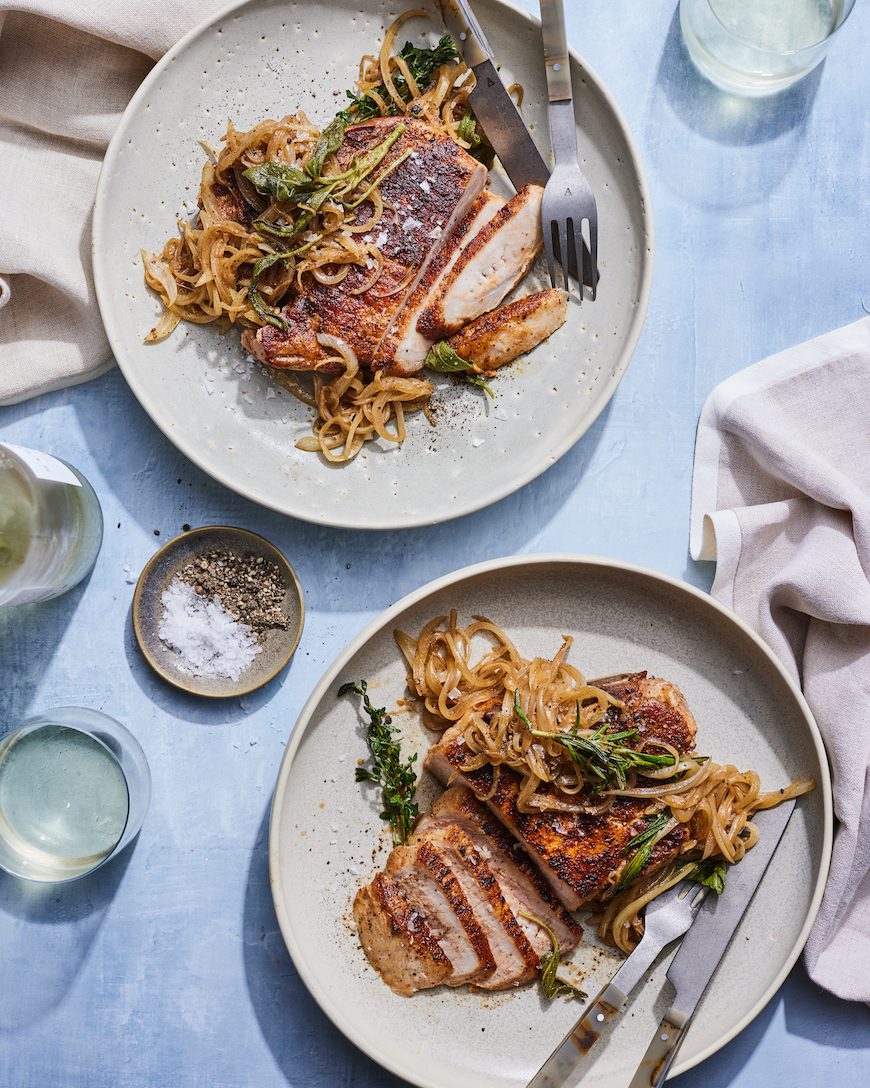 Butter Basted Pork Chops With Onions and Herbs from Whats Gaby Cooking
Why We Love It: Even though it's so versatile, I feel like pork sometimes gets a bad rap—especially in chop form. Maybe it's because it can be dry, maybe it's because people don't like the flavor, I'll really never know. What I do know, however, is that these pork chops from What's Gaby Cooking are next-level delicious. Seasoned with paprika, basted with butter, and topped with caramelized onions and herbs, there's not a dry, flavorless chop in sight. Serve them alongside faux parmesan cauliflower "potatoes" or kale crunch salad to make a deliciously decadent meal out of the (IMO) underrated protein.
Hero Ingredient: Rosemary, thyme, and sage come together to form an herb power-trio that livens up these pork chops and takes them to the next level.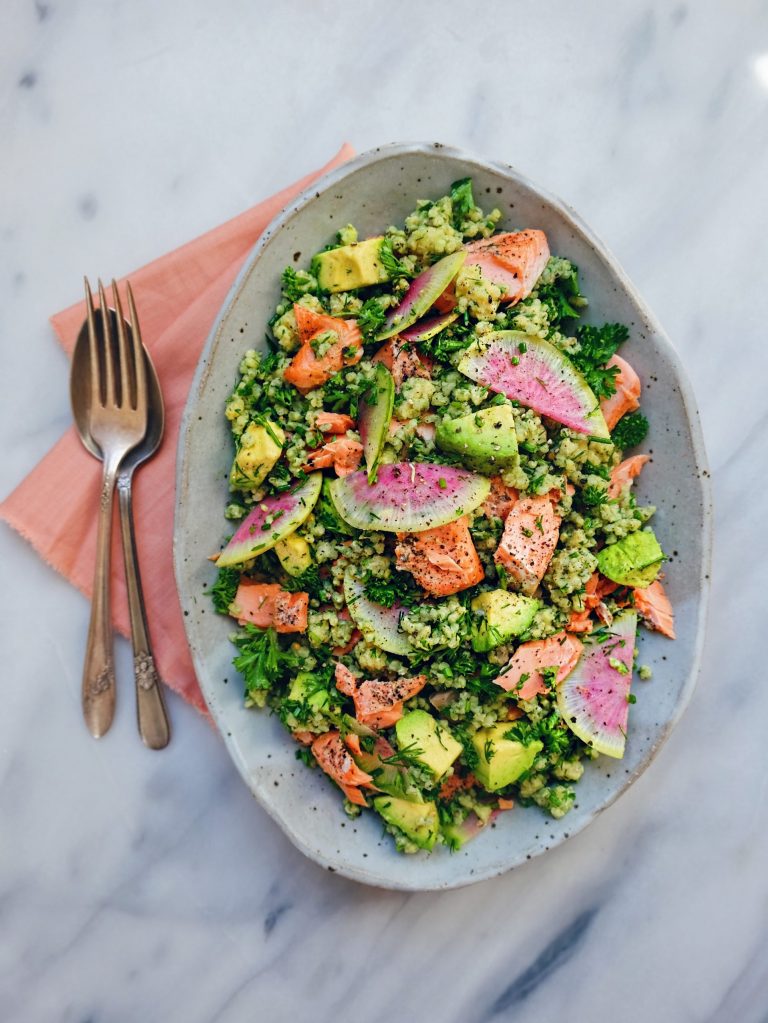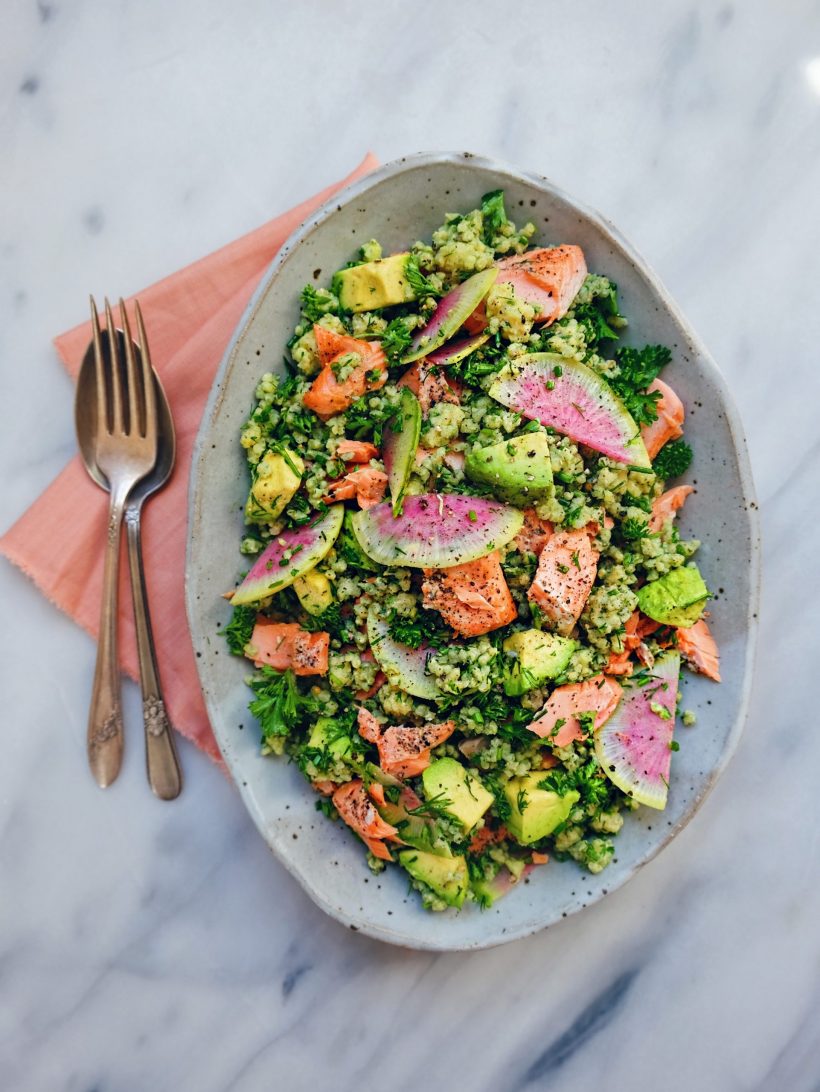 Salmon and Millet Supergreen Salad from Wu Haus
Why We Love It: This bright salad packed with omega-3s and healthy fats is a satisfying balance between hearty and healthy. Millet and fatty acids keep you full between meals and watermelon radish and citrus vinaigrette keep this dish light and cleansing. Sounds like a win-win to me.
Hero Ingredient: Watermelon radish is the hero vegetable in this recipe for its refreshing bite and neutrality. The perfect palette for flavor, this watery root veggie carries the salad's flavors into each delicious bite.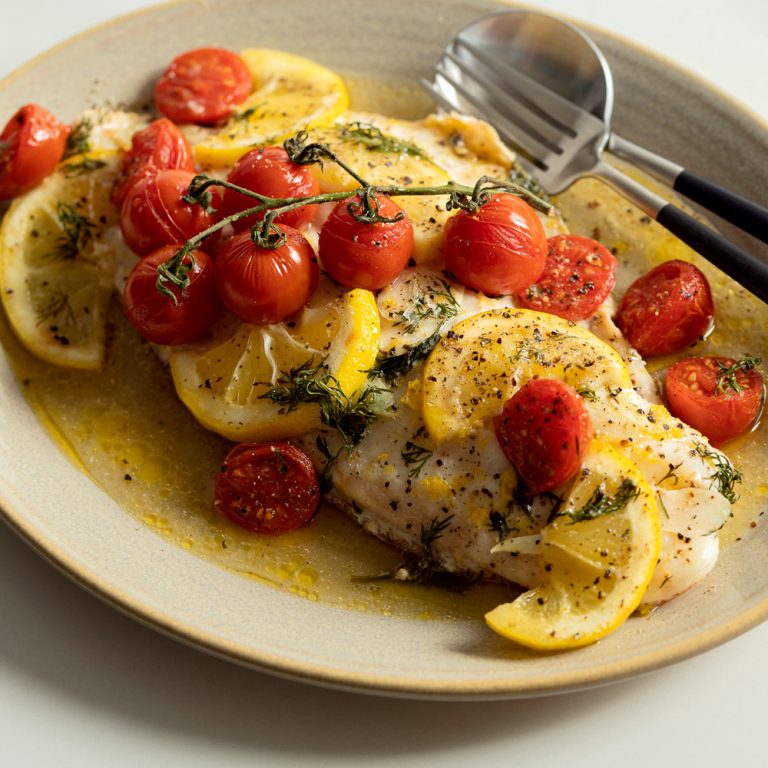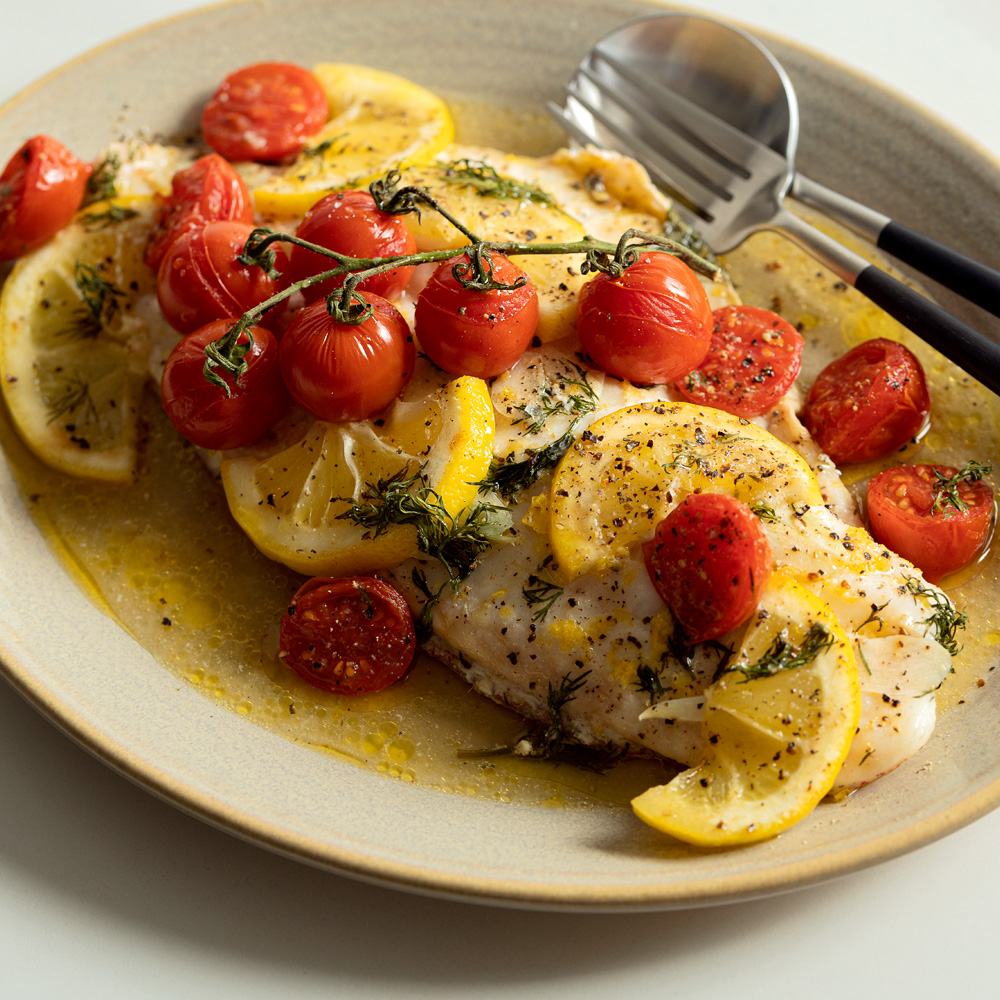 Butter Baked Fish With Lemon, Tomato & Dill from Gather & Feast
Why We Love It: It's always a celebration when a recipe checks all three boxes of easy, healthy, and delicious—and this buttery, lemony fish does just that. No frills but nonetheless elegant, this simple snapper is roasted with cherry tomatoes and lemon to create a delicious weeknight dinner refined enough for a restaurant. Serve it with a crunchy green salad and slice of crusty bread, and enjoy the fruits of your minimal labor.
Hero Ingredient: Lemon juice subtly flavors this dish without overpowering the fish's buttery taste. With a few sprigs of dill over top, the lemony flavor brings a refreshing zing to the table that melds nicely with the flavors of the dish.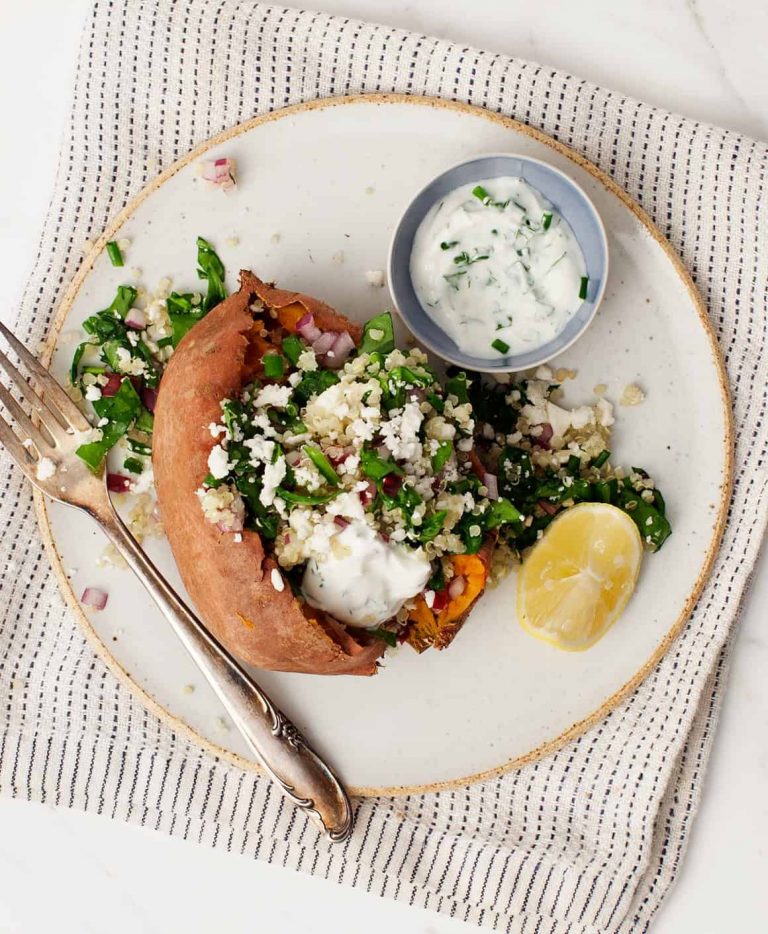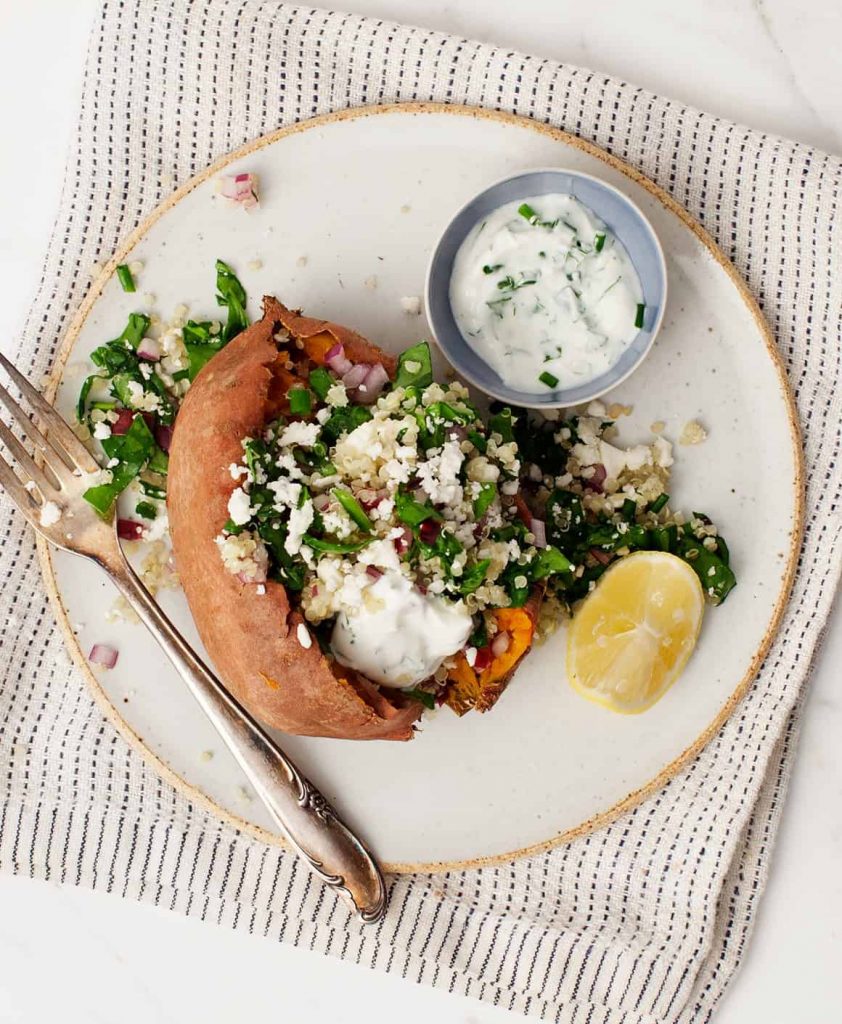 Greek-ish Stuffed Sweet Potatoes from Love & Lemons
Why We Love It: When I think baked sweet potato, my mind goes straight to cinnamon, brown sugar, and lots of butter. But, since we're on a post-holiday rescue mission, this recipe trades the usual sweet trifecta for quinoa, feta, and tzatziki sauce. Maybe not all the flavors you crave in a potato, but definitely ones you'll learn to love. This reimagined, nutrient-dense decadence is sure to impress.
Hero Ingredient: Refreshing cucumber tzatziki sauce ushers in a rich, zesty flavor that elevates the potato while not sacrificing the its healthy nature. It's better for you and tastes great. What more could we ask for?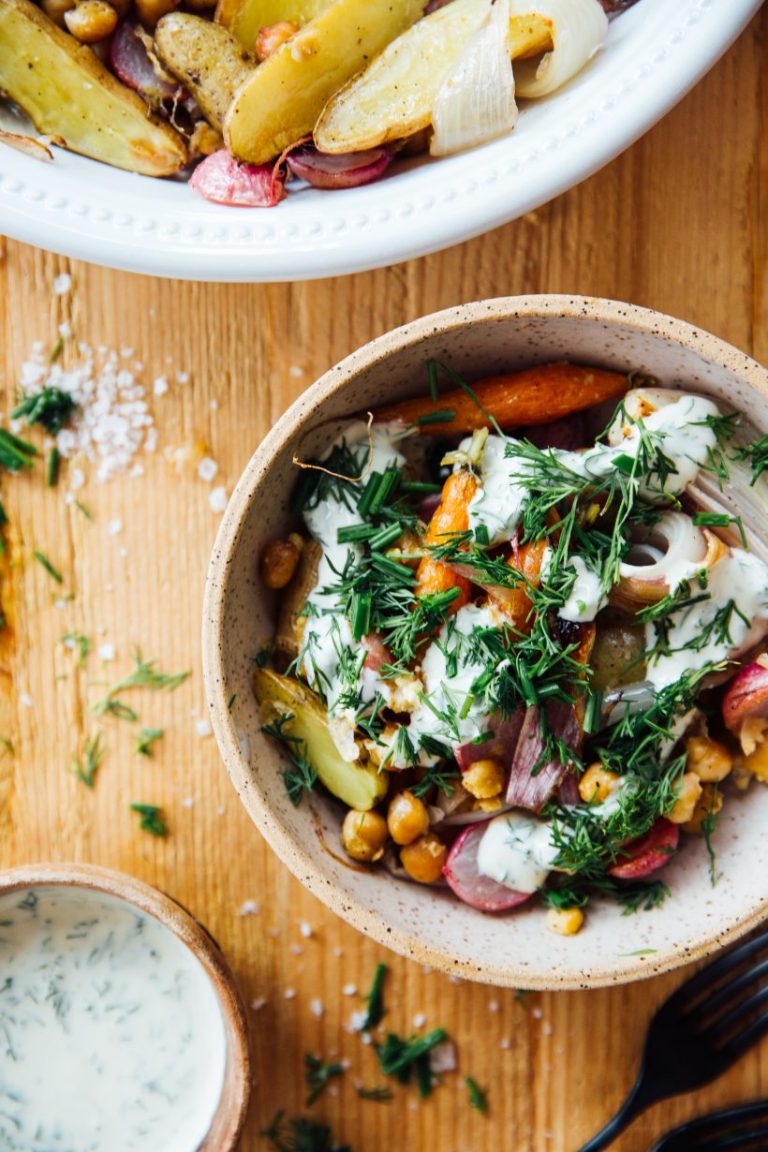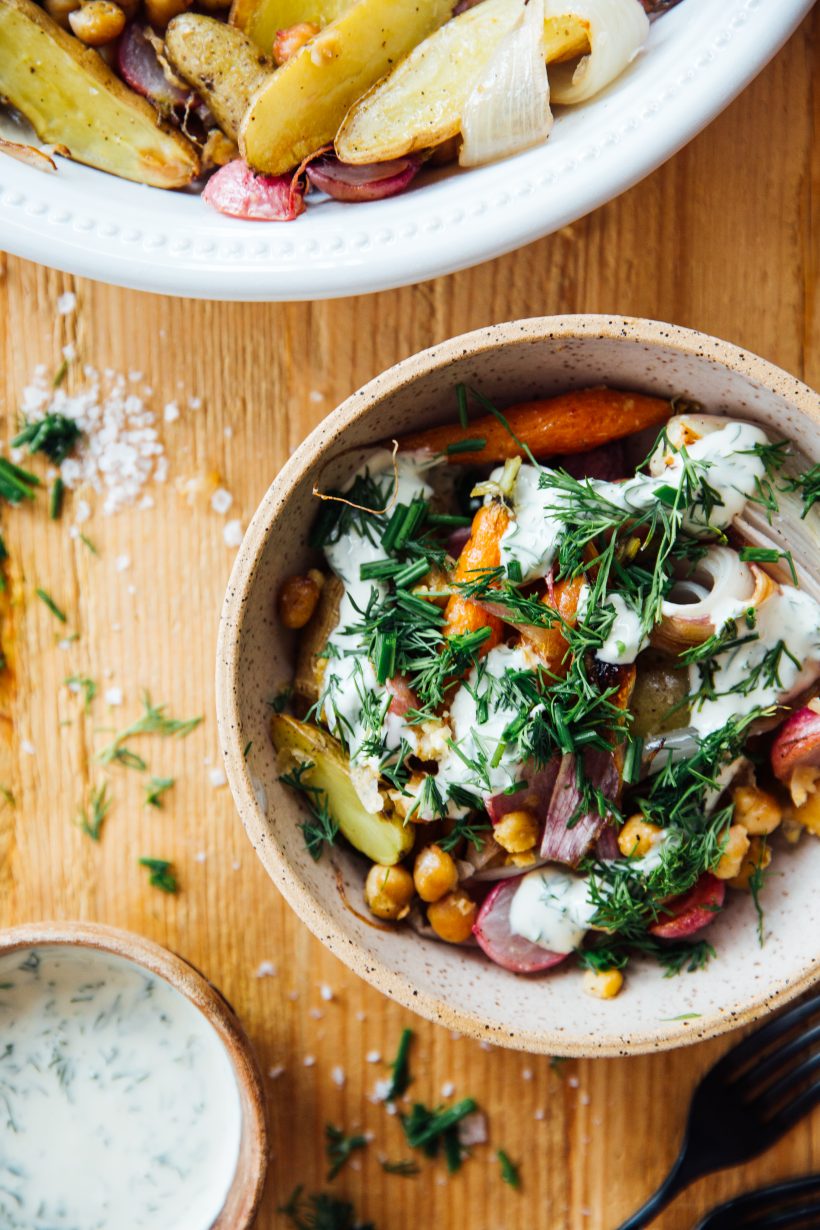 Sheet Pan Veggie Bowl With Yogurt and Herb Dressing
Why We Love It: There's nothing better than a really good dinner that only takes 30 minutes to throw together. And bonus points for when it's healthy! Packed with roasted vegetables and tied together with a creamy yogurt and herb dressing, this bowl checks all the boxes for flavor while filling your veggie quota.
Hero Ingredient: Yogurt and herb dressing is what turns a sheet pan full of roasted vegetables into this polished meal. Bright, zesty, and smooth, don't hesitate in drizzling lots of the yogurt-y goodness over those veggies and enjoy your decadent bowl.
Get the recipe here.