By T.K. Randall
January 16, 2023 ·  7 comments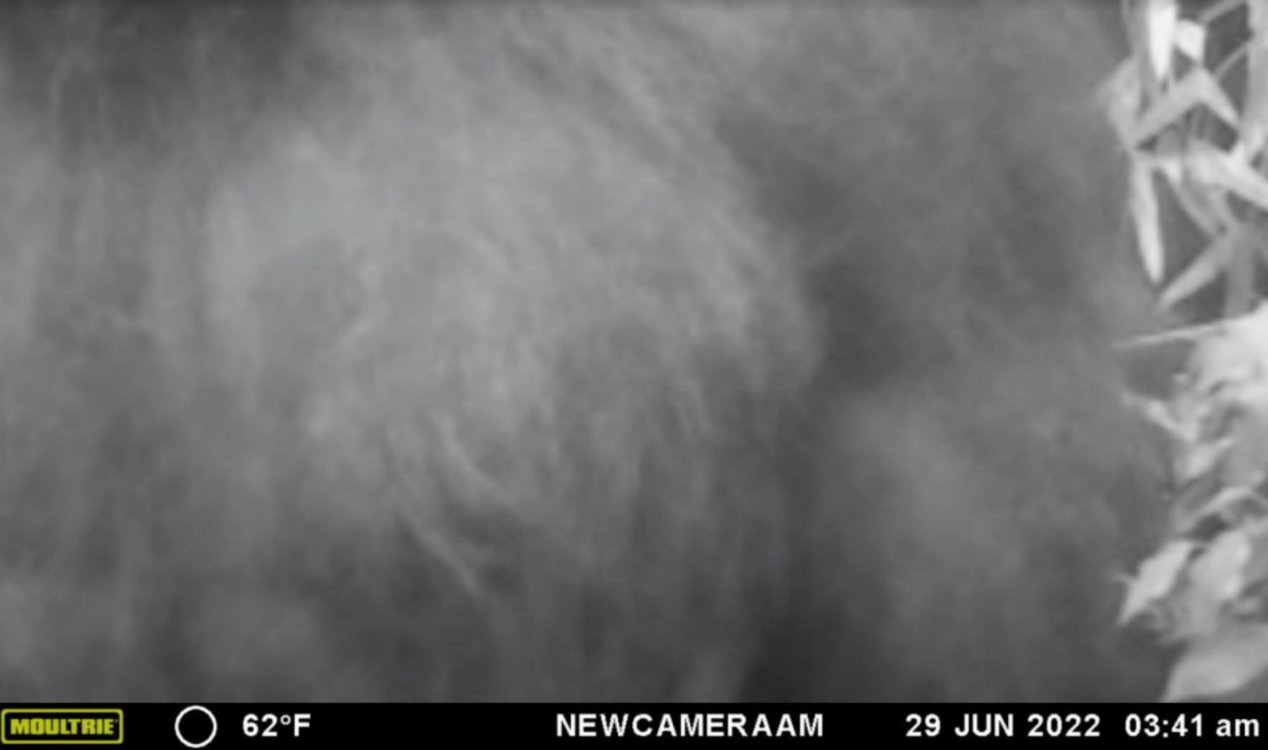 This image is definitely not what it seems. Image Credit: Ronnie / RMSO
An image allegedly captured of a Bigfoot-like creature in England has turned out to be a deliberate forgery.
Earlier this month, an individual identifying himself as 'Ronnie' wrote to the Rocky Mountain Sasquatch Organization to submit a photograph that he claimed to have taken in Cannock Chase.
The image (above), which is in black and white, shows a close-up of what looks like the hair-covered musculature of a large ape-like creature.
"Back in August of 2015 I saw a Sasquatch/Bigfoot type creature in broad daylight in Cannock Chase," he wrote. " It was roughly about 50 meters away from me, it looked to be about 7 or 8 feet tall (possibly even taller), very, very heavily built, and covered from head to toe in brown hair/fur."
"Over the last 7 years I've been back to Cannock Chase many, many times looking for evidence, hoping that I might see it again, I also started setting trail cams several years ago."
"I was setting trail cams most of last year, I stop in the winter as I hate the cold, and I usually start again in the spring. Last summer I was in Cannock Chase checking my trail cams, 3 showed nothing, but on one I found something very interesting and very extraordinary."
"I see a huge chest and a huge left arm covered in hair/fur, which is actually partially obscured by foliage (in reality I believe the arm is much, much bigger)."
Not everyone was convinced by the image, however, especially Cliff Barackman of Finding Bigfoot fame who noted on Twitter that the photograph looked a lot like the replica model Bigfoot found at the North American Bigfoot Center (of which he happens to be the curator.)
By taking a close-up photograph of the model and changing it to black and white, he was able to reproduce almost exactly the image submitted to the RMSO.
This is one Bigfoot image, it seems, that has been well and truly debunked.
It seems the trail camera photo is almost certainly a cropped photo of the @NABigfootCenter's sasquatch replica, Murphy. I created the below photo by taking an older pic of Murphy, mirroring it on the vertical axis, and making it b/w. Note foliage and curly hairs on chest.. pic.twitter.com/qMs7DWjz9H

— Cliff Barackman (@CliffBarackman) January 16, 2023
Source: RMSO Bigfoot | Comments (7)
Tags: