Cryptozoology
April 1, 2022 |  0 comments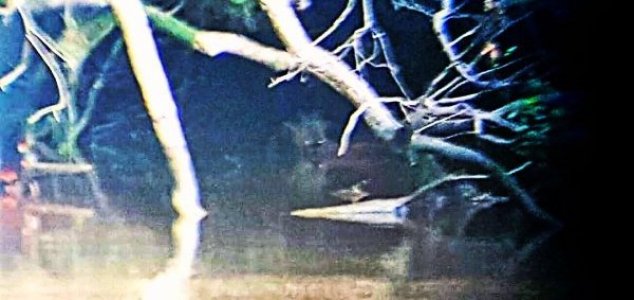 What could this be ? Image Credit: Phantoms and Monsters
A family who lived on a houseboat once captured a strange image in the waters of coastal Mississippi.
The image, which was recently submitted to Lon Strickler's 'Phantoms and Monsters' blog, shows what looks like a creature's head and eyes next to (and reflecting on) the water's surface.
While it's difficult to discern what the creature is, the image is certainly intriguing.
The photograph was submitted to Strickler's blog by a user who went only by the name 'B'. The sighting reportedly occurred back in 2015.
"Maybe 25 yards from us, something bent down near the water drinking," he wrote. "I went and retrieved my binoculars and took a closer look."
"It was pinkish tan with bulging eyes, funny looking ears, 2 arms and 2 legs, and what appeared to be horns coming out of it head. It had a short round body drinking from the shore."
"From what I saw, I would swear it was like a troll. It was devil ugly."
The sighting has since had a profound impact on the family.
"I still own that property and the houseboats, but none of my grown kids will even go out there anymore," he said.
Source: Phantoms and Monsters | Comments (0)
Tags: