Ahead of NATO's summit on Tuesday, President Biden said he was not surprised by Turkey's decision to withdraw its objections to Sweden joining the alliance.
"Not at all," Biden told a group of reporters on his way to Tuesday's meeting held in Vilnius, Lithuania's capital. He also suggested he was the reason Turkish President Recep Tayyip Erdogan ultimately changed his decision, saying: "I've talked to Erdogan."
When another reporter asked Biden why Turkey ultimately changed its tune regarding Sweden's membership, he responded with a smile: "What do you think."
Biden and Erdogan previously held conversations and are scheduled to meet again Tuesday evening as some of the Turkish president's demands remain unresolved. He has been seeking advanced American fighter jets – the F-16s – and a path toward membership in the European Union. The White House has expressed support for both but did not tie these issues with Sweden's membership in NATO.
BIDEN REPORTEDLY FUMES AND SPEWS CURSES AT STAFF IN PRIVATE: 'NO ONE IS SAFE'
A deal was reached late Monday after days of intensive meetings by the world leaders, who are tasked with expanding NATO's strength.
"I stand ready to work with President Erdogan and Turkey on enhancing defense and deterrence in the Euro-Atlantic area," Biden said late Monday.
On Tuesday, Biden reaffirmed NATO's principled agreement that members will defend one another against an armed invasion. The comment came in the face of Russia's invasion of Ukraine, which is trying to join NATO.
"It's great to be back in Vilnius," he said. "We take, NATO takes, all of us takes, article 5 seriously. Defend every inch."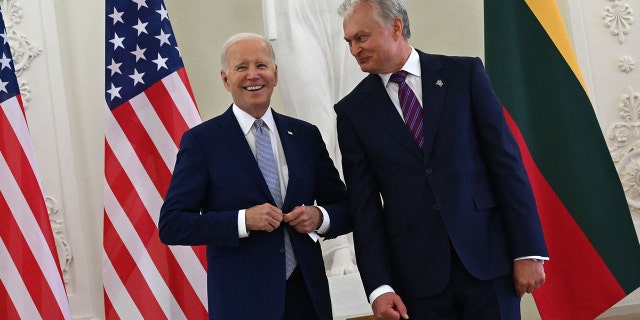 Article 5 of NATO's founding treaty says if a NATO member is the victim of an armed attack, each and every other NATO member will consider this act of violence as an attack against all members and will respond accordingly.
TURKEY TO ADVANCE SWEDEN NATO BID SAYS STOLTENBERG
The U.S. president also said he looks forward to a time when the international alliance can meet as 32 countries.
"Thank you, Mr. President, for hosting this historic summit," Biden said to President Gitanas Nausėda of Lithuania, "the first time that NATO leaders will meet with 31 together and looking forward to convening very soon with 32 members with the addition of Sweden."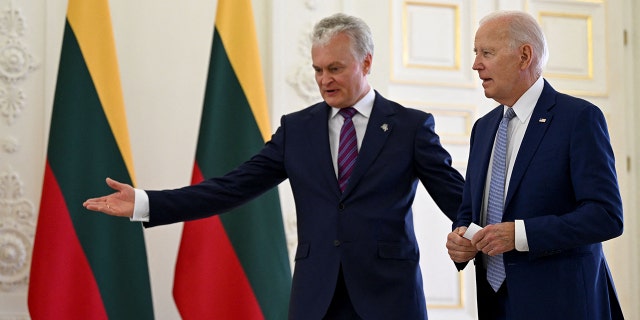 Finland recently became the 31st member of the alliance, and Sweden is on deck to become the 32nd, due to the new deal by Turkey and Hungary, another holdout in blocking Sweden's membership. Both Nordic countries were historically nonaligned but sought membership after Russia invaded Ukraine.
As part of the deal, Erdogan said he would ask Turkey's parliament to approve Sweden joining NATO. Hungarian Prime Minister Viktor Orban is expected to do the same with his country's legislature.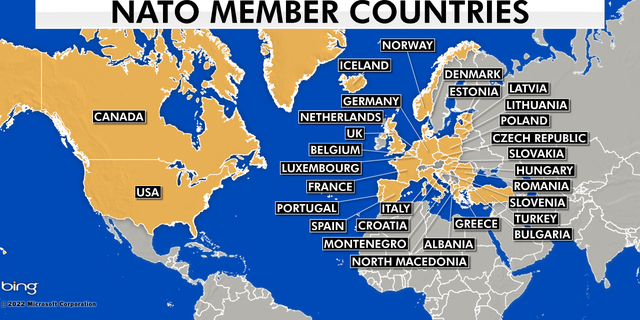 Leaders at NATO's summit on Tuesday and Wednesday are also expected to discuss Ukraine's potential membership. Baltic states — including the summit's host country Lithuania — have pushed for Ukraine to join the alliance.
NATO LEADERS AGREE TO HELP MODERNIZE UKRAINE'S ARMED FORCES, MEMBERSHIP TALKS ARE STILL OFF THE TABLE
Biden said last week that Ukraine wasn't ready to join, explaining that NATO members must "meet all the qualifications, from democratization to a whole range of other issues."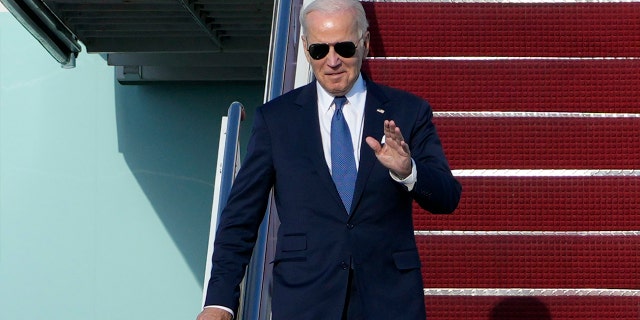 On Tuesday, Biden struck a slightly more optimistic tone.
"In the coming days, we're also going to discuss a range of issues about how to strengthen NATO's eastern flank and modernize NATO's deterrence and defense capabilities. And we're going to be doing it in a place for those whose efforts truly matter. We're also going to discuss our support for the people of Ukraine," he said.
While critics fear bringing Ukraine into NATO could provoke further Russian aggression, Secretary-General Jens Stoltenberg wrote in Foreign Affairs on Monday that the alliance would "upgrade our political ties" by forming a NATO-Ukraine Council.
The body would be "a platform for decisions and crisis consultation," Stoltenberg said.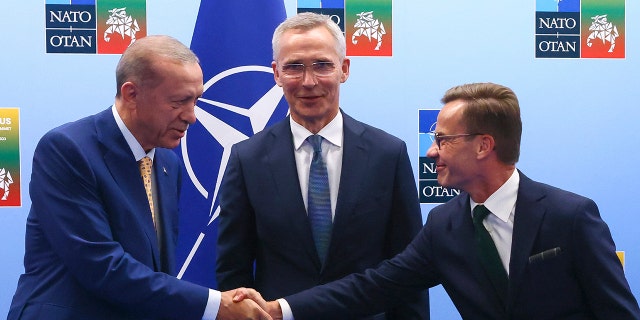 Stoltenberg also reiterated that Ukraine will eventually become a member of NATO, but he did not outline specifics. 
"Ukraine is much closer to NATO, so I think the time has come to reflect that in other NATO decisions," he said.
CLICK HERE TO GET THE FOX NEWS APP
Ukrainian President Volodymyr Zelenskyy is expected to attend the summit on Wednesday and is scheduled to meet with Biden, officials said.
Jake Sullivan, the U.S. national security adviser, also spoke to reporters Tuesday morning, saying allies were debating the "precise nature" of Ukraine's pathway to membership in the alliance.
The NATO summit serves as a centerpiece for Biden's five-day Europe trip. The president met with King Charles III in the United Kingdom Monday. He will travel to Helsinki, Finland after the NATO summit ends on Wednesday.
Fox News' Sarah Tobianski and The Associated Press contributed to this report.