Florida first responders quickly discovered an emergency call about a "burning mannequin" was actually a person set on fire. 
"This is a jarring scene," Hillsborough County Sheriff Chad Chronister said in a statement on Saturday after announcing the case is a homicide.
The sheriff's office told Fox News Digital Wednesday that victim is an adult male, but the body was so severely burned that investigators could not tell if the victim was male or female for days. 
No other information about the victim was released, but investigators identified a person of interest and disseminated videos and photos to the media. 
FLORIDA PREP SCHOOL PRINCIPAL ALLEGEDLY SEXUALLY ABUSED STUDENT WHO VIEWED HER AS 'MOTHER FIGURE': REPORT
"At this time, our deputies are doing everything they can to determine what happened to this person," Chronister said in a statement.
"We do believe this is an isolated incident, and we will continue to work tirelessly until we determine how this horrific crime occurred."
FLORIDA WOMAN ARRESTED IN CONNECTION TO ROAD RAGE INCIDENT WHERESHE ALLEGEDLY CLIMBED ATOP CAR
A passerby called emergency services around 8 a.m. Saturday to report what they believed was a "burning mannequin" in a field in Ruskin, an unincorporated census-designated place in Hillsborough County about 30 minutes south of Tampa.
A nearby resident, Nicholas Minchew, told ABC Action News Tampa, that he originally did not see or smell anything, but found out what was going on after helicopters continuously buzzed above.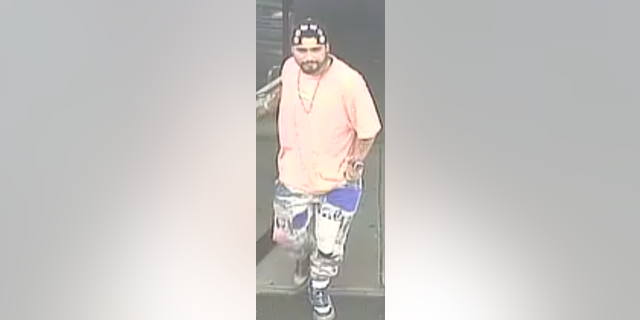 "To go that far and to that extent to do something, you've got to be very angry at someone," Minchew told the local news outlet. 
It wasn't Hillsborough County Fire Rescue extinguished the flames that first responders learned the victim was a person; not a mannequin.
FLORIDA BICYCLIST, 83, KILLED AFTER GETTING STRUCK TWICE IN HIT-AND RUN
Investigators said the victim was found with upper body trauma.
Hillsborough County Sheriff's Office spokesperson Fentress Fountain told WFLA the case is at a "standstill" until the medical examiner can determine who the victim is. 
WATCH POLICE-RELEASED FOOTAGE OF "PERSON OF INTEREST"
"It's in their hands right now," she said on Tuesday, "just to determine who the person is, which could take a while. We don't have an estimated time frame right now."
Anyone with information on the case or who may know the identity of the person of interest is asked to call HCSO at (813) 247-8200.