A terrifying video captured a 75-year-old woman being dragged across the pavement in a California bank's parking lot by purse-snatchers in broad daylight.
The violent robbery happened Monday just after 11:15 a.m outside a Bank of America in Hacienda Heights, California, suburb of Los Angeles.
Los Angeles Sheriff's Office said that unidentified woman was leaving the bank and walking in the parking lot when the suspect ran up to her and grabbed her purse, which was over her shoulder. The determined woman refused to let go of her belonging causing the thief to knock the woman onto the ground and drag her for several feet.
Video captured at the scene shows the male thief dragging the woman by the arm as he attempts to steal her purse. 
DOCOTOR KIDNAPPED FROM NYC MUSIC VENUE TIED TO MYSTERIOUS DEATHS OF MEN AFTER CONCERTS
He continued dragging the stunned woman until two good Samaritans rushed to the scene and chased away the suspect.
The Major Crimes Bureau division of the Los Angeles Sheriff's Office is handling the investigation.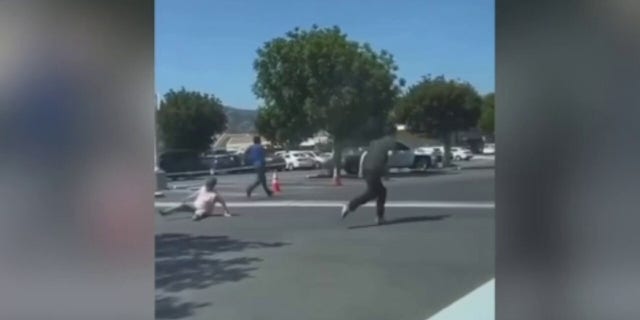 The woman's condition is unknown at this time, although in the video the woman is seen gingerly getting up and walking.
Detectives told FOX 11 this robbery is the latest in a string of robberies spanning multiple cities and counties. Additionally, detectives believe the same suspects are involved. 
"Property can be replaced, but the life of someone is most important to us," LA County Sheriff's Department Deputy Miguel Meza told FOX 11. "If you're going to get your vehicle, your purse, or anything of value stolen, or you're put in a situation where someone's trying to take anything from you, let the person have it. We don't want you to be physically hurt."