A video recently surfaced of guitarist Carlos Santana as he criticized transgender ideology during a concert in late July.
Santana and his band of the same name have sold more than 100 million records and won 10 GRAMMY® Awards. He made headlines this week, however, for condemning transgender ideology at a concert in Atlantic City, N.J. the weekend of July 28.
A clip circulated of Santana pausing after a song to declare, "When God made you and me, before we came out of the womb, you know who you are and what you are," he said. "Later on, when you grow out of it, you see things, and you start believing that you could be something that sounds good, but you know it ain't right."
DAVE CHAPPELLE ADDRESSES BACKLASH, SAYS PEOPLE WANT TO TAKE 'NUANCE' OUT OF SPEECH IN AMERICAN CULTURE
He then went on to say, "Because a woman is a woman and a man is a man. That's it. Whatever you want to do in the closet, that's your business. I'm OK with that."
He also gave a shout-out to comedian Dave Chappelle, who has made headlines in his own right for questioning transgenderism and cancel culture. "I am like this with my brother Dave Chappelle," he said as he joined his hands together.
Santana defended his rhetoric in a statement to Billboard Thursday.
"Here is my personal goal that I strive to achieve every day. I want to honor and respect all person's ideals and beliefs whether they are LGBTQ or not," he wrote to the music news outlet. 
"This is the planet of free will and we have all been given this gift. I will now pursue this goal to be happy and have fun, and for everyone to believe what they want and follow in your hearts without fear. It takes courage to grow and glow in the light that you are and to be true, genuine, and authentic. We grow and learn to shine our light with Love and compliments. Have a glorious existence. Peace," he said.
CALIFORNIA MOTHER CLAIMS SHE LOST HER JOB FOR OPPOSING SEXUAL IDEOLOGY IN SCHOOLS: 'ABSOLUTELY DEVASTATING'
Chappelle faced backlash and calls to be deplatformed after the release of his standup act "The Closer" in 2021, in which he stated, "gender is a fact" and defended "Harry Potter" book series author J.K. Rowling, who herself has been widely condemned for contradicting transgender dogma. 
Since then, the comedian has been canceled on by a comedy venue and even assaulted during a performance. In early 2023, the comedian warned that cancel culture advocates are "trying to take the nuance out of speech in American culture."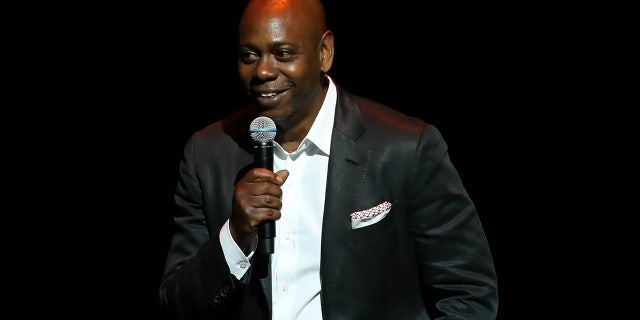 CLICK HERE TO GET THE FOX NEWS APP
In 1999, Santana's album, "Supernatural," won both Album of the Year and Record of the Year for the song, "Smooth." His official website notes that his rise to fame began as with "groundbreaking Afro-Latin-blues-rock fusion outfit in San Francisco" but his music has since "[transcended] musical genres and generational, cultural and geographical boundaries." It also claimed that he has had a "lifelong devotion to social activism and humanitarian causes."
For more Culture, Media, Education, Opinion, and channel coverage, visit foxnews.com/media