China's effort to buddy up with Russia has prompted a lukewarm response at home, as the leaders of both nations enter a three-day summit in Moscow for "in-depth" discussions. 
"The two Presidents said that they look forward to formal talks on the next day to draw up a new blueprint for China-Russia comprehensive strategic partnership of coordination in the years to come," the Chinese Ministry of Foreign Affairs wrote in a statement Tuesday. 
The ministry highlighted the long-standing relationship between the two countries, starting with Chinese President Xi Jinping's visit to Russia 10 years ago when he first won his seat and stressing the "profound logic" for China-Russia relations to reach "where it is today." 
However, the Chinese public does not seem to share the same rosy picture of the summit. Russian President Vladimir Putin published an article on the CCP-owned The People's Daily newspaper website matching one published in Russia's Rossiyskaya Gazeta – and the resulting social media engagement received less than 12 million views and limited comments after the outlet had to visibly censor or completely disable them on social media platform Weibo. 
TAIWAN SKEPTICAL OF CHINA'S PUSH FOR PEACE BETWEEN RUSSIA, UKRAINE: 'WE AIN'T NO IDIOTS'
The hashtag created by CCTV reporting on the first meeting of the three-day summit attracted nearly 70 million views by around noon, but again, most comment sections on Weibo were closed. 
Visible comments hailed the relationship between the two nations with short sentences like "win-win cooperation", "long-lasting friendship," or "we support". All mentions of Ukraine, war and conflict seemed blocked entirely.
In comparison, posts on Chinese social media platform Weibo about the international court warrant for Putin's arrest racked up more than 150 million views within the first 24 hours. The comments largely supported China's stance on the arrest, echoing claims about the West having double standards. 
US NEEDS TO STOP CHINA AND HERE ARE THE BEST WAYS TO DO IT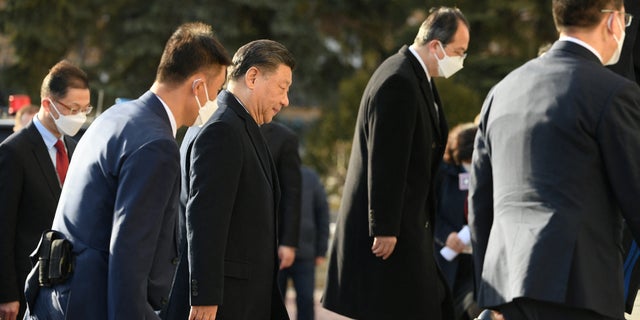 Although there is no doubt that both responses to the International Criminal Court (ICC)'s arrest warrant for Putin and Putin's letter in Chinese media are clean of any unwanted sentiment, it is clear that there is more support for China's narrative than there is for Russia's friendly greeting.
The ICC issued a warrant for Putin's arrest last week, saying that it found "reasonable grounds to believe that each suspect bears responsibility for the war crime of unlawful deportation of population and that of unlawful transfer of population from occupied areas of Ukraine to the Russian Federation, in prejudice of Ukrainian children."
The ICC also issued a warrant for Maria Alekseyevna Lvova-Belova, commissioner for Children's Rights in the Office of the President of the Russian Federation.
US LEFT OUT AS CHINA, IRAN COME OUT ON TOP IN LATEST DEAL WITH SAUDI ARABIA: 'SIGN OF THE TIMES'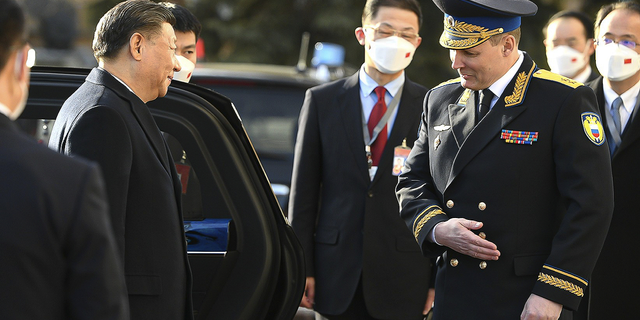 The warrant relies on cooperation from member states to enforce arrests, but neither China nor Russia are members of the Rome Statute, from which the ICC derives its authority. 
Instead, China has continued to highlight the "warm" relationship between the two countries and their "commitment" to mutual goals, such as support for "world multi-polarity and work for greater democracy in international relations." 
The Chinese foreign ministry revealed that the two leaders did discuss "the Ukraine issue," with Xi voicing support for "easing tensions … peace talks" and "against adding fuel to the fire," with a promise to "continue to play a constructive role in promoting the political settlement of the Ukraine issue."  
WHO BLASTS CHINA FOR WITHHOLDING INFO ON COVID ORIGIN AFTER DATA PULLED OFFLINE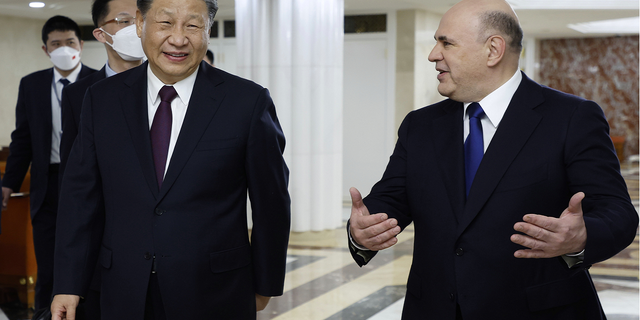 House Foreign Affairs Committee Chairman Michael McCaul, R-TX, told Fox News host Neil Cavuto that he did not see how China could play any kind of "objective" role in Ukraine peace talks since Xi has an eye on Taiwan. 
"I don't see how they can be an outside arbiter when they're aligned specifically with Putin in this fight in Ukraine," McCaul said. "So they're not objective in this."
CLICK HERE TO GET THE FOX NEWS APP
"I think, Chairman Xi's looking at Ukraine and thinking, you know, Russia's got to win this if I want to look at Taiwan," he explained. "So it's all interconnected, and in fact, we did get indications of Chinese ammunition that was found in Ukraine and a Chinese drone that was shot down over Ukraine. So I think you're going to see more and more lethal weapons going from China into Russia."