(WARNING: The above released footage is graphic and may be disturbing to some viewers). 
Recently released body camera footage shows a Colorado deputy fire a Taser at a man running onto an interstate just seconds before he is hit and killed by a vehicle. 
Larimer County Sheriff's deputy Lorenzo Lujan is heard saying "S–t, s–t" about five seconds before the driver of an SUV honks and hits 28-year-old Brent Thompson on I-25, according to body camera footage released on Wednesday.
Sheriff John Feyen said in a statement that his department grieved Thompson's death but defended the deputy's "decisive action" on the night of February 18 to deploy his Taser at Thompson as he ran onto the interstate into oncoming traffic. Thompson was suspected of giving a fake name to deputies after he was pulled over at about 9:15 p.m. for expired registration.
"Every incident provides an opportunity to reflect and grow as an agency, and this incident is no exception," Feyen wrote. "The deputy was forced to make a choice with no easy answer: act and try to stop the suspect… or stand by passively and simply hope no innocent people got hurt. We will continue to discuss this challenging case in training and internal conversations about dynamic decision-making, safety priorities, and the consequences of action or inaction."
MAN FATALLY STRUCK BY CAR ON COLORADO INTERSTATE AFTER RUNNING FROM DEPUTIES
Feyen said in a video message that an internal review of Lujan's conduct found that he acted in accordance with the department's policies. The county's district attorney said last week that Lujan used poor judgment, but cleared him of criminal charges.
"Unfortunately, Mr. Thompson's choices created a potentially no-win situation," the sheriff said. "Simply letting him run away could have resulted in deadly consequences for travelers on the highway and the deputy was forced to make a choice: act and try to stop the suspect or stand by passively and just hope no innocent people got hurt."
Thompson's family is demanding Lujan be fired and is urging the Colorado attorney general to review District Attorney Gordon McLaughlin's decision not to press charges.
"He didn't deserve to be murdered like that," Thompson's mother told The Colorado Sun. 
Attorneys with Rathod Mohamedbhai LLC, who are representing the family, said in a statement that the "tasering of an individual in the middle of an interstate highway at night is criminal and reprehensible conduct and has no place in law enforcement. The Thompson family is left with no choice but to seek justice from a civil jury."
Body camera footage shows Thompson pivot as Lujan informs him he is under arrest. Thompson then runs across southbound lanes and across a grassy median before jumping over a guardrail and onto northbound lanes. Lujan fires his Taser as Thompson crosses the right lane, just seconds before Thompson collapses in the road.
COLORADO COP FOUND GUILTY OF RECKLESS ENDANGERMENT FOR PLACING HANDCUFFED SUSPECT IN PATROL CAR HIT BY TRAIN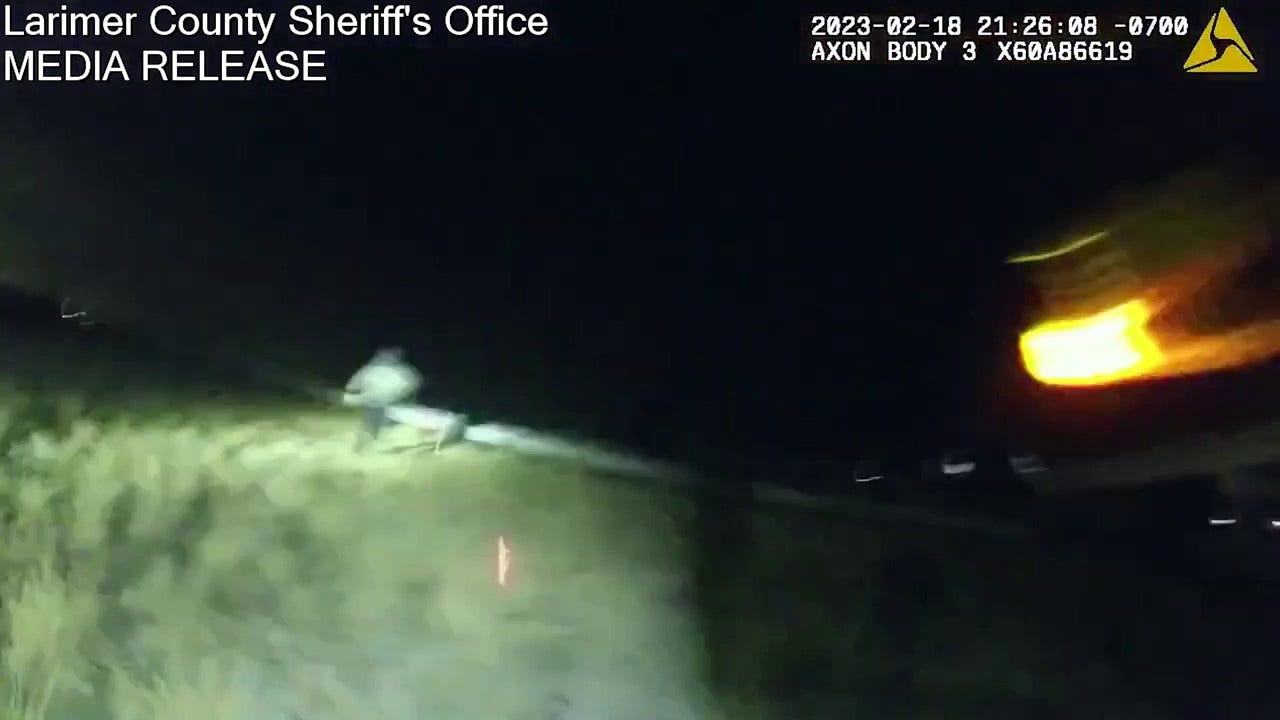 Investigators who reconstructed the crash found that Thompson was hit with the Taser probes 5.6 seconds before he was struck by the vehicle. The driver of the Ford Explorer was driving 65 to 70 miles per hour and was likely 533 to 615 feet away when Thompson was hit by the Taser.
Citing the distance and obstructions, it was unlikely Lujan would have been able to see the vehicle before deploying his Taser, investigators wrote in a critical incident review led by the Fort Collins Police Department.
After Thompson was struck by the vehicle, Lujan pulled Thompson to the road shoulder to provide aid before paramedics arrived, according to the sheriff's office. However, the body camera footage released by the sheriff's department ends before Thompson was hit. 
Unedited body camera footage released by Thompson family attorneys shows Thompson's body rolling after being struck by the SUV as Lujan stands on the side of the road. The deputy then puts Thompson in handcuffs, pulls his body to the side of the road and performs CPR. 
Thompson was transported to the hospital, where he was pronounced dead.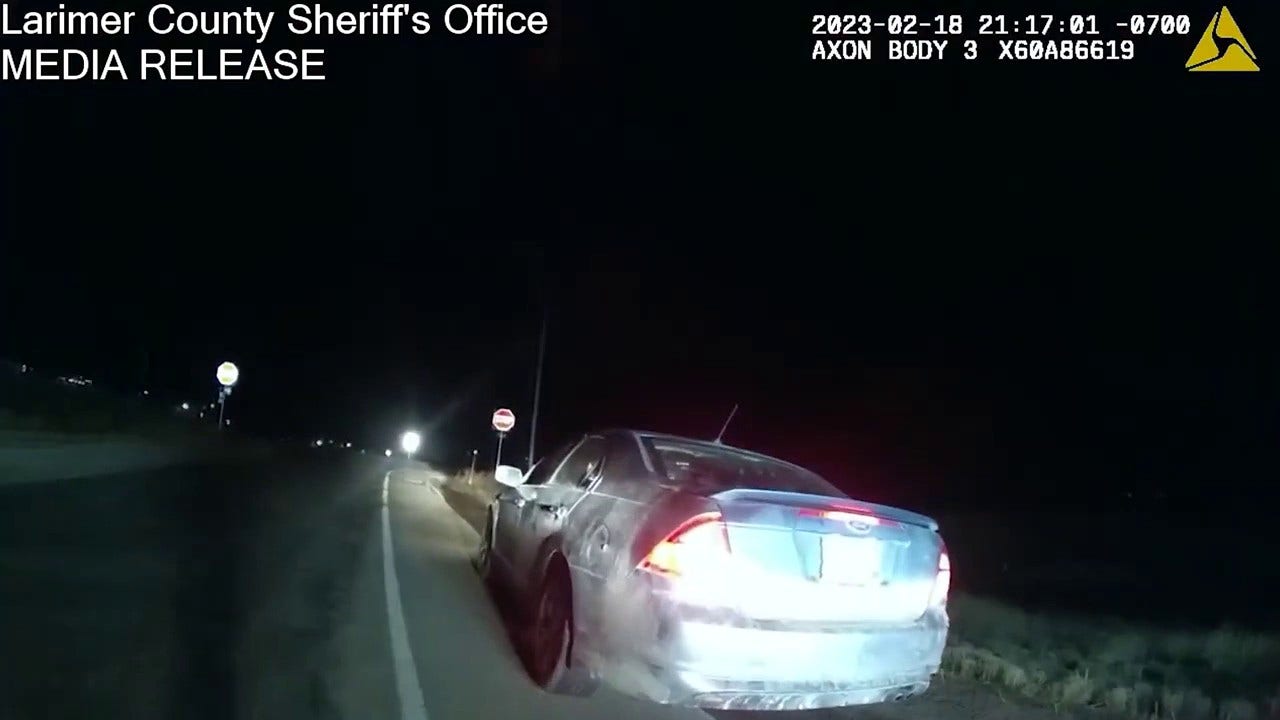 CLICK HERE TO GET THE FOX NEWS APP
Lujan told investigators he believed Thompson was under the influence of drugs or alcohol, according to The Colorado Sun. Deputies later found drug paraphernalia and narcotics in his car, and an autopsy showed Thompson had fentanyl in his system.
"I also want to draw attention to the silent but destructive player in this and so many other cases: Fentanyl. This drug is devastating lives and families every day, and our community must continue the conversation to stop the devastating effects of illicit drugs in Larimer County," Feyen wrote in his statement.
Thompson's family criticized the sheriff's office for including his criminal history and drug use in its investigation.
"Blaming Brent for his death is callous and dishonest," Thompson family attorneys said in their statement. "At the time that Brent ran from law enforcement, he was only suspected of committing the crimes of driving with expired registration and giving a false name to law enforcement."