By: Glenn Guilbeau
Before Deion Sanders became Prime Time, he was already golden and a little edgy with a lot of attitude.
The hottest football coach in America at the moment at Colorado did not have humble beginnings at Florida State in 1985. He was not Prime Time on arrival, but very close to it.
"He was a guy who was highly sought after out of Fort Myers, Florida, as everyone knows, and part of the group we called the Golden Class," former Georgia head coach Mark Richt told OutKick this week.
A former backup quarterback for the Miami Hurricanes, Richt worked as a volunteer assistant at FSU under coach Bobby Bowden at the same time Sanders became a national star as a cornerback and kick returner from 1985-88. There was no Internet, but he didn't need it.
CLICK HERE FOR MORE SPORTS COVERAGE ON FOXNEWS.COM
Deion Sanders Was Jewel Of Florida State's 1985 Golden Class
"The reason we called it the Golden Class was practical," Richt said. The FSU staff color-coded players on its depth chart to differentiate signing classes.
"He just happened to be in gold, but in more ways than one, he was the key part of the class that turned us around," Richt said.
Florida State was 7-3-2 pre-Prime and 11-1 in his last season in 1988 that was the first of 14 straight top five finishes, including national titles in 1993 and '99. Sanders and Bo Jackson just before him at Auburn became the most famous and marketable dual-sport stars in history.
Prime Time First Happened At Florida State
The Kansas City Royals drafted Sanders in the sixth round of the 1985 Major League Baseball Draft shortly after he finished at North Fort Myers High. He did not sign, though, and reported to Florida State that August. The Royals would draft Jackson in the fourth round in 1986 out of Auburn.
The New York Yankees also drafted Sanders in the 30th round in 1988 months before his senior season of football at FSU. He was already known as "Prime Time," according to the FSU '88 media guide.
Sanders gave up his football scholarship in order to play minor league ball per NCAA rules for the Yankees in 1988, who paid him $60,000 for that summer job. The Yankees also picked up his last semesters of college tuition in the deal that included a $1 million insurance policy should a baseball injury damage his real career choice – the NFL.
Sanders hit .280 with 11 stolen bases in 17 games for the Gulf Coast Yankees Rookie League team and finished at .284 after six games with the Single-A Fort Lauderdale Yankees and five with the Triple-A Columbus (Ohio) Yankees. Then he won the Jim Thorpe Award (best defensive back in the nation) in the 1988 season for the Seminoles with five interceptions to finish his career with 14. A unanimous first team All-American for the second consecutive season, Sanders led the nation in punt returns with 503 yards and a 15.2-yard average.
"He was well into being Prime Time when I got there in 1988," Max Howell, a Florida State graduate assistant in '88 who coached the safeties, told OutKick. Howell later became a sports talk radio host in Florida for decades.
"Deion lived in the country club because he was making $60,000 from the Yankees," he said. "I think even back then, he had a gold-plated plan about his future – football with baseball, TV announcing and coaching. The coaching was a distant thing, but I think he always thought he could do it."
ALABAMA'S NICK SABAN HAS 'TREMENDOUS AMOUNT OF RESPECT' FOR DEION SANDERS
Deion Sanders Brings Big Time To Boulder
And how. In just eight months on the job, Coach Prime has brought Colorado from RFD-TV and a 1-11 season last year to something beyond prime time.
This after paying his dues as a coach at small high schools in the Dallas area from 2012-19. His first coaching job was at Prime Prep Academy, a school founded by Sanders and others that he named after himself since closed. He was offensive coordinator at Trinity Christian in Cedar Hill from 2017-19 before landing the Jackson State head coaching job in 2020. Sanders led the Tigers to Southwestern Athletic Conference titles in 2021 and '22 with 11-2 and 8-0 and 12-1 and 8-0 seasons.
The No. 19 Buffaloes (3-0) play at No. 3 Oregon (3-0) Saturday at 3:30 p.m. on ESPN after a thrilling, 43-35 win over Colorado State in overtime in Boulder last week on ESPN. Colorado has not won more than five games since 2016.
"His reach has been unbelievable," said Richt, who works as an analyst for the Atlantic Coast Conference Network. "We just saw what happened this past weekend. You had everybody and their brother in the college football media in Boulder, Colorado."
Mark Richt Did Not See Coaching For Deion At First
Richt, who won or shared six SEC East championships and two overall league crowns while Georgia's coach from 2001-15, did not quite see the coaching part coming.
Former Georgia coach Mark Richt talks to running back Nick Chubb before a game in 2015. Richt was on Florida State's staff when Deion Sanders played there from 1985-88. (Getty Images).
"At Florida State, you knew he was going to be a great pro player and make a lot of money, and probably not have to coach," Richt said. "NFL stars like him usually do not become coaches. But it's not a total shock. Coaching is teaching, and coaching is wanting to make a difference in people's lives. And at the heart of it, that's why Deion's doing it. I don't think he's coaching for money."
Sanders does have a $29.5 million contract at Colorado over five years, though. He made approximately $300,000 a year at Jackson State. He is truly now on active coaching "layaway," a term he used on draft day 1989 to ESPN when the Falcons took him with the fifth pick of the first round. Detroit took the other Sanders – Barry – with the third pick.
While no choir boy in his FSU days, Sanders had a tendency to be a coach on and off the field even back then.
DEION SANDERS' COACHING ABILITIES CATCHING THE EYE OF COWBOYS' JERRY JONES
Sanders Coached A Little As A Seminole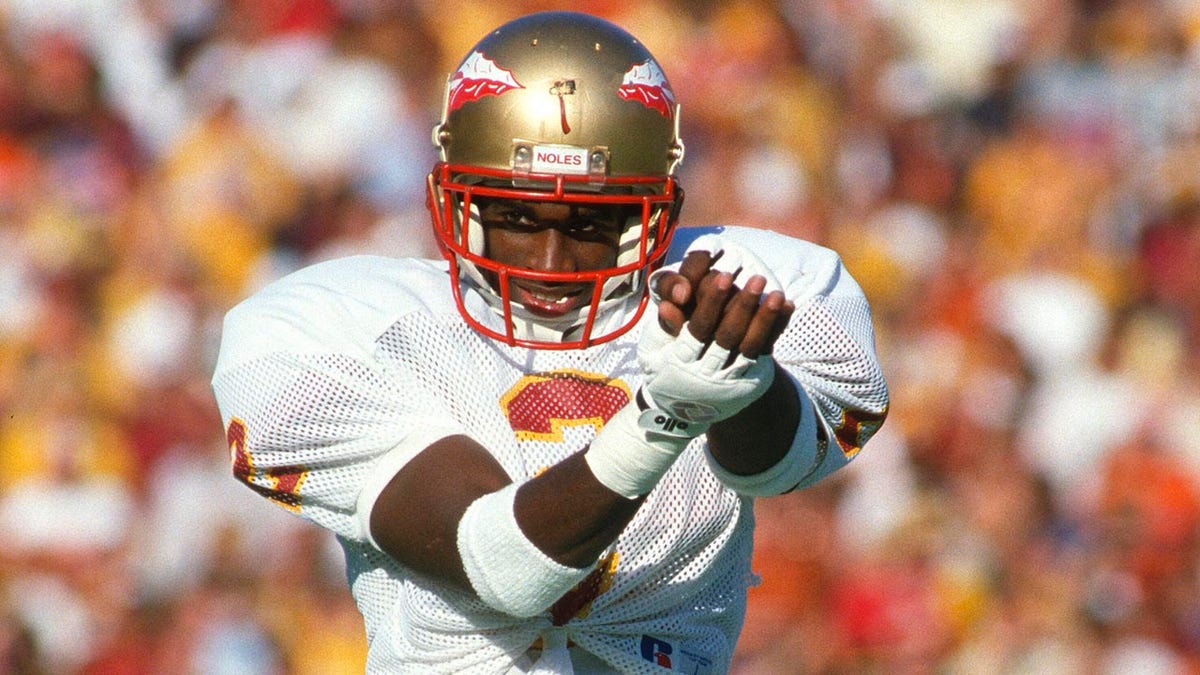 "Coaches weren't allowed at summer workouts, so players had to do it themselves," Richt said. "And we heard that when some of the guys decided not to show up, Deion would go shake them out of bed. 'Let's go.' He loved to compete. He rarely lost at anything – any drill. Hardest working guy on the team. We never had an issue with Deion Sanders ever. I mean, he just loved to win. Still does."
Sanders did not always set a great example as a player, though. He did have a rule named after him, colloquially, soon after he left Tallahassee, Florida.
In 1989, the Florida State Board of Regents passed an attendance rule banning athletes from competition if they did not attend class consistently. Sanders and other Seminoles exploited a loophole and kept their eligibility in 1988 despite often missing class because they were eligible at the beginning of the semester. Then-coach Bobby Bowden suspended four players in the 1990 season for the Memphis State game because of what newspapers at the time called the "Deion Rule."
Florida State Arrest, No Suspension
Fort Myers Police arrested Sanders on Dec. 24, 1988, for allegedly using force against store clerks and mall cops at a department store.
"I'm terribly sorry it happened, but it happened," Sanders said at the time.
Bowden refused to suspend Sanders for the Sugar Bowl a week later against No. 7 Auburn.
"I know Deion better than any of your all," Bowden said the week of the game. "It's a pleasure to be his coach."
Sanders intercepted a pass in the end zone in the final moments to preserve the win for the Seminoles, who finished No. 3 in the nation. They would not end a season outside of the top five until 2001. Sanders played for the Cincinnati Reds that season – his last of an 11-year pro baseball career with four MLB teams that included a World Series appearance with Atlanta in 1992.
Richt and Howell knew Sanders as well as Bowden, if not better.
"Always very polite," Richt said. "My wife (the former Kathy Francis) and I were married when Deion was there. She's only a couple years older than Deion, and he would always address her as Mrs. Richt."
Howell says he never heard Sanders cuss.
"First at practice, last to leave," he said. "Guys looked up to him, absolutely great teammate. He motivated his teammates back then. He's a great motivator now. Great for today's athlete. What you're seeing today at Colorado is the way he communicates with kids. That's Deion. I remember he used to talk to high school kids, and he'd wear all his jewelry. He'd say, 'You don't have to sell drugs to get all this.'"
Deion Sanders Was Made For NIL And The Portal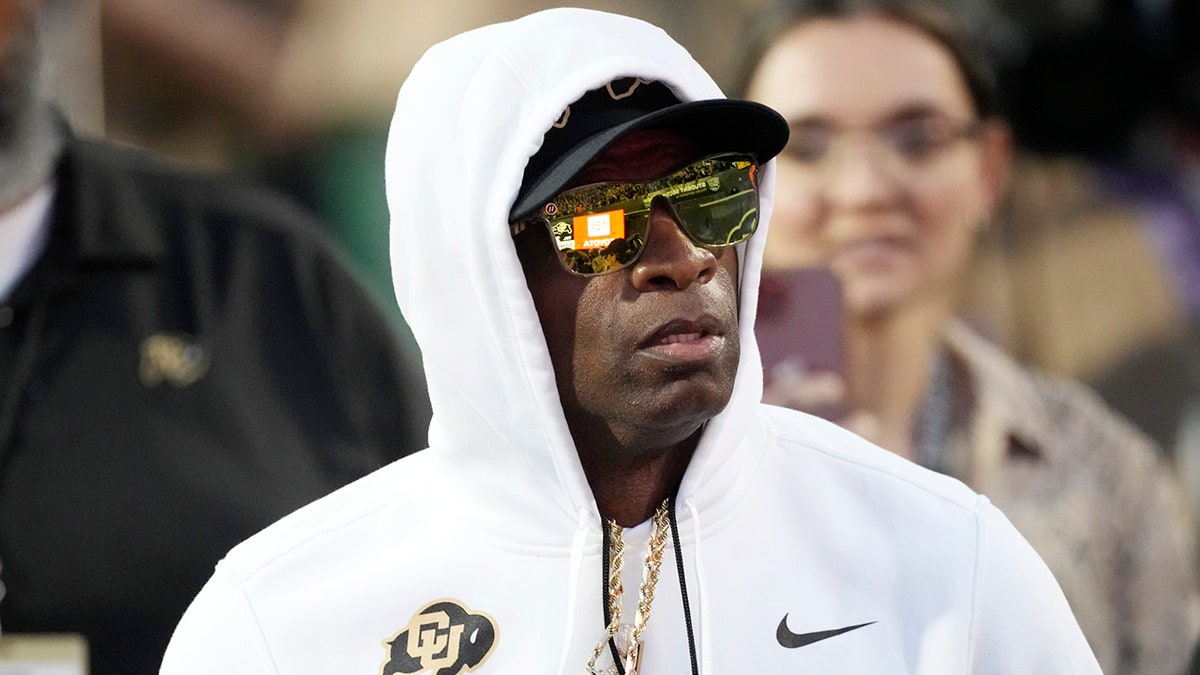 The dramatic new NCAA rules of 2021 – Name, Image & Likeness that allows the free flow of legal cash to players for the first time, and a Transfer Portal void of any waiting period – has fit Sanders like a brand new gold necklace.
Or perhaps like one of his two Super Bowl rings won with San Francisco and Dallas in the 1994 and '95 seasons, respectively.
"Some people have said he's manipulating the system," Richt said. "He's not. He's taking advantage of the system as it exists. And he doesn't have any preconceived ideas about the way we used to do it."
No, Sanders' first full season as a college coach was 2021 – the same year NIL and the new portal started.
"He ain't worried about how it used to be done," Richt said. Perhaps Nick Saban is as he is 2-1 with the earliest loss of his Alabama coaching career.
How much better would the Crimson Tide have been last year and would it be this year with a healthy two-way superstar Travis Hunter? He signed with Jackson State and Sanders over Florida State, Saban and others in 2022, likely thanks to NIL. Then he followed Sanders to Colorado.
"Deion is trying to do what he can within the rules to get his roster right," Richt said. "With the rules the way they are now, you can do something in one off-season with a roster that used to take three or four years."
Only a handful of Colorado players remain from last season.
"He transitioned from a 1-11 team because the rules are different, and he's not afraid to embrace them," Richt said.
Colorado And Deion Appear To Be Winning Transfer Bowl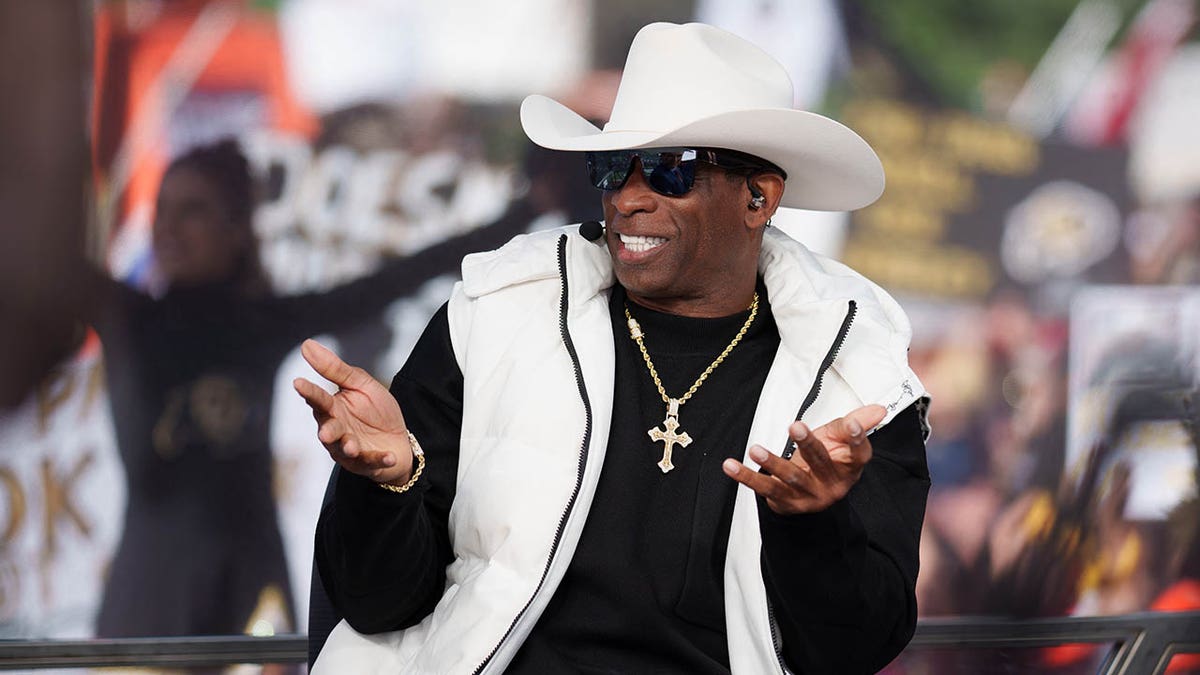 "And if they end up not being very good at the end of this season after the schedule gets tougher," Howell said, "Deion will just go get him another 10 or 15 transfers. But who knows? He he may win big this year. Nothing surprises me about him."
A Sanders' teammate from his time with the New York Yankees in 1989 and '90 feels the same way. He was not surprised when Sanders got into coaching.
"Uh, not really," former Yankees pitcher Clay Parker told OutKick Tuesday. "Knowing his personality, he can do anything. Just ask him."
While at LSU from 1982-85, Parker pitched against Bo Jackson and again during an MLB career from 1987-92 with Seattle, the Yankees and Detroit. Parker marveled at the dynamic duo right out of a Marvel movie.
Sanders made his MLB debut on May 31, 1989, before his rookie season with the Falcons. Parker had been with the Yankees since December of 1988 after Seattle traded him. He went 4-5 in 1989 with a 3.68 ERA in 17 starts. Sanders hit only .234 with two home runs, but put on a show.
Prime Time On Arrival In New York
"When Deion came to New York, obviously, he was already well known," Parker laughed.
In 57 games with the Yankees in 1990, Sanders hit just .158 with three home runs and eight stolen bases. But he was still a star.
With the Falcons in '89, he made the Pro Football Writers All-Rookie team as he intercepted five passes, forced two fumbles and averaged 11.0 and 20.7 yards on punt and kickoff returns.
"There were two sides to Deion," Parker said. "One-on-one or three or four of us, he was was just a regular, fun-loving guy. And when the media was around, when there was a big crowd, that's when he turned into Prime Time. There's no question about it. He could flip that switch in a hurry."
He could also get to baseballs in warp speed, showcasing that 4.2 time in the 40 while in track shoes at Florida State's Pro Day in 1989.
Deion Sanders And The Speed Of Light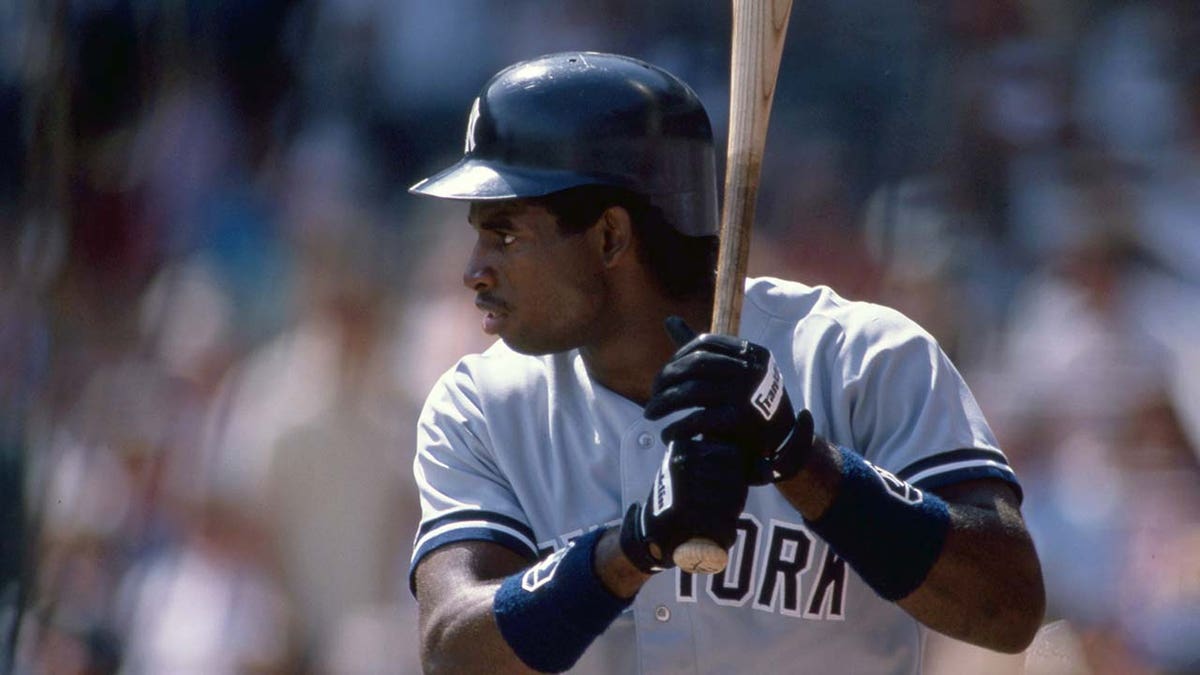 "Deion and Bo Jackson were the two fastest guys I've ever seen in a baseball uniform without question," said Parker, himself a two-sport athlete as he punted for LSU from 1982-84.
After allowing what looked like a gapper to right-center field in Yankee Stadium, somebody hit fast forward.
"With a runner on base, I'm backing up third, and I glance out to center field," he remembered. "And there's just a flash of a human being. Deion was almost camped under a ball already that would've been a double had anybody else been in center field. His speed was absolutely amazing. And I played with Rickey Henderson (a Yankee from 1985-89). Played with a lot of fast guys, but no on had Deion's speed. There's no telling how good he could've been, had he focused on baseball."
Not everyone liked Sanders, though. Chicago White Sox catcher Carlton Fisk had a famous confrontation after Sanders did not run out an at-bat.
"He had the personality that you just had to accept as who he was," Parker said. "It was a turnoff to some folks, and certainly the competition. But knowing that Deion really is a good guy, we could put up with his 'Prime Time.' I considered him a good teammate. He wanted to win. He gave it his best. And he was a fun teammate."
But there was an edge.
Yankees pitcher Clay Parker was Deion Sanders' teammate in 1989 and '90. (File Photo).
"What Deion has done as a coach – he takes young men and tries to teach them the right way," Parker said. "Now, his way may not be typical for a lot of coaches, but he's doing what he thinks is right by those young men – with an attitude. And if you're going to be good, if you're going to be great, you've got to have that edge. And my goodness, Deion has that edge."
Parker played for Yankee managers Billy Martin, Dallas Green and Bucky Dent. Sanders played for old school Green and nice guy Dent.
"He probably couldn't have played for Billy," Parker laughed.
But Parker, like Howell and Richt, sees how players could love playing for Deion.
CLICK HERE TO GET THE FOX NEWS APP
"Oh yeah, I've been watching Colorado," he said. "Like everybody else. You can't help but drink the Kool-Aid when Deion's around. There's just something that he has. There's this infectious personality. And having played with him, it's a little dearer to my heart to watch him have the success he's had."