Law enforcement in a Florida county is warning of possible child neglect charges for parents who do not supervise their kids near the shore following a series of children drowning in the area. 
Officials with Bay County Sheriff's Office are considering harsher actions against parents in the wake of five children drowning in the Gulf of Mexico during "double red flag" hazard warnings.
"To me, it's no different than having a fire inside of a house and allowing a kid to go over there who doesn't know any danger to that fire," Captain Jason Daffin said, according to local outlet WJHG.
FLORIDA SHERIFF BLASTED BEACHGOERS FOR IGNORING WARNINGS BEFORE EX-NFL QB RYAN MALLETT'S DROWNING
Daffin added, "[It's] letting them go over there and get themselves burned or leaving them home with a fire going and something bad happens. It's the adult's responsibility to protect their children."
In all five cases, the parents of the children were hit with $500 citations.
Authorities in the area are looking into all possible resources and actions that can be taken to curb the trend of civilians entering the water during high-risk hazard levels.
DEADLY RIP CURRENTS CLAIMED AT LEAST 10 LIVES ALONG THE GULF OF MEXICO SINCE THE BEGINNING OF JUNE
This could lead to charging parents with child neglect when they allow their children near bodies of water 
"Our problem that I found is just the lack of compliance. The blatant disregard to heed the lifeguard's warning," Panama City Beach Safety Director Daryl Paul said last month, according to local outlet MyPanhandle.
A Florida sheriff expressed his frustrations with beachgoers ignoring warning signs about dangerous waters days before former NFL quarterback Ryan Mallett died in an apparent drowning near the city of Destin last month.
Deltaplex News in Arkansas first reported his death on June 27. 
CLICK HERE TO GET THE FOX NEWS APP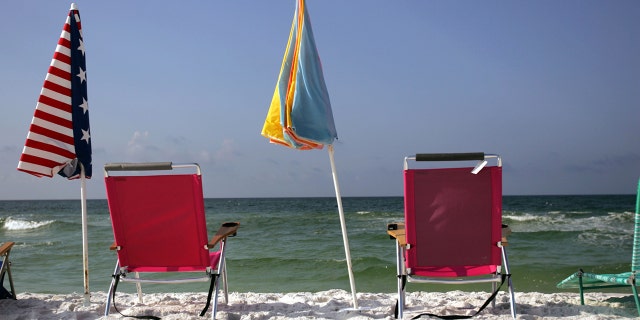 Bay County Sheriff Tommy Ford warned those going to the beach to be careful after the recent spate of drowning deaths, which he said put first responders at risk.
"I'm beyond frustrated at the situation that we have with tragic and unnecessary deaths in the Gulf," Ford wrote on Facebook on Sunday. 
He continued, "I have watched while deputies, firefighters and lifeguards have risked their lives to save strangers. I have seen strangers die trying to save their children and loved ones, including two fathers on (Father's Day)."
Fox News' Ryan Gaydos contributed to this report.