Fuel deliveries for aid operations in the enclave, home to 2.3 million Palestinians, have been largely prohibited since Hamas' attack on Israel on 7 October left at least 1,200 dead and 240 taken hostage. This has severely hampered aid efforts and services to provide water and electricity, UN agencies said.
Al-Shifa Hospital
In northern Gaza, WHO led a mission to the besieged Al-Shifa Hospital, where thousands of civilians were seeking shelter alongside medical crews who were scrambling to tend to patients.
The mission was deconflicted with the Israel Defense Forces (IDF) to ensure safe passage along the agreed route, however, this was a "high-risk operation" in an active conflict zone, with heavy fighting ongoing in close proximity to the hospital, according to WHO.
"The team saw a hospital no longer able to function: no water, no food, no electricity, no fuel, medical supplies depleted," WHO chief Tedros Adhanom Ghebreyesus said in a post on social media. "Given this deplorable situation and the condition of many patients, including babies, health workers requested support to evacuate patients who cannot receive lifesaving care there anymore."
There are 25 health workers and 291 patients remaining in Al-Shifa, with several patient deaths having occurred over the previous two to three days due to the shutting down of medical services, the UN agency said. Patients include 32 babies in extremely critical condition, two people in intensive care without ventilation and 22 dialysis patients whose access to life-saving treatment has been severely compromised. The vast majority of patients are victims of war trauma, WHO said.
WHO and partners are swiftly developing plans for the immediate evacuation of the remaining patients, staff and their families. Over the next 24 to 72 hours, pending guarantees of safe passage by parties to the conflict, additional missions are being arranged to urgently transport patients to hospitals in southern Gaza, according to WHO.
"We continue to call for protection of health and of civilians," the WHO chief said. "The current situation is unbearable and unjustifiable."
'Tough decisions'
Following weeks of delays, Israeli authorities just approved only half of the daily minimum fuel requirements for humanitarian operations in Gaza, Philippe Lazzarini, who heads the UN agency for Palestine refugees (UNRWA), said in a statement.
"Humanitarian organizations should not be forced to make tough decisions between competing lifesaving activities," he said.
More than 11,000 Gazans have been killed and thousands others wounded since the conflict began, according to the latest situation report by the UN humanitarian agency (OCHA). The lack of fuel has led to communications shutdowns, shuttered water stations, hospital closures and reduced aid deliveries across Gaza.
Authorized deliveries fall short of needs
The situation has worsened since Israel closed all borders for aid deliveries into Gaza on 7 October and, through a deal with Egypt, allowed limited shipments two weeks later through the Rafah crossing.
On Wednesday, Israel allowed about 23,000 litres, or half a tanker truck, of fuel to be delivered to UNRWA for humanitarian purposes.
Israel authorized 120,000 litres to be delivered on Saturday, which will only cover half of daily critical needs. UNRWA was informed that the same amount would be delivered every two days.
Current approved fuel deliveries into Gaza are not enough, UNRWA's chief said.
'Major health hazard'
"This is far from enough to cover the needs for desalination plants, sewage pumps, hospitals, water pumps in shelters, aid trucks, ambulances, bakeries and communications networks to work without interruption," Mr. Lazzarini said. "Fuel should not be restricted for these activities."
Without the full amount of fuel, he said, people will have only two thirds of their daily needs of clean drinking water.
Without adequate fuel supplies, large parts of Gaza will continue to be flooded with sewage further increasing risks of diseases, and 70 per cent of solid waste will not be removed, posing "a major health hazard", Mr. Lazzarini said.
OCHA reported that "with no fuel, public sewage pumping stations, 60 water wells in the south, a desalination plant in the middle area, the two main sewage pumps in the south, and the Rafah wastewater treatment plant have all ceased operations in the past few days."
75 per cent of Gaza's hospitals not functioning
According to the World Health Organization (WHO), as of Friday, almost 75 per cent of the hospitals in Gaza – 25 out of 36 – were not functional due to lack of fuel, damage, attacks and insecurity. Eleven hospitals across the Strip are currently partially operational and admitting patients with extremely limited services.
Fuel shortages make it impossible to deliver lifesaving aid at a time when needs are soaring, UN agencies said.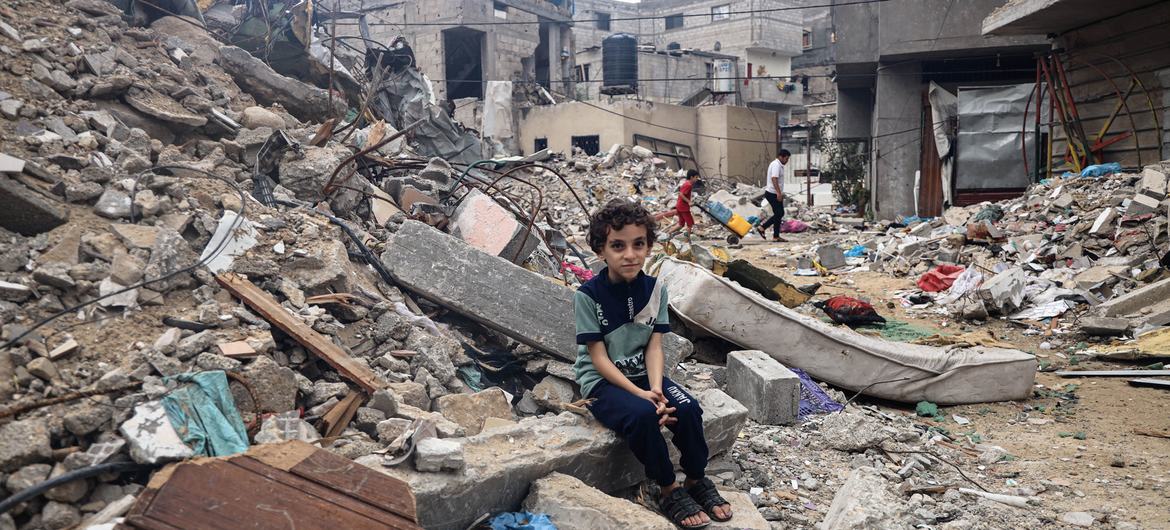 Aid 'cannot be conditional'
"We are forced to handle a reduced number of aid trucks crossing daily into Rafah," he said. "The last few days have seen a drastic reduction in these services including water availability and sewage clearance with serious consequences on people in need."
Calling for "adequate, regular, and unconditional delivery of fuel to maintain all our critical lifesaving activities in the Gaza Strip", he said "humanitarian aid cannot be conditional and must not be used for political or military agendas and gains".
Attacks on schools
On Saturday morning, media reports indicated fresh attacks on schools.
Adele Khodr, the UN Children's Fund (UNICEF) regional director for the Middle East and North Africa, said in a social post that the scenes of carnage and death following attacks on Al-Fakhoura and Tal Al Zaatar schools in Gaza that killed many children and women are horrific and appalling.
"These horrible attacks should cease immediately," she wrote. "Children, schools and shelters are not a target. Immediate ceasefire needed now!"
Echoing that call, Mr. Lazzarini reacted to reports of attacks on UNRWA schools that were sheltering thousands of displaced people.
"These attacks cannot become commonplace, they must stop," he said in a social media post on X. "A humanitarian ceasefire cannot wait any longer."
On Friday, the UN General Assembly held a meeting on the situation in Gaza, with many delegates and heads of UN agencies calling for a humanitarian ceasefire. Last week, the Security Council found unity after a month-long deadlock, calling for urgent, extended humanitarian pauses.