Jimmy Butler scored 30 points before leaving with back soreness following a hard fall, and the eighth-seeded Miami Heat beat the top-seeded Milwaukee Bucks 121-99 on Saturday night for a 2-1 lead in their Eastern Conference first-round playoff series.
Duncan Robinson scored 20 points on his 29th birthday for Miami, while Kyle Lowry scored 15 for the Heat.
The Bucks were without Giannis Antetokounmpo for a second consecutive game because of a bruised lower back. Khris Middleton scored 23 points, Jrue Holiday added 19 and Grayson Allen scored 14 for Milwaukee.
Game 4 is in Miami on Monday night.
CLICK HERE FOR MORE SPORTS COVERAGE ON FOXNEWS.COM
With the win, the Heat are halfway to what would be a stunner — a No. 8 seed over a No. 1 seed, something that's happened only five times since the NBA went to the 16-team playoff format in 1984.
Those who pulled it off: Denver over Seattle 3-2 in 1994, New York over Miami 3-2 in 1999, Golden State over Dallas 4-2 in 2007, Memphis over San Antonio 4-2 in 2011 and Philadelphia over Chicago 4-2 in 2012.
Butler got hurt midway through the third quarter after trying a shot near the rim and landing on his back. He stayed in the game briefly, departed for a short stint in the locker room and returned with a large wrap on his back — with the Heat saying he would return.
He didn't, because he didn't have to. The game was in hand, and Miami eventually led by as many as 29.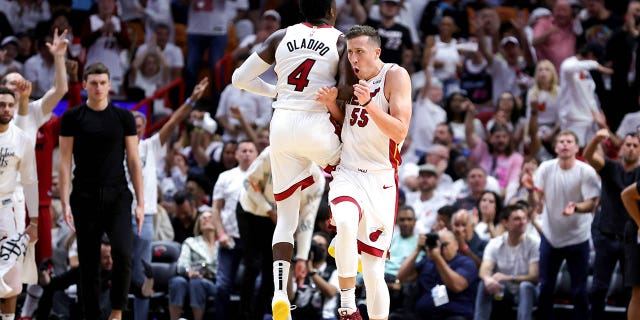 NBA HALL OF FAMER CHARLES BARKLEY TO TEAM UP WITH GAYLE KING FOR NEW PRIMETIME CNN SHOW
Still, it was a somber ending for Miami, first with Butler getting banged up and then with Victor Oladipo — who has spent years dealing with injury issues — leaving late in the fourth quarter after apparently hurting his left knee. Oladipo was expected to play a bigger role for Miami in the postseason after the injury to Tyler Herro.
The first half couldn't have gone better for Miami. Butler had 17 points in the opening quarter, the Heat had a 19-0 run at one point, they set a franchise record by making 12 3's in a half — and it was still only 66-53 at the break.
The reason, again: Milwaukee was getting 3's, again. The Bucks made 25 of them in their easy Game 2 win and were 10 for 18 from deep in the first half Saturday.
But the Bucks cooled after halftime, shooting only 5 for 21 from 3-point range, and the outcome was never in doubt.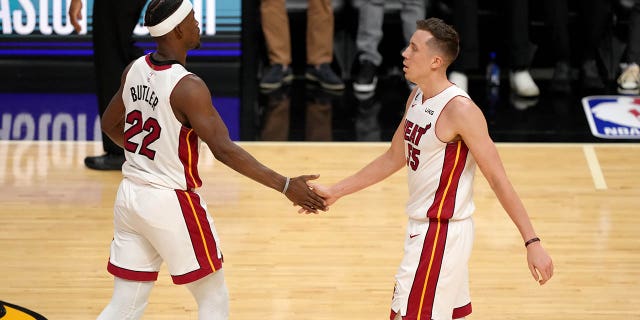 CLICK HERE TO GET THE FOX NEWS APP
TIP-INS
Bucks: Holiday's first 10 points came in the opening 4:43. He reached 10 points faster in only one other game this season, needing 4:18 to do so against Toronto on Jan. 17. … Pat Connaughton scored 11 for Milwaukee.
Heat: Kevin Love returned to the Miami starting lineup. … Robinson had been part of only one other Heat game on his birthday — it was last year, when Miami lost Game 3 of a first-round series against Atlanta 111-110. Miami was 6-0 all-time in games played on April 22 before that. … Miami Dolphins coach Mike McDaniel was courtside.