Heidi and Leni's model behavior
Heidi Klum's 19-year-old daughter Leni Klum was seen enjoying some time at the Twiga Beach Club recently, while on summer vacation with her father in Italy.
The young model is following in her supermodel mom's footsteps, and has already made waves in the industry. In the fall of 2022, she and her mother posed together in lingerie for an Intimissimi campaign. The campaign received backlash, as people found it inappropriate for Heidi to have posed in underwear alongside her daughter.
"I honestly didn't look at a lot of the reactions," Leni told Page Six at the time. "I am overall happy with the campaign, and I had an amazing day with my mom. I think the photos turned out great, and we had an amazing time."
HEIDI KLUM AND DAUGHTER LENI POSE TOGETHER AGAIN FOR LINGERIE AD DESPITE PAST BACKLASH
Gwyneth Paltrow's green Apple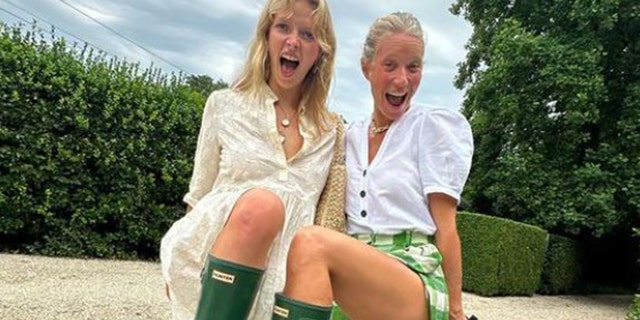 Gwyneth Paltrow and her look-alike daughter Apple Martin posed for a photo on the actress' Instagram. The duo looked extra similar with big smiles on their faces, and matching green rain boots.
The "Iron Man" star shares Apple with her ex-husband, lead singer of Coldplay, Chris Martin. Paltrow has been open about how uncool Apple thinks she is, explaining she can't seem to please her.
"If I do anything silly in public, the color drains from [Apple's] face," she told Rachel Ray in 2019. "Any silly jokes, or if I dance, like in a store, God forbid. She's like, 'Mom!' and I'm like, 'OK, sorry, got it.'"
Faith Hill's Nashville girls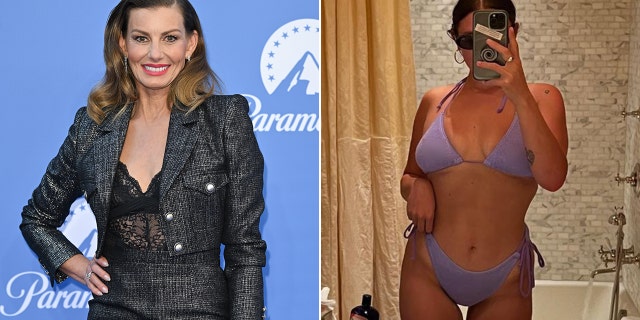 Tim McGraw and Faith Hill's daughter Maggie took to Instagram recently to share a photo of herself in a purple bikini. Maggie is the couple's second daughter, born in August 1998. Tim and Faith also share daughters Gracie, 26, and Audrey, 21.
Earlier this year, Tim and Faith had a family affair at the Academy of Country Music Honors, with Audrey and Maggie joining them for the show.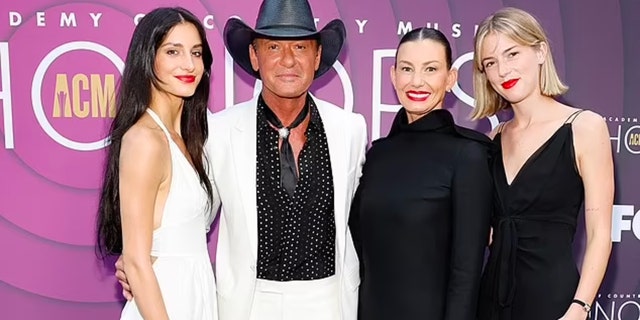 "Once you're a mom, you're always a mom," Hill told The Independent in July 2022. "Everything I think about in my life, I think about it as a mom, period. Not as an artist or whatever, I'm a mom first."
Khloe Kardashian's 'favorite girl'
Khloe Kardashian loves her mom, with the reality star recently posting a selfie of just the two of them as the sun set in the background. 
"Me and my favorite girl," Kardashian captioned the photo. 
KHLOE KARDASHIAN SHARES PHOTOS OF HER SON AND DAUGHTER, TRUE, IN NEW CHRISTMAS PHOTOS
"I feel like I've had this incredible journey being a mom. Kourtney was born in 1979 and here we are, 40 years later," Jenner told Byrdie in 2019. "It's my biggest joy of my life. I really feel like my purpose in my life is raising my kids and being able to work with them and grow with them and watch them have kids."
Jenner is mom to Khloe, Kourtney, Kim Kardashian, Rob Kardashian, Kendall Jenner and Kylie Jenner. 
Lisa Rinna's beauties
"My favorite people on the planet," Lisa Rinna captioned a photo of her and her daughters, adding, "My heart and soul." Rinna has two daughters with her husband Harry Hamlin, Delilah Belle and Amelia Gray. 
Rinna launched her own beauty brand, focusing originally on lip kits, called Rinna Beauty, in November 2020. Soon after, she announced she would be partnering with her daughters, and would be releasing lip kits created by them.
LISA RINNA'S DAUGHTER DELILAH BELLE REVEALS SHE HAD SEIZURE ON SET OF MUSIC VIDEO
"All jokes aside, I just think they're so fabulous," she told Womens Wear Daily in September 2021. "Nobody has more beautiful lips than my girls and I thought how fun to have them do their own lip kits. I always call [the brand] a family affair, so it just seemed organically the right time to do so." 
Serena Williams' big news
Serena Williams shared the ultimate mother-daughter photo this week when she announced she had given birth to her second daughter with Alexis Ohanian, Adira River Ohanian.
The photo also featured the couple's older daughter, Alexis Olympia Ohanian Jr., who looked very happy to be introducing her younger sister to the world
CLICK HERE TO SIGN UP FOR THE ENTERTAINMENT NEWSLETTER
"I definitely have a lot of support. But I'm also an incredibly hands-on mother. My husband will tell you I am too hands-on. In five years, Olympia has only spent one 24-hour period away from me," Williams told People in August 2022. 
"This past year, while I was recovering from a hamstring injury, I got to pick her up from school four or five days a week, and I always looked forward to seeing her face light up when she walked out of the building and saw me waiting there for her. The fact is that nothing is a sacrifice for me when it comes to Olympia."
Kyle Richards' Italian getaway
Kyle Richards posted a carousel of photos from her Italian vacation featuring her daughters. In the first slide, Richards can be seen with her four daughters, Farrah, Alexia, Sophia and Portia, standing outside a villa in Italy, along with husband Mauricio Umansky and another man.
She then shared a series of solo pictures of each of her daughters and a few more group photos. Richards has opened up about how she experienced "mom guilt," but as her kids got older, her mindset changed.
CLICK HERE TO GET THE FOX NEWS APP
"Now I'm happy for my daughters to see me working and doing all of this. Two of them are businesswomen now – the two oldest – and I can already see Sophia and Portia also wanting to be businesswomen," she told Newstalk's "Screentime" podcast in July 2022. "So now, I'm happy that I can be a good role model to my daughters."