Police in Houston are searching Thursday for a suspect caught on video delivering a vicious punch to another driver during a "road rage incident," knocking him to the ground. 
The incident happened in northwest Houston around 6 p.m. on Jan. 14, investigators say. 
Video released by the Houston Police Department begins with the driver of a gray/silver Honda Accord putting his right turn signal on, trying to merge into a lane leading to a highway on-ramp. 
But dashcam footage taken from the victim's vehicle shows that the Honda was unable to enter the lane. 
DEFENSE ARGUES TENNESSEE ROAD RAGE KILLER'S ACTIONS NOT PREMEDITATED 
Both vehicles eventually pull up to each other side by side as traffic comes to a halt, with the Honda driver still angling to get over. 
When traffic resumes, the Honda forces itself in front of the victim's larger vehicle and appears to shatter its own rear passenger window as both vehicles come into contact. 
1 DEAD, 2 INJURED IN ARIZONA ROAD RAGE SHOOTING INCIDENT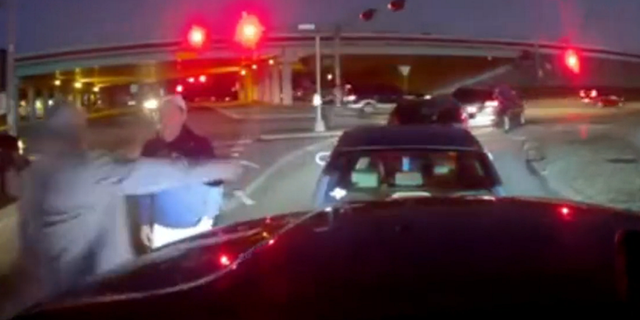 After traffic stops again, both drivers get out of their vehicles and appear to exchange a few words before the Honda driver punches the victim in the face, dropping him to the ground. 
CLICK HERE TO GET THE FOX NEWS APP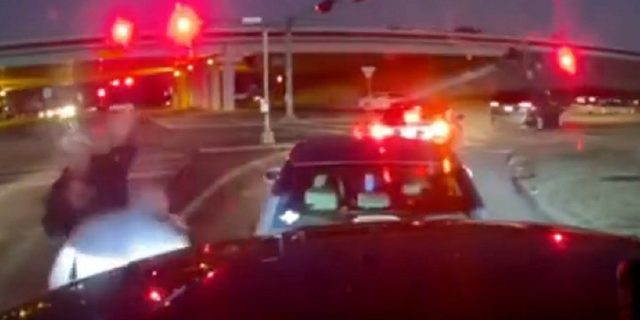 The Houston Police Department says that its Major Assaults unit is looking into the case and that the Honda had Mississippi license plates with the sequence HAV5744. 
The suspect was described as a white male in his late 20s, last seen wearing a "white Under Armor ballcap with an 'X' and a blue hooded sweatshirt with 'Pikes Peak Colorado' lettering, and white pants."