It's another New Year, which means you may have some new resolutions to conquer. Do you find yourself wanting to get fit every year, but just can't seem to make it happen? You're not alone. Studies have shown that while 95% of New Year's Resolutions are health and fitness related, many of us abandon them as early as mid-January. And a  joint study by location apps Foursquare and Citylab have deemed the second Saturday of February as  "Fall off the Wagon Day," when visits to fast-food joints conveniently spike as visits to gyms fall to an all-time low. 
Here a few reasons why many of us abandon our fitness resolutions so quickly:
42%: Find it too difficult to follow a workout routine or diet

38%: Find it too hard to get back on track after they stopped exercising for a while

36%: Find it hard to fit fitness in their schedule
Do any of these disappointing statistics sound like you? 
This year instead of making excuses and letting another year go by without reaching your fitness goals, here are some super helpful and effective ways to help you stay motivated so you can finally get fit.
Figure Out Why You Want To Get Fit And Make It Personal
Declaring you "want to look better" or "lose weight" as your reason for getting fit may not ultimately be enough of a reason to help you stick with an exercise routine. Especially if you only want to because you feel pressure from society, family or friends. While exercise can help your body change for the better, more tangible benefits of getting fit that we can all connect with more would be:
You'll have more energy

You'll feel better

You'll be more productive

You'll have better metabolism 

You'll have more confidence 

You'll be stronger
In a notebook or on your device, list what finally getting fit would mean to you. When your fitness goals are personal to you and not decided by outside factors, you'll be more likely to achieve them. Having this list to review during your fitness journey can help remind you why you're doing what you're doing and keep you motivated to reach your goal.
Make Your Fitness Goals Simple, Attainable, And Realistic
One of the biggest reasons we abandon our fitness New Year's resolutions is because we make goals that are unrealistic within the time frame we think we need to achieve them. We then get discouraged thinking we can't get what we want. For example, if you haven't exercised in a while chances are you're not going to be ripped in a month or suddenly become a total "gym rat."  A simple goal to start getting fit could be "walk 3 times a week for 45 minutes." Once you feel like you can handle that, add on something like a core strengthening session or a fitness class to help you start building muscle.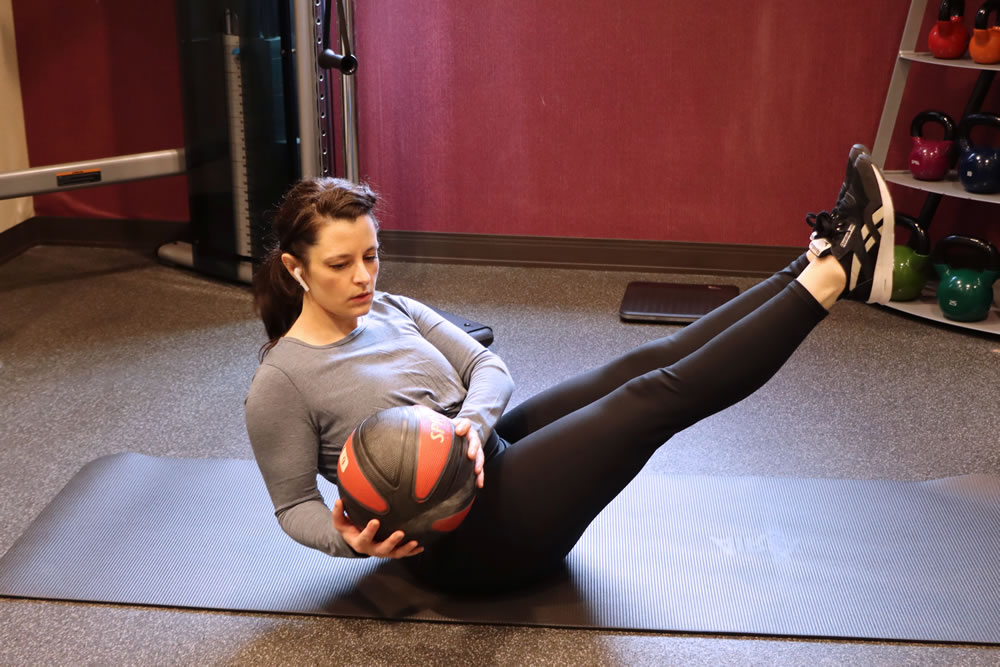 Make Your Fitness Goals Measurable And Time Specific
After you've figured out why you want to get fit, it's time to write them down. Studies have shown that writing down your goals, and attaching a specific date to achieve it is an effective way to help you achieve it.  Making your goal measurable will help you monitor your progress along the way.
If you do have a bigger goal, break it up into micro goals, attach a realistic time frame and then work backwards. For example, let's say you want to lose 20 lbs. over the next 5 months. That would equal 4 lbs per month and 1 pound per week.  Now, figure out how much activity and caloric intake you would need to stick to achieve that goal. So the micro goal might be you need to walk 5 times a week for an hour each time, eating 1800 calories per day. 
If you need help with something like this, there are many free fitness calculators online that can do the math for you. If you need more help (and most of us do!) seek out the help of a nutritionist or the advice of a fitness coach.
Don't Forget To Keep Track Of Your Fitness Goals
Keeping track of your fitness goals can be a great way to see yourself making accomplishments which can help you stay motivated to keep going. It can also help you tweak your routine or make changes if need be. You can do this with a notebook planner or a simple fitness tracker, fitness watch, or app. My absolute favorite is the Future fitness app!  When you can see your accomplishments in a visual way you'll be more amped to keep going. Taking progress pictures is a great way to stay motivated as well.
Having To Modify Your Fitness Goals Over Time Is Normal
Once our goals are written down, that doesn't mean they're set in stone. Adjusting and reassessing our goals over time in relationship to our progress is just part of the process.  And it can help us get to where we need to be.  If you don't meet your goal's deadline, just reassess and keep going. You'll get there, trust me.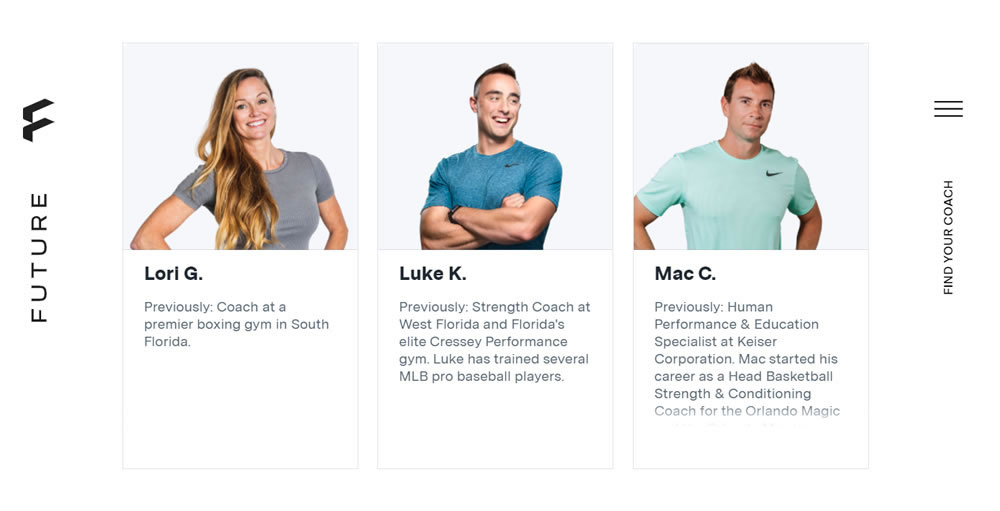 The Game Changer For Me: Finding Someone To Keep Me Accountable
Studies have shown that having others keeping us accountable is one of the most effective things we can do to achieve our goals. This is especially true when it comes to getting fit.
In the past I always thought if I could just find that one thing to keep hooked on fitness I would be set. I tried:
Joining gyms 

Different exercise classes

Trendy  systems and celebrity programs

Tons of fitness gadgets 
 But all these things relied on me keeping myself accountable and none of them would stick. The solution? I needed to find an external way to stay accountable!
Finding a workout buddy or joining a fitness or health group on social media can be a great way to have others keep you accountable. But what made the life changing difference for me was  getting a personal fitness coach through the FUTURE fitness app, which is based on the science of accountability. In the past I couldn't maintain a routine for more than a couple of weeks in a row and now 8 months later I can't believe I'm still going strong. If it can keep me going, it can work for anyone.
What makes Future different from other fitness apps or a personal trainer, is that your coach not only makes you custom routines based on your fitness goals, but they also check in on you daily to see how your workouts are going, answer questions, give advice, and keep you totally motivated! 
It's the accountability that has kept me going. I'm more fit than I've ever been and actually look forward to my workouts. My Future coach has helped me fall in love with fitness and I'm excited to keep going.
Here's all the major benefits I've had since getting a fitness coach with Future:
I get daily check-ins from my coach that puts me in a ready-to-go workout mode even on days I don't feel like it.

I never have to worry about what exercises to do or planning my routines (I'm really not good at it!).  My workouts are ready to go each day and I know they'll be fresh and challenging, yet doable and effective.

I don't need to have a gym membership (thank you Lord!), leave the house or need any special equipment. 

My coach challenges me and has me do exercises I would never do on my own. Because of it, I'm seeing results.

It's helped me make exercise a habit, something I've always had trouble with.

 Exercising is now something I enjoy and

I can finally do cardio without feeling like I want to die.

I've  gotten stronger and my confidence has grown when it comes to working out. The physical changes have been motivating too. My arms are more toned, my core is more cut, and my booty is higher than it used to be. Kinda loving it!

The Future platform works with other fitness apps and the Apple watch to help you keep track of your progress.

Working with my Future fitness coach has been the one and only thing that has helped me stay on track with my fitness goals for the long term. I'm seeing serious results I've never been able to achieve on my own. Even a month or two can be super beneficial and set you on a successful path to true fitness.

All of the coaches on Future are educated high-level fitness professionals. They know what works and many have trained Olympic, pro sports and college athletes. It's an amazing opportunity to have access to some of fitness's finest!  Find the coach that's right for you with this questionnaire! 

Compared to an in person personal trainer it's crazy affordable and costs about the same as your daily latte! 

If you've never been able to stick to a fitness routine or reach your New Year's Resolution fitness goal, a personal fitness coach from  Future might be just what you need to finally crush it this year. Whatever you do, don't give up!
➡ See our complete review of Future here.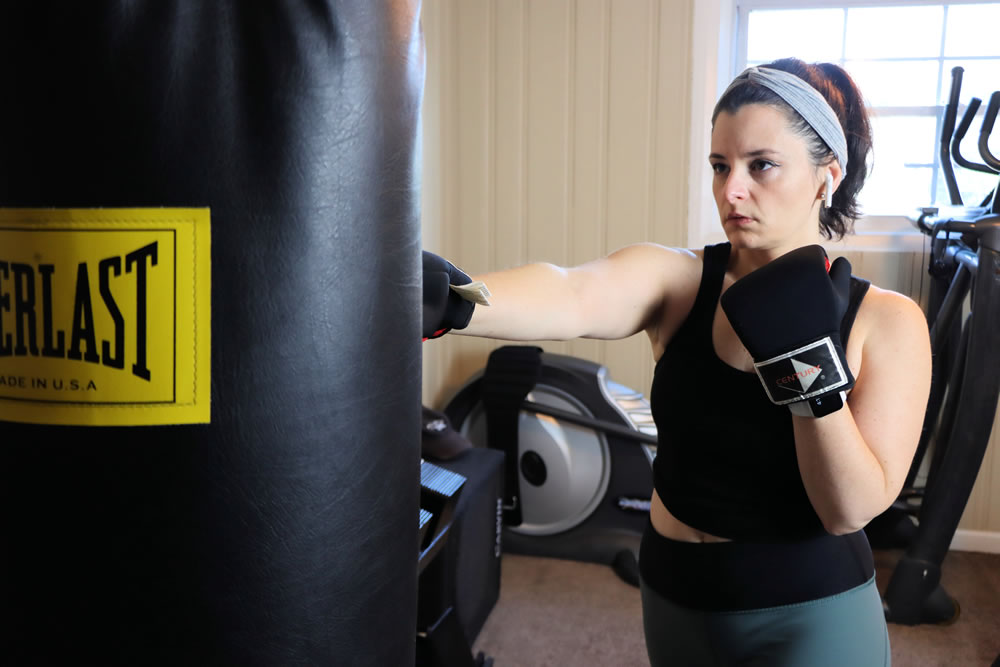 Stick To A Set Schedule And Plan Your Ideal Time To Workout
Many of us think we don't have the time to exercise. But it's our lack of setting aside the time that is really the issue. Getting fit doesn't have to mean working out for hours a day. Even 20 minutes a few times a week can make a huge difference. I bet you spend more time on TikTok, Instagram, or YouTube! 
You don't have to wake up at 6 am or be a morning person either. If you like working out in the mornings, great. But ultimately the best time to workout is when you feel is best for you and your schedule, whether that be early in the day or later at night. If you're using an app like Future to help you along the way, getting fit can always fit into your schedule. No excuses!
Set Out Your Workout Clothes Before You Go To Bed At Night
Having your workout gear ready the night before can help put you in a frame of mind that you're ready and prepared to exercise. Seeing it in the morning can set you up for success.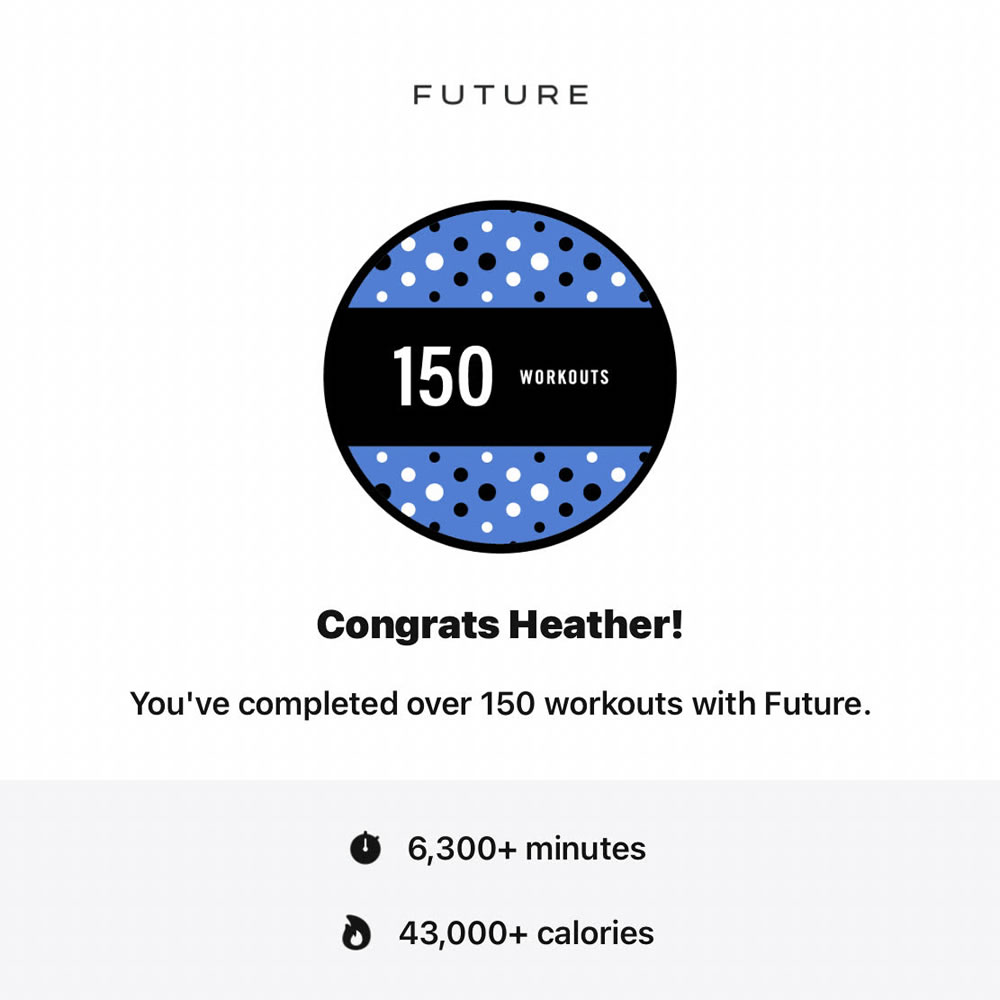 Forget Perfection And Don't Forget To Reward Yourself
If you have a 40 minute workout planned but you can only do 20 minutes one day, don't be too hard on yourself. Even with our best planning sometimes life happens. Just make it up when you can and keep going with your schedule as planned the following day. While it's important to recognize when we're making excuses, being too hard on ourselves can work against our goals. At the same time it's important to reward yourself for your hard work when you're meeting your goals. Finished your first week of working out 5 times? Rent that movie you've been wanting to watch or buy yourself a little treat. Rewards don't have to be big, but recognizing your own success is important and can fuel your motivation to keep going.
Make Exercise Fun And Let Yourself Enjoy Working Out
One of the reasons why I always found it hard to maintain a fitness routine  was because I had always thought of exercise as a chore. Once I worked with my fitness coach and found a routine I liked and could stick with, I started seeing real results. Not only was I feeling stronger and seeing changes in my body, I also started really enjoying exercising once I felt myself improving. Something I never thought would happen! While I now enjoy lifting weights because I've seen the great results they can provide, you can also get fit with dancing, yoga, Pilates, martial arts, biking, swimming or hiking. You want to pole dance? Go for it! 
If you love what you're doing, exercise won't ever feel like "work" again. If you don't know what you like yet, keep an open mind and continue to try new exercises and activities.
Be Prepared For Dips In Enthusiasm
Fact: No matter how much you want to get fit, there are going to be days you don't feel like doing a workout. It could be stress from work and family, feeling sore or tired from a previous workout, or not seeing the results you expect in a certain time frame. It can all take the wind out of your sails. But I find even if I'm not in the mood to exercise, sometimes once I get going I feel better after a few minutes. Great music helps with this too!
No matter what, I always feel even better completing a workout rather than not doing it at all. If you have a run scheduled but don't feel up to it, try doing yoga or walking instead. If you do miss a workout, or start feeling discouraged, forgive yourself and simply get back on the horse the following day.  
Just don't make it a habit and you'll just find yourself making another resolution next year.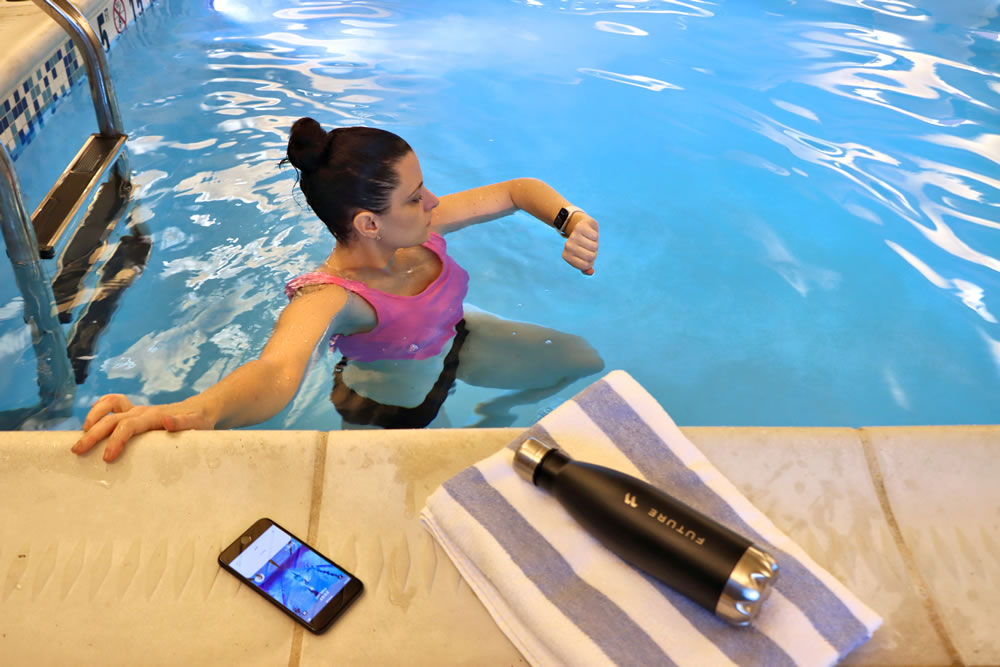 Don't Wait To Get Started On Your Fitness Journey
Even if you didn't get a jumpstart on your New Year's Resolution on Jan 1, there's no reason to feel like you can't reach your fitness goals. The best time to start is today. 
Want Help Crushing Your New Year's Fitness Resolution? 
Try the Future app in the Apple store to start working with your own personal fitness coach and building healthy habits for the New Year! 
Spots are limited and filling up quickly. Start picking your coach here.
As a Better Living reader, try Future for just $19! Future offers a 30-day risk free trial too. 
➡ Click here to pick your Future personal fitness coach now!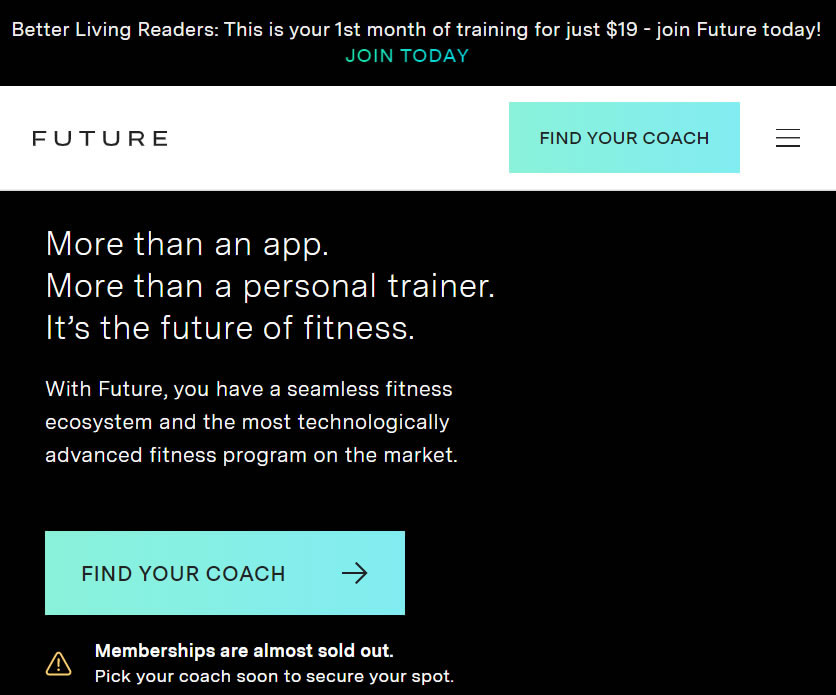 ➡ Learn more about the benefits of online training
➡ See how to stay motived to exercise