Space & Astronomy
March 31, 2022 |  4 comments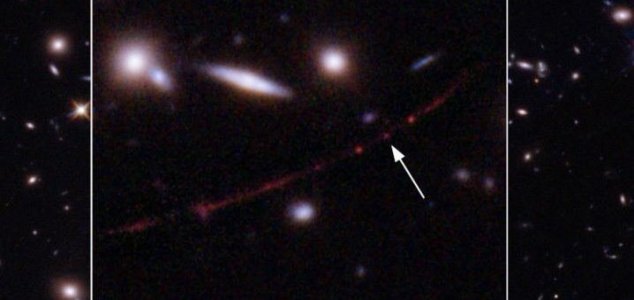 Image Credit: NASA, ESA, B Welch (JHU), D Coe (STScI), A Pagan (STScI)
NASA has announced its mystery reveal – the record-breaking detection of a star 12.9 billion light years away.
Last week the space agency hinted that it would be announcing a major discovery made by the Hubble Space Telescope that it promised could open up a whole new era of research.
Now that announcement has finally been made and it turns out that the world-famous telescope has detected the most distant single star ever seen at a staggering distance of 12.9 billion lights years.
Named WHL0137-LS (or "Earendel" meaning "morning star" or "rising star"), the star is 50 times the mass of the Sun and is also millions of times brighter.
The previous record for most distant star observed was only four billion light years away.
Normally observing a star as distant as Earendel would be impossible with today's telescopes, but in this case it was made possible thanks to the gravitational lensing effect of a large galaxy.
"This finding gives us an opportunity to study a star in detail in the early universe," lead study author Brian Welch from Johns Hopkins University told Space.com.
"Hubble has observed galaxies at greater distances."
"However, we see the light from their millions of stars all blended together. This is the most distant object where we can identify light from an individual star."
It will be very interesting to see what the James Webb Space Telescope can discern once it turns its attentions towards Earendel in the near future.
Source: Space.com | Comments (4)
Tags: