Natural World
March 10, 2022 |  1 comment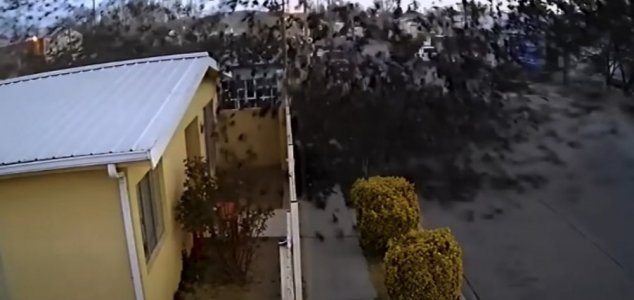 The birds crashed straight into the ground. Image Credit: Twitter / Facebook / YouTube
A CCTV camera captured the bizarre moment a huge flock of birds flew straight into the pavement.
Moving like a huge plume of black smoke, this enormous flock of hundreds of yellow-headed blackbirds was filmed hitting the ground in the Alvaro Obregon area of Cuauhtemoc, Mexico.
The incident, which took place last month, resulted in many of the birds being killed on impact, while others managed to stop just in the nick of time before hitting the ground themselves.
Now according to a new study by researchers at Harvard University, the most likely explanation for this peculiar behavior is a case of 'follow the leader' with the lead bird either being startled or mistaking something on the ground for a pool of water and the other birds all blindly following it down.
The researchers blamed increased urbanisation and noted that incidents like this will likely happen more often in the future as more natural land is replaced with streets and buildings.
"They're not looking very distant; they're actually following their closest neighbor in the flock so basically taking cues on where to move based on their closest neighbor," said ornithologist Scott V. Edwards who was involved in the study.
"Maybe the leader of the flock somehow didn't know they were close to the ground. If that's the case, then most of the birds in the flock wouldn't know they're close to the ground."
Source: Mail Online | Comments (1)
Tags: