Vice President Kamala Harris left out mentioning the right to life when quoting the Declaration of Independence on Sunday during a speech in support of abortion access.
Harris' remarks in Tallahassee, Florida, came on the 50-year-anniversary of the 1973 Supreme Court decision on Roe v. Wade, which granted women the right to an abortion nationwide. The anniversary is the first since the decision was overturned in June 2022, allowing states to set their own abortion laws.
But in Harris' speech, she quoted the Declaration of Independence in saying that Americans are entitled to the right to liberty and the pursuit of happiness, notably ignoring how that the phrase also states Americans are granted the right to life.
"We collectively believe and know, America is a promise … It is a promise of freedom and liberty," Harris said. "Not just some, but for all. A promise we made in the Declaration of Independence, that we are each endowed with the right to liberty and the pursuit of happiness. Be clear, these rights were not bestowed upon us, they belong to us as Americans."
KAMALA HARRIS REVEALS BIDEN'S 2023 PRIORITIES INCLUDES INFLATION, JOB GROWTH: 'NEVER BEEN MORE OPTIMISTIC'
The full quote from the Declaration of Independence says Americans are endowed with the right to "Life, Liberty and the pursuit of Happiness" 
"We hold these truths to be self-evident, that all men are created equal, that they are endowed by their Creator with certain unalienable Rights, that among these are Life, Liberty and the pursuit of Happiness," the Declaration of Independence reads, according to the National Archives.
In her speech, Harris also addressed the suggestion of a federal abortion ban from some GOP lawmakers. Last fall, South Carolina Sen. Lindsey Graham (R) introduced a bill to ban abortions nationwide at 15 weeks of pregnancy.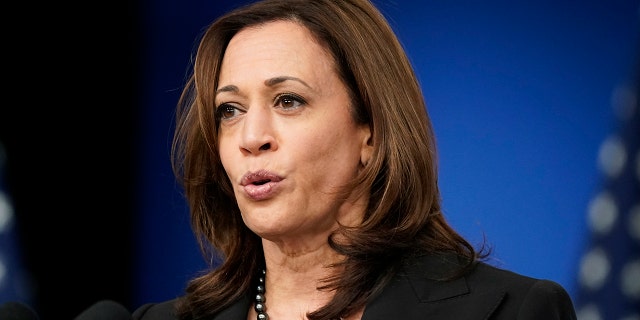 BIDEN ISSUES MEMORANDUM TO PROTECT ACCESS TO ABORTION PILLS
"Republicans in Congress are now calling for a nationwide abortion ban," Harris said. "Some even from the moment of conception, the right of every woman in every state in this country to make decisions about her own body is on the line. And I've said it before, and I will say it again. How dare they!"
The vice president further questioned in her remarks if Americans can "truly be free" without the right to abortion access.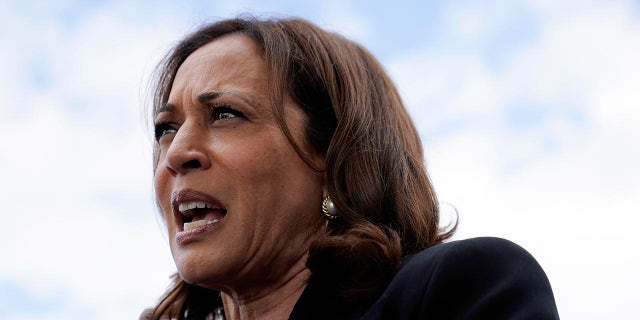 CLICK HERE TO GET THE FOX NEWS APP
"America is the land of the free and the home of the brave," she said. "But let us ask, can we truly be free if a woman cannot make decisions about her own body? Can we truly be free if the doctor cannot care for her patients? Can we truly be free if families cannot make intimate decisions about the course of their own line? And can we truly be free if so-called leaders claim to be, quote — I quote, 'on the vanguard of freedom,' while they dare to restrict the rights of the American people and attack the very foundations of freedom?"