Bizarre
April 7, 2022 |  2 comments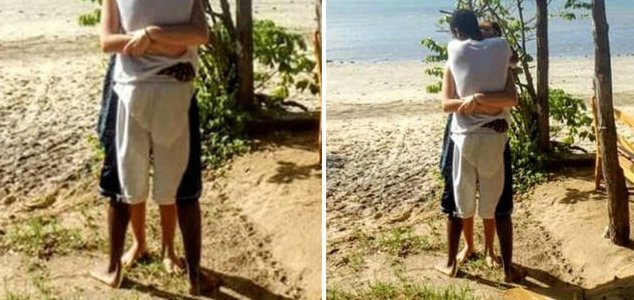 Who is in front of who ? Image Credit: Reddit
A mind-bending optical illusion shows two people hugging one another – but which legs belong to which person ?
At a glance, this may seem like an unremarkable photograph taken of a couple hugging during a trip to the beach, but if you look closer, things aren't quite as simple as they first appear.
Originally posted on Reddit with the caption "this hurts my brain…", the image is somewhat confusing in that it is difficult to discern which legs belong to the woman and which belong to the man.
On one hand, it appears as though the woman's legs are closest to the camera, however the man's feet are facing the wrong way – so who is in front of who ?
The key to the illusion, it turns out, is that the man's pants have a two-color pattern which, when viewed from this angle, happen to make it look as though there are two visible pairs of legs.
The woman's legs, in actual fact, are hidden behind the man entirely with only her feet showing.
The woman is facing forwards while the man is facing away from the camera.
If you stare at the image long enough, it's possible to discern more than one interpretation.
Source: Heart.co.uk | Comments (2)
Tags: