Several police officers in Maryland were attacked on July Fourth while arresting a man for illegal fireworks, authorities said.
Officers responded around 10:15 p.m. to a call of shots fired in the 700 block of Newtowne Drive in Annapolis when they spotted a man, later identified as 22-year-old Yameko Brown, beginning to light an illegal aerial firework, the Annapolis Police Department said.
When police told him not to light the firework, Brown spewed profanities at the officer and lit it anyway, according to authorities.
An officer approached Brown to place him under arrest, but Brown pushed the officer to the ground, police said.
THIEVES IN PHILADELPHIA USE STOLEN U-HAUL TO TRIP ATM FROM GROCERY STORE, VIDEO SHOWS
As officers struggled to arrest Brown, one officer injured his arm. During the struggle, police said a crowd of people began to gather.
Police said that as the officer walked Brown to a patrol vehicle, a female grabbed an officer's holstered handgun and tried to disarm him. The officer blocked the woman, who ran off into the crowd before returning and punching one of the cops.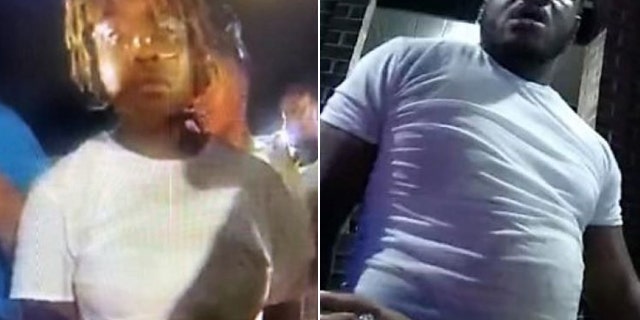 The woman ran off again into the crowd and into a building, and the crowd blocked officers from entering to arrest her, according to authorities. During the search for the woman, a male assaulted an officer and fled.
LOS ANGELES COUNTY SHERIFF SAYS BODYCAM VIDEO OF OFFICER TACKLING, PEPPER-SPRAYING WOMAN IS 'DISTURBING'
"I cannot stress enough that no one should strike police officers or try to disarm them," Annapolis Police Chief Edward Jackson said. "The consequences of such actions can be dire and far-reaching. When the suspects are identified, justice will be swift and certain."
Authorities asked the public for help identifying the woman and man so they can be charged with assaulting the officers.
Brown faces charges of discharging fireworks without a permit, possession of fireworks without a permit, two counts of second-degree assault, resisting arrest, disorderly conduct and failure to obey a reasonable and lawful order. He has been released on his own recognizance.