Natural World
April 1, 2022 |  0 comments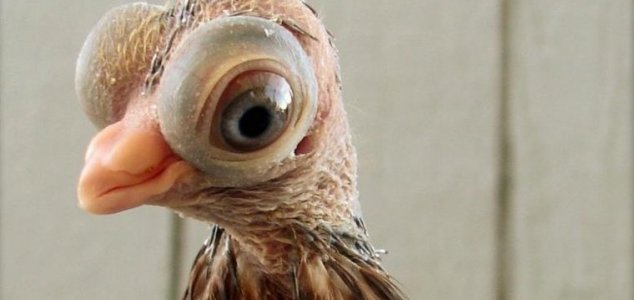 Imagine finding one of these sitting on the fence in your garden. Image Credit: Facebook / Fancy Pigeons
An obscure breed of pigeon from Budapest is certainly one of the most peculiar birds you are likely to see.
Known as the Budapest Short Face Tumbler, this bizarre ornithological specimen is something of an oddity due to its enormous, bulbous eyes, strangely shaped head and small, pointed beak.
At a glance, you might be forgiven for thinking that this is nothing more than a digital manipulation or CGI character, but it in fact the real deal and these birds really do exist.
As its name suggests, it was the product of selective breeding in Budapest, Hungary, however there are a number of other regional varieties with similar physical characteristics.
What it lacks in looks it makes up for in racing performance – the species is particularly well known for its extreme endurance which helps it to win various pigeon racing events.
Breeding them is quite the challenge, however, which makes them relatively rare.
Source: Oddity Central | Comments (0)
Tags: