Minnesota lawmakers on Thursday advanced legislation that would establish the state as a "trans refuge" for children who are seeking transgender medical procedures but who may be denied "gender-affirming care" in other states.
In a party-line 68-62 vote, the Minnesota House passed HF 146, which had been introduced by Rep. Leigh Finke of the Democratic-Farmer-Labor Party. Finke is the state's first transgender lawmaker. 
Democrats supporting the bill say the legislation will protect transgender people, their families and healthcare providers from facing legal repercussions for traveling to Minnesota to obtain cross-sex hormone prescriptions or sex-change procedures. Similar legislation has been introduced in California and other states with Democratic-controlled legislatures, which seek to counter Republican states that have sought to ban transgender procedures for minors. 
"Gender-affirming care is lifesaving health care," Finke told reporters ahead of debate on the bill. "Withholding or delaying gender-affirming care can have a dramatic impact on the mental health of any individual who needs it. Rates of depression, suicide, substance abuse are dramatically higher in transgender and gender-expansive individuals who lack access to care."
TRANSGENDER WOMAN FINISHES IN FIRST PLACE AT NEW YORK CITY CYCLING EVENT, SPARKS OUTRAGE
HF146 would prevent law enforcement from removing a child from parental custody in accordance with an order from outside Minnesota. 
This legislation is meant to ensure that children undergoing gender transition procedures allowed under Minnesota law cannot be governed by child protection laws of other states. It's a direct response to neighboring South Dakota, where Republican Gov. Kristi Noem signed a law banning puberty blockers, cross-sex hormone treatments, and sex-change operations for transgender individuals under the age of 18. 
Advocates for transgender people say that denying "gender-affirming care" to trans youth inflicts harm on a marginalized group that is already at a higher risk of suicide. 
"The protections outlined in HF 146 are vital for health care providers, who can continue to provide gender-affirming health care to their patients consistent with best practices, without fear of interference or punishment from other states," said Jess Braverman, Legal Director for Gender Justice. "Parents are being forced to make an impossible decision, between staying in their homes and risking their child's health and safety, or uprooting their lives and relocating, often at great personal cost. We can do our part to help by making it clear that if families move to Minnesota, they and their children will be protected under the law." 
PENNSYLVANIA DEMOCRAT CALLS ON UNIVERSITY TO 'CANCEL' SPEAKERS WHO QUESTION TRANSGENDER IDEOLOGY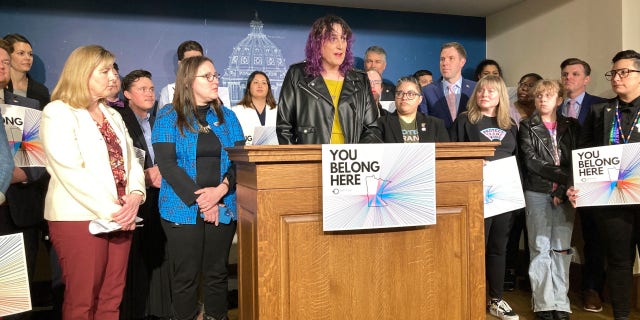 However, conservative groups and family law attorneys warn that the legislation is written in such a way as to open the door for Minnesota parents to lose custody of their children if they refuse to provide them with transgender care. 
"The most insidious aspect of this bill is the language that adds children who are being denied 'gender-affirming care' (defined as everything from therapy to hormone blockers, to transition surgery) to what amounts to the definition for a child 'in need of protection or services' in Minnesota, allowing the courts to take 'emergency custody' of the child," said Bob Roby, a licensed attorney in Minnesota with more than 30 years experience in family and juvenile court.  
Roby has studied HF 146 extensively in preparation to testify before legislative committees. He said that the way the bill is written, categorizing a child being denied transgender care alongside abuse, turns laws meant to protect children on their head. 
"This kind of court power has a long-standing precedent in Minnesota for keeping children safe. When a child is at risk of being harmed by a parent or custodian, the State has immediate authority to remove and protect the child from harm. Without this, there would be no way to protect children in those situations," Roby told Fox News Digital in an email. "To add children who are being denied 'gender affirming care' to the definition of children in need of this kind of drastic emergency action is obviously unwarranted."
ARKANSAS ENACTS BILL BANNING TRANSGENDER STUDENTS FROM USING BATHROOM OF THEIR CHOICE IN PUBLIC SCHOOLS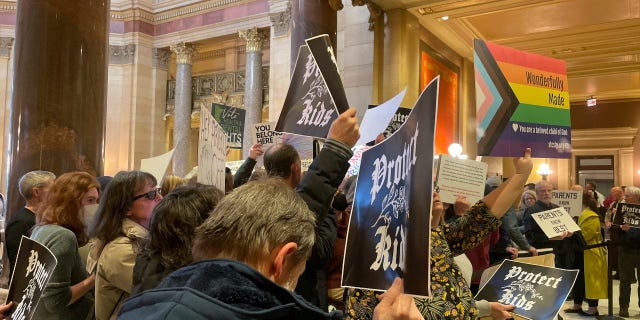 Roby observed that courts do not recognize parental rights or any other right where a child is being abused. He accused the state legislature of "criminal negligence" for failing to consider the impact of HF 146. 
Renee Carlson, General Counsel of True North Legal, a legal initiative of Minnesota Family Council, warned that the bill as written will "create confusion and increased litigation for the courts, while stripping parents of their fundamental rights, disregarding informed consent, and encouraging young children on a dangerous path to serious lifelong biological and medical consequences."
Transgender issues are highly controversial, with strong feelings on both sides. Hundreds of supporters and opponents of the legislation protested at the state Capitol building as lawmakers debated the bill. Black signs with white text said, "Protect Kids" as dozens yelled, "Vote no!" Others shouted back, "Vote yes!" and held signs with colors from the trans flag — baby blue and pink — that read, "You belong here."
CLICK HERE TO GET THE FOX NEWS APP
Whether gender-affirming care is right for minors has become a major flash point in the culture wars across the country. The unicameral Nebraska Legislature gave preliminary approval earlier Thursday to a ban on gender-affirming care for minors. Georgia's governor, Republican Brian Kemp, signed a ban Thursday. Iowa Gov. Kim Reynolds, another Republican, did so Wednesday. The Missouri Senate gave preliminary approval to a ban Tuesday. Bans were enacted earlier in South Dakota, Utah and Mississippi.
The "trans refuge" bill, which seeks to counter those efforts, now heads to the Minnesota state Senate, where Democrats hold a one-seat majority. A similar bill is awaiting further action there after receiving a hearing last month. The chief Senate author, Sen. Erin Maye Quade, of Apple Valley, told the Associated Press that she expects a floor vote there soon.
The Associated Press and Fox News' Timothy Nerozzi contributed to this report.