Liberal podcast host Kara Swisher called out MSNBC's Jen Psaki on Monday for not having any Republicans yet on her recently launched program. 
The former Biden White House press secretary appeared on the "On with Kara Swisher" podcast when she was confronted about only talking to like-minded guests.
"Hakeem Jeffries was your first guest. You spoke with New York City Mayor Eric Adams and Michigan Governor Gretchen Whitmer in your first episode," Swisher said. "Those are all Democrats. Do you think about putting more Republicans on?"
Psaki quickly answered, "Yes, I'm all for it," noting that she's open to having governors or members of Congress on her show, "Inside with Jen Psaki." 
FORMER WH PRESS SECRETARY JEN PSAKI BLASTS REPUBLICAN 'WOKE' MESSAGING IN DEBUT OF NEW MSNBC SHOW
"OK," Swisher responded. "What's the problem?"
Psaki, who became a household name during her 16 months as President Biden's first press secretary, insisted there is "not a problem" in the clip flagged by Mediaite.
"People have to agree to come on the show, of course. But we have had conversations with a number of Republicans. I do want to have Republicans on the show," Psaki said. "They have to agree and feel comfortable coming on the show."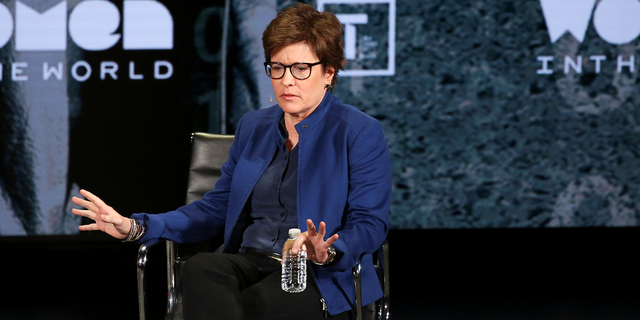 Psaki said she understands she needs to prove to the GOP that she's willing to have a "real, valid conversation" and hear them out. 
"I've only had four shows, so I don't know that we're like a full totality yet, but I do and I will and would like to have Republicans on," Psaki said. 
Swisher, who famously defended then-Pennsylvania Democratic Senate candidate John Fetterman at all costs during his campaign, didn't let up on Psaki. 
"Four shows and no Republicans," Swisher said. 
"That's true," Psaki replied. "I will tell you we have had discussions."
Swisher then asked who would be her ideal Republican guests.
"I'd love to have Mitt Romney. I'd love to have Mike McCaul, the Chairman of the House Foreign Relations Committee… I mean, listen, if [Speaker] Kevin McCarthy wants to come on the show, I have a lot of questions for him," Psaki said, insisting she would call out "propaganda" uttered by Republicans. 
"I know there's certain people who are not going to come on the show and that's fine, in all likelihood," she continued. "I do think a healthy part of not just democracy… is having disagreements, right?"
MSNBC did not immediately respond to a request for comment. 
KARA SWISHER DEFENDS FETTERMAN'S 'BAD NIGHT' AT DEBATE: 'IT HAPPENS WHEN YOU SUFFER A MEDICAL CRISIS'
Psaki landed at MSNBC last year after a battle among left-leaning outlets for her services, and started her gig as an analyst before her weekend show kicked off earlier this year. When Psaki's show launched last month, she used the first episode to blast the GOP for "woke" messaging. She argued that most people do not think of the term "woke" as Republicans might like them to. 
"For Republicans, wokeness is Public Enemy number one," Psaki said. "By the sound of it, there is simply no greater threat to American liberty, whether or not they actually believe it, they clearly think it's a winning message ahead of 2024… My gut here is no, you don't need to be too worried about their war on woke, because the Republican crusade against wokeness may not be as potent of a campaign issue as they may hope."  
Psaki also served in the Obama administration as White House communications director and a State Department spokesperson, among other roles. She was notably one of numerous Democrats to share Politico's widely panned story about Hunter Biden's laptop being judged to be Russian disinformation by ex-intelligence officials.
Karine Jean-Pierre, a former MSNBC political analyst, replaced Psaki as press secretary.
Fox News' David Rutz and Hanna Panreck contributed to this report.
CLICK HERE TO GET THE FOX NEWS APP