Space & Astronomy
April 4, 2022 |  0 comments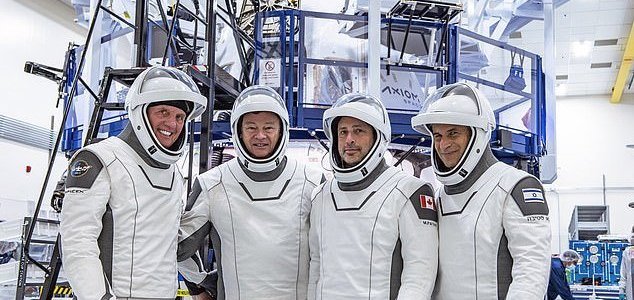 The mission's four crew members. Image Credit: NASA / Axiom Space
The highly unprecedented mission will be the first time NASA has ever launched tourists to the space station.
These days money can buy just about anything and if you happen to have a very large amount of it going spare – $55 million to be exact – you can even venture into space.
The mission, which will launch from Florida's Kennedy Space Center on April 6th, will see three amateur astronauts – along with one experienced one – launch aboard a SpaceX Crew Dragon.
The crew will include Canadian investor and philanthropist Mark Pathy, US entrepreneur Larry Connor and ex-Israeli Air Force pilot Eytan Stibbe.
They will be joined by former NASA astronaut Michael Lopez-Alegria who will serve as commander.
The mission, which is being carried out in partnership with Axiom Space, will be the first all-private flight to the International Space Station.
Once aboard, the crew will spend roughly one tenth of their time (around 100 hours) conducting scientific and technological experiments in the station's weightless environment.
"This represents another significant milestone in our efforts to create a low-Earth orbit economy," said NASA's commercial spaceflight director Phil McAlister.
"I wish these Axiom crew members safe travels, and I hope they find their time in space productive and enjoyable."
Source: Mail Online | Comments (0)
Tags: