The police union in Portland, Oregon, and two officers agreed to pay a former city commissioner $680,000 to settle claims that they leaked information falsely implicating her in a hit-and-run.
Jo Ann Hardesty's lawsuit seeking $5 million was scheduled to go to trial this week. A jury would have been asked to decide if police racially discriminated against Hardesty, the first Black woman to serve as a Portland city commissioner and a staunch advocate for defunding the police in 2020.
The city of Portland settled its portion of the lawsuit in August for $5,000 and a written apology from Mayor Ted Wheeler.
RIOTS CAUSED 'GENERATIONAL DAMAGE' TO POLICE DISCOURSE, BUT UNION PRESIDENT SEES IMPROVEMENT IN THIS CITY
The dispute began in March 2021 when a 911 caller mistakenly identified Hardesty as the driver who rear-ended her and fled the scene.
A Portland Police Bureau (PPB) officer leaked the accusation to an activist friend who later shared the information on a livestream, an internal review conducted last year found. Then-union president Brian Hunzeker also leaked the false information to a reporter, according to Hardesty's lawsuit.
Hardesty was soon cleared of any connection to the crash and Hunzeker — who had only been on the job for a few months — stepped down. The union cited a "serious, isolated mistake" related to the incident as the reason for Hunzeker's resignation.
Hunzeker was later re-hired and then resigned a second time after it emerged that he was moonlighting as a sheriff's deputy in Washington state while also collecting a six-figure salary in Portland.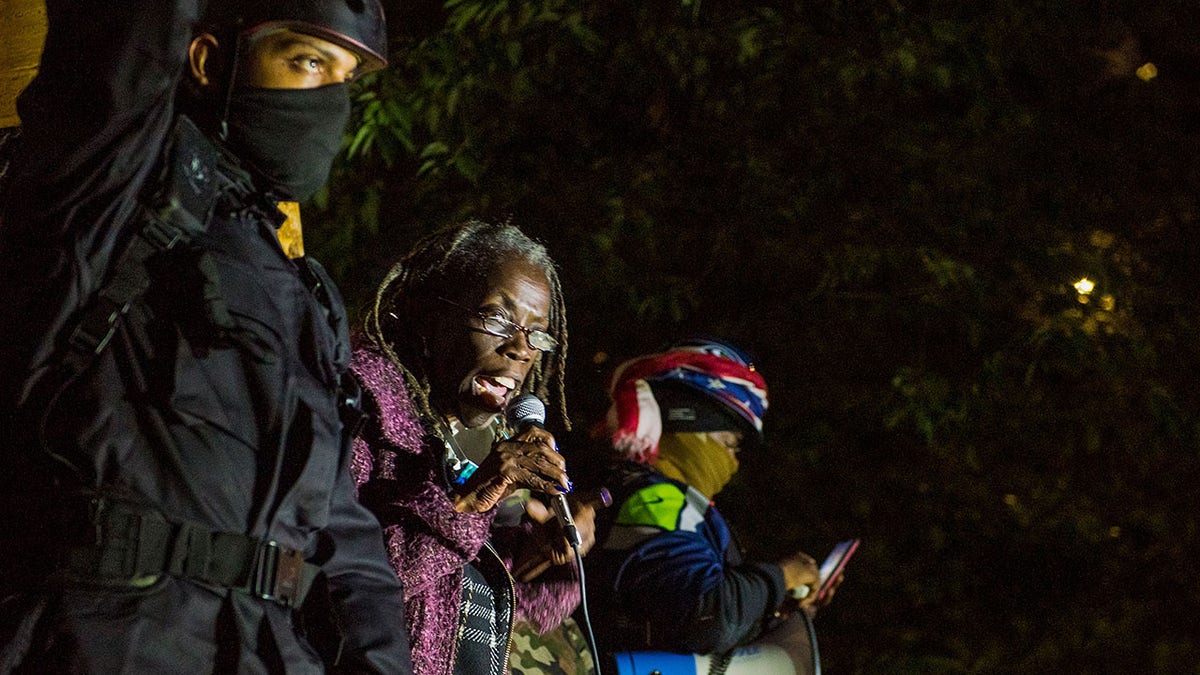 PORTLAND WOMAN KNOCKED OUT BY ATTACKER BLAMES CITY FOR SLOW POLICE RESPONSE: 'WE DID THIS TO OURSELVES'
Hardesty and police had a fraught relationship during her tenure as commissioner.
She spearheaded efforts to slash PPB's funding as social unrest rocked Portland in 2020, though the bureau's budget is now nearly $20 million higher than before the protests.
Hardesty also apologized in July 2020 for alleging that police "saboteurs" were starting fires and infiltrating the crowds of protesters who took over Portland's streets for more than 100 consecutive nights.
She lost re-election in November to political newcomer Rene Gonzalez, who ran as a centrist and supporter of law and order.
'FENTANYL NEXUS': ON THE STREETS WITH PORTLAND POLICE'S BIKE SQUAD:
WATCH MORE FOX NEWS DIGITAL ORIGINALS HERE
The Portland Police Association's insurance company "made the business decision to settle" the suit, PPA President Aaron Schmautz told Fox News Monday.
"The PPA is pleased to have this matter behind it," Schmautz wrote.
Hardesty's attorney declined to comment on the settlement.
Reporting from Willamette Week characterized police and 911 dispatchers as "gleefully" spreading the hit-and-run rumor, with one emergency dispatch employee calling the information "juicy juicy" and passing it along to a coworker. When another employee cautioned that the information may not be true, the first employee responded, "Don't be a grinch…in my head its true," according to an internal inquiry.
CLICK HERE TO GET THE FOX NEWS APP 
Hardesty originally sought $3 million from the police association, $1 million from Hunzeker and $1 million from another police officer involved in the leak. Her lawsuit argued the information was leaked in retaliation for her "years of opposing race discrimination" by both the police bureau and union.
She sought nominal damages of just $1 from the city of Portland, which ended up settling with her for $5,000 instead.
"Portland Police Bureau employees acting outside the course and scope of their employment leaked confidential information about Commissioner Hardesty," Wheeler's letter of apology reads. "The leaks negatively impacted Commissioner Hardesty's public image and undermined her efforts to bring about police transformation and reform. The City does not condone these actions. On behalf of the City, I apologize for the conduct."