By T.K. Randall
January 28, 2023 ·  0 comments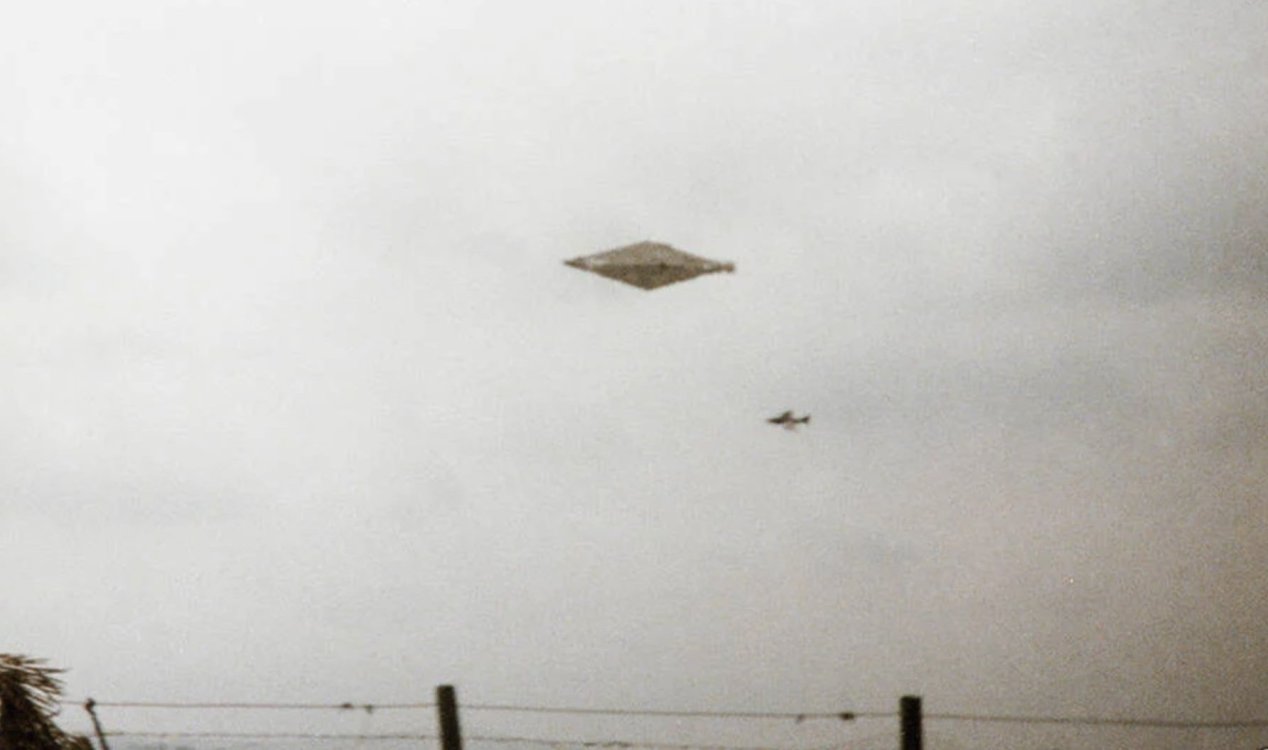 The original photograph. Image Credit: MoD / The National Archives / Craig Lindsay
The hunt is on for the individual who captured this image of a strange object in the skies over Scotland 30 years ago.
On August 4th 1990, two young chefs had been walking in the Cairngorms National Park near Perth when they spotted a strange diamond-shaped object in the sky nearby.
Terrified, the men hid behind some bushes to observe the mysterious craft.
A short time later, they heard the sound of an RAF jet approaching. The plane seemed to change course and circle the UFO for a time before returning to its original course.
Keen to take a photograph, one of the men aimed their camera at the sky and took a few snaps.
A few seconds later, the object flew upwards into the heavens and was gone.
Convinced that they had seen a UFO, the men passed their best photograph along to a local newspaper, however it was promptly handed over to the Ministry of Defense and was never published.
The image would stay classified, in fact, for over 30 years until it turned out that retired RAF officer Craig Lindsay had broken protocol by stashing a copy of it inside his desk.
The image (above) finally made it into the newspapers last year.
Now a team of UFO researchers led by Dr David Clarke of Sheffield Hallam University has been attempting to track down the individual who took the original photograph.
"On the back of the original photo we acquired last year is the name of the photographer, but we have not released this information into the public domain," said researcher Matthew Illsley.
"During our research, though, we have confirmed the man in question did live in Pitlochry in 1990/1991 while working as a kitchen porter at a hotel."
"We have also traced a number of his former colleagues, one of whom says he knew the photographer well during their time together."
Whether this individual will even be able to recall any further details, however, remains to be seen.
Source: Falkirk Herald | Comments (0)
Tags: