South Dakota Republican Gov. Kristi Noem said Thursday she would, if asked, consider becoming former President Donald Trump's running mate in 2024.
Noem told Fox News that anyone asked to be the potential next vice president should seriously consider offering such a service to their country.
Host Sean Hannity pressed Noem on the subject, noting she had in the past demurred on questions about potentially running for president given her popularity.
"This is a different question. And I will tell you that, of course, I would consider it," she said. 
TRUMP'S PROPOSED ATLANTA COURT DATE ON SUPER TUESDAY EVE 'PLANNED AND COORDINATED': EX-AG
"Our country is breaking right in front of our very eyes today, and everybody should be a part of putting it back on its foundation. And if President Trump is going to be back in the White House, I'd do all I can to help him be successful."
Hannity later asked the 2-term governor and former 4-term U.S. congresswoman whether she would then also consider a run for the presidency.
"I'm focused here, you know that, Sean," she said of South Dakota. "But… the goal is to continue to live a life of significance."
"I think we all should get up every single day and do what we can to protect this greatest experiment in history. Our founders gave us an incredible gift. Let's not drop the ball on our watch."
'STALIN WOULD BE PROUD' OF TRUMP'S ATLANTA INDICTMENT: EX-REAGAN OFFICIAL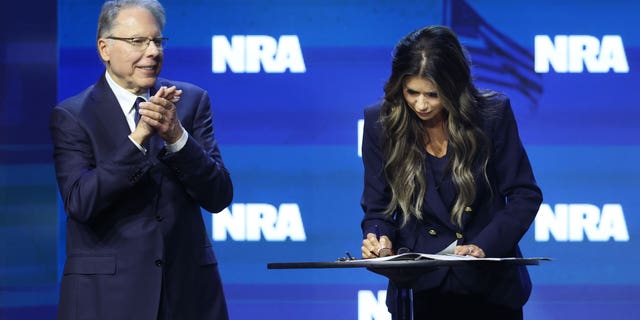 Noem also touted her state's regulatory openness to accepting occupational licenses from all other states, as a way to attract new business and new talent to the Mount Rushmore State's economy. 
The state has no income tax and has the lowest unemployment rate of any state, at 1.8%, she noted.
The governor said that some of the success of her state's economic development program has been cross-honoring licenses and paying elevated salaries for apprenticeships.
Noem said it has been incredible to watch Americans move from those other states to South Dakota for such opportunities.
"We invite everybody to give us a call: Freedom works here," she said.
In a separate Fox News interview, Noem suggested one of the reasons she hasn't considered a presidential bid is because of the depth of the field already, and the strength of its front-runner.
"The fact is, none of them can win as long as Trump's in the race. And that's just the facts. So why run if you can't win?" she said on "Fox & Friends" last week.
She noted she has never lost a political race and therefore does not want to break that streak, adding that Trump has done "great things for our state and for our country."
"When he was president, he let me do my job – and I appreciate that. Biden doesn't do that."
If elected, Trump would become the first president since Grover Cleveland to serve two nonconsecutive terms.
For more Culture, Media, Education, Opinion, and channel coverage, visit foxnews.com/media.