Damian Dunn scored 16 points and made the go-ahead free throw, Kur Jongkuch blocked Houston's go-ahead attempt in the final seconds and Temple held on to defeat the top-ranked Cougars 56-55 on Sunday.
Temple improved to 3-18 against No. 1 ranked teams. The Owls (12-9, 6-2 American Athletic Conference) earned their first win over a No. 1 ranked team since a 77-69 win at No. 1 Cincinnati on Feb. 20, 2000.
Tied at 55, Dunn made a free throw with 1:06 left to give Temple a one-point lead. Jamal Shead missed a 3-pointer and Nick Jourdain grabbed the rebound. Dunn missed a layup with 8 seconds left, and Jongkuch grabbed the rebound, but the Owls were whistled for a shot clock violation upon review.
CLICK HERE FOR MORE SPORTS COVERAGE ON FOXNEWS.COM
Trailing by one, Shead drove to the basket but Jongkuch blocked it out of the bounds with 1.3 seconds left. Tramon Mark's tip-in attempt fell short at the buzzer to give the Owls the win.
Zach Hicks added 12 points for Temple, which snapped a six-game losing streak to Houston. The Owls shot 31% but were 20 of 22 from the free throw line.
HOUSTON LIBERO KATE GEORGIADES DIVES ACROSS TABLE TO MAKE RALLY-SAVING PLAY IN NCAA TOURNAMENT MATCH
Shead scored 13 points, and Marcus Sasser added 12 points for Houston (18-2, 6-1), which saw its nine-game winning streak snapped.
Houston shot 34% but were 11 of 21 from the free throw line.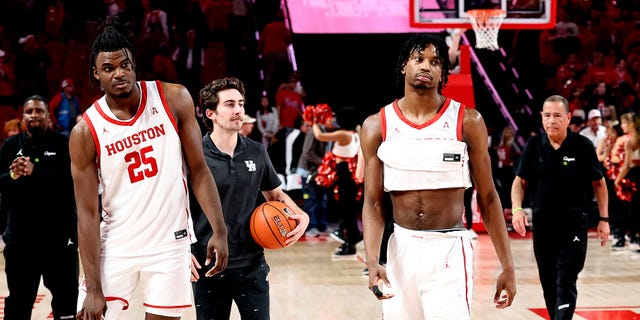 Tied at 47, Temple used an 8-1 spurt to open up a 55-48 lead on two free throws by Jourdain with 6½ minutes remaining. Houston responded with a 7-0 run to tie it at 55.
BIG PICTURE
Temple: The Owls improved to 2-0 this season against ranked opponents. … Temple did not make a field goal of the final 7:18 and were 5 of 21 from the field in the second half. … The Owls had 11 assists on 14 field goals.
TEMPLE FANS STORM COURT TWICE IN UPSET WIN OVER NO. 16 VILLANOVA
Houston: With the game tied at the half at 30 apiece, it marked the first time this season the Cougars have not led at the half. … Coach Kelvin Sampson was issued a technical foul in the second half for arguing a foul call. … Houston outrebounded Temple 39-33.
ASTROS IN THE HOUSE
Houston Astros manager Dusty Baker, third base coach Gary Pettis and closer Ryan Pressly sat courtside for the game.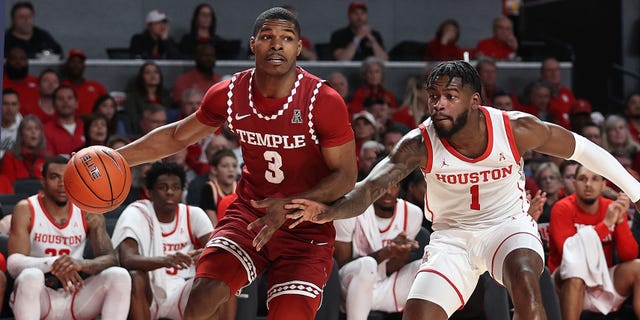 CLICK HERE TO GET THE FOX NEWS APP
UP NEXT
Temple: Hosts South Florida on Wednesday.
Houston: At Central Florida on Wednesday.