A Virginia man was arrested last week after shining a laser pointer at a police helicopter actively searching for a person running from authorities.
Fairfax County police said its helicopter, Fairfax 1, was helping Virginia State Police search for someone who ran from troopers on March 10 around 11:25 p.m.
While in pursuit, the helicopter's crew saw someone pointing a laser at the chopper from an apartment complex. 
Using the aircraft's FLIR system, the crew discovered the laser came from a balcony apartment in the 9200 block of Ashland Woods Lane.
FLORIDA MAN ARRESTED FOR TEMPORARILY BLINDING POLICE HELICOPTER PILOT WITH LASER: 'MESS AROUND AND FIND OUT'
Detectives from Fairfax County's Special Investigation Division identified the person responsible as a 25-year-old man. 
He was arrested for interference with the operation of an aircraft, which is a class 1 misdemeanor in the Commonwealth.
MONTANA MAN SENTENCED FOR SHINING LASER POINTER AT LANDING PLANE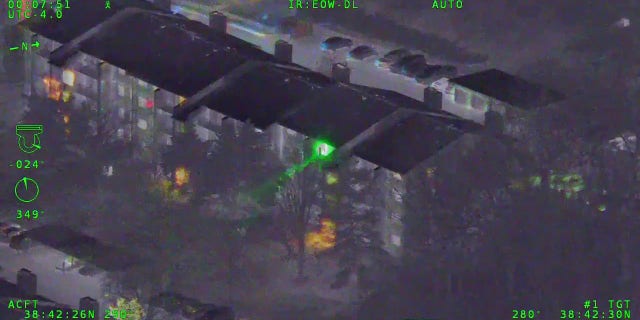 "Pointing a laser at an aircraft is illegal and also a very bad idea when that aircraft is a police helicopter," Fairfax County police said on Facebook.
CLICK HERE TO GET THE FOX NEWS APP
The man, who was not identified by name, was released on a secure bond, according to Fairfax County police.
Fox News Digital reached out to Virginia State police and Fairfax County police for more information on the man arrested, but did not immediately hear back.