Cryptozoology
April 2, 2022 |  10 comments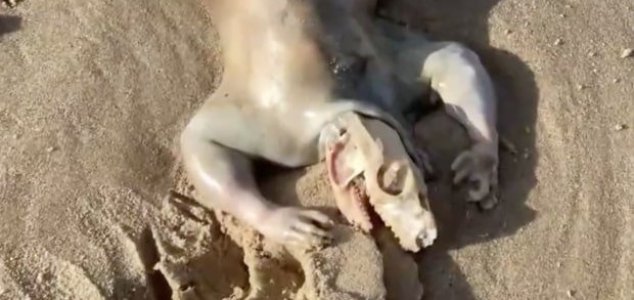 Could this be a possum, or is it something else ? Image Credit: Alex Tan / Instagram
Pastor Alex Tan recently captured footage of a very strange creature that he discovered on a beach in Queensland.
Describing the find as "alien-like", Tan explained that he had discovered "something weird" before panning the camera down to provide a closer look at the remains splayed out across the sand.
"I was just really interested to what the heck was this?" he said.
The discovery was made on Queensland's Maroochydore Beach back on March 21st.
According to social media video service agency Storyful, he had described the creature as having "humanlike hands", a "long lizard tail", a "nose like a possum" and "patches of black fur."
The video quickly gained a great deal of attention online and left social media users speculating over exactly what type of creature it could be.
According to University of Queensland Associate Professor Stephen Johnston, however, the most likely explanation is that it is simply a swollen, waterlogged brushtail possum.
You can check out the clip and decide for yourself below.
Source: CBS News | Comments (10)
Tags: