Los Angeles Sparks guard Layshia Clarendon and the Washington Mystics' Brittney Sykes got into a heated interaction in the final minute of Monday night's game that resulted in both players being ejected. 
The scene unfolded with just around 30 seconds of play left in the game. 
Clarendon, 32, drove to the net and was met by a hard foul from Sykes, who wrapped her arm around the 2017 All-Star. Clarendon returned the gesture and both players took a hard fall onto the ground. 
MERCURY'S SHEY PEDDY LEAVES FLOOR ON STRETCHER IN SCARY SCENE AFTER GETTING HIT BY ELBOW
Sykes immediately stood up and pushed Clarendon, who was already on the ground, before players from both sides stepped in to break up the skirmish. 
Sykes and Clarendon were both issued technical fouls and ejected. Sykes was also given a personal foul.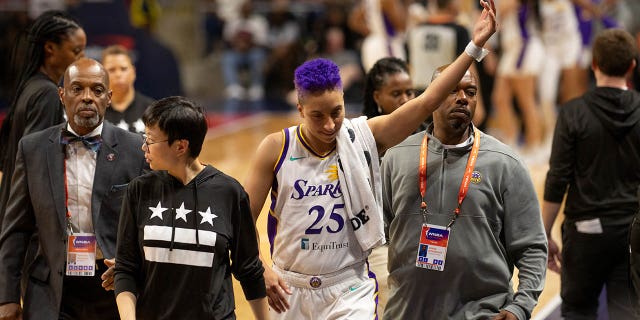 CLICK HERE FOR MORE SPORTS COVERAGE ON FOXNEWS.COM
Sparks forward Rae Burrell made the ensuing two free throws to give Los Angeles an 85-80 lead.
WNBA champion and eight-time All-Star Nneka Ogwumike had 20 points, 10 rebounds and five assists to help the Sparks snap a four-game losing streak and beat the Mystics 91-83. 
CLICK HERE TO GET THE FOX NEWS APP
Sykes finished with 17 points and made 1-of-2 free throws before being ejected.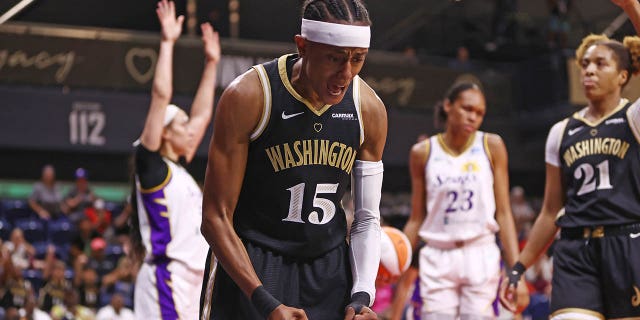 The Mystics entered Sunday's contest having won back-to-back games for the first time since winning three straight from June 16-22.
The Associated Press contributed to this report.